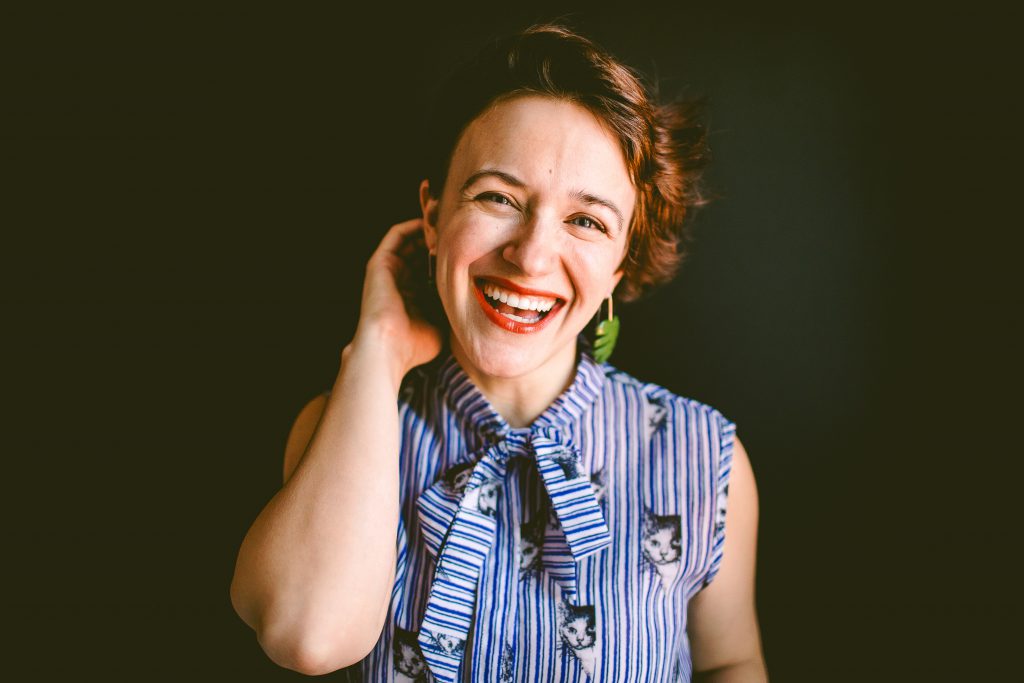 Hey, I'm Carolyn! If you're looking for a place to read a bunch about me, this would be it. I always find these pages a bit awkward to read, but I can tell you that they're even more awkward to write. That being said, let's get immediately into the awkwardness so that it's over quickly. Here is a summary of all of my parts:
BORN IN: Pittsburgh, PA
LIVES IN: Durham, NC
IS IT CAROLYN OR CAROLINE: It's Carolyn ("kair-uh-lin"… rhymes with gin)
ASTROLOGICAL SIGN: Libra
SURPRISING HEIGHT: 4'10 (I may bring a ladder to your shoot)
FAVORITE HOLIDAY: Halloween
BACKGROUND: Elementary Education
ARCHITECTURAL FANDOM: Mid-Century
BEST MOVIE WITH BATS: Tie between The Lost Boys and What We Do in the Shadows
HOW MANY CATS: Two, as my husband won't let them outnumber us
HOW MANY HOUSEPLANTS: Definitely outnumbering us
HOBBIES: Sewing, piano, Halloween enamel pin collecting, painting, digital art, keeping plants alive and then accidentally killing them, home improvement, deck sitting, eating cheese, asking to watch a scary movie and then watching it through my hands
SEEN ALL THE EPISODES OF: Seinfeld
MUSICAL GENRE APPRECIATION: Indie, 90s/dad/yacht rock, emo, historical middle school background in punk and ska
MARRIED TO: Geoff (It's just pronounced "Jeff" you guys)
OFTEN SEEN WEARING: Mismatching prints, black, Halloween shirts in June
And there you have it – that's me in a nutshell. Photography speaking, I'm entirely self-taught since picking up my parents' Polaroid and precariously carrying it while cruising around in diapers. It was a long-time hobby of mine which I honed alongside several photography major friends in college. During this time I went through many photography phases such as "taking way too many pictures of your cats", "artsy photos of rusting things in fields", and "posting a cringeworthy amount of selective color photos to Flickr". I was quite proud of myself. But, through these embarrassing phases I did improve significantly, and in 2008, after a brief stint of teaching after graduation, I left behind my elementary ed background and started Carolyn Scott Photography.
I then embarked on what would turn out to be a 10+ year career as a wedding photographer with my husband Geoff that would span many states and several countries. We took part in a New Orleans second line, met Flavor Flav in the Rochester airport at 5am, stepped into knee-high sink holes during North Carolina hurricane weddings on farms. But, after we realized we were suddenly in our mid-30s and hadn't had a weekend in 10 years where we could utilize our pool membership, Geoff and I decided to retire from wedding photography. In 2019, Geoff went back into his full-time job of software engineering in an entirely Star Wars themed home office and I transitioned into full-time portrait photography.
Today, my portrait business focuses solely on lifestyle family and editorial small business photography. With my background in elementary ed, I love working with families because their small children can tell me facts about sharks and I'm genuinely excited about it. I also love looking through old photos of my own family, and hope to give this gift of total embarrassment to another young adult someday. The lifestyle aspect of my family work speaks a great deal to me as my own favorite family photographs are ones that aren't staged, but show my parents interacting with my sister and I in a real, genuine way (whether they look juuuust a little annoyed with us or not is beside the point). My love of small business photography stems from (surprise!) running my own small business. I thoroughly enjoy meeting other business owners in the area, whether or not they come equipped with facts about sharks. Doing editorial work for other biz owners is enormously fun for me, and allows me the creative freedom to tell the story of a subject within a space (and calls back to my day of Flickr glory, only better this time).
So – that's it. That's all I can think of. If you have any other pressing questions or want to book me for a shoot, please reach out and say hello. You can also follow me on social media (where I still take an absurd amount of pictures of my cats and use too many emojis). In closing, I have always wanted to have a client just like you. Would you be mine, could you be mine, won't you be my client?