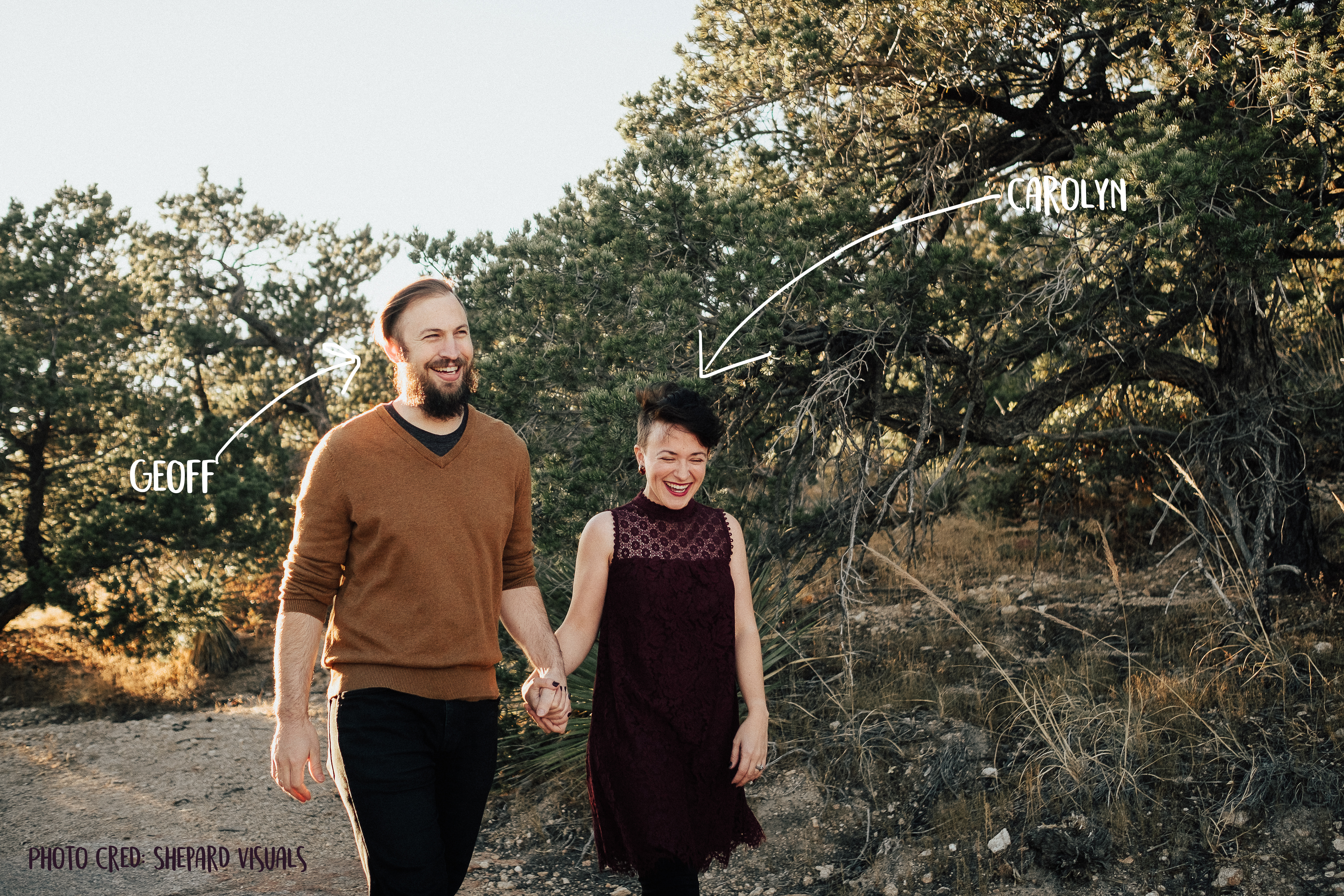 Here's the part where we humblebrag in the third person and refer to ourselves as artists a lot even though we regularly work in our pajamas at home.
Let us introduce to you the artists Carolyn and Geoff. No, Geoff's name isn't Scott. That's Carolyn's last name. But wait, you might ask, if they're a husband and wife photography team, why are they just named after Carolyn? Well, to put it simply, Carolyn started the business in 2008 and Geoff was just carrying around her bags because they were heavy, but then he got bored and started shooting full time at weddings and shoots too, and they've just been too lazy to rebrand. If you get confused, you can call him Scott if you want, but he prefers Geoff ("Jeff" for those of you are on board with calling him his right name but can't figure out how to pronounce it because you're not European).
They are a very serious team of artists. Serious about photographing your wedding rings on little plastic dinosaurs. Serious about capturing your daughter feed cheese to the dog underneath the kitchen table. Serious about their willingness to bust out Little Kicks dance moves at your reception. Serious about showing you their favorite cat videos on Youtube during our consultations.
But most of all, they're serious about making sure you have stellar photographs that make your grandma cry, your mom proud, your friends jealous, and leave you with nothing but fist pumps and high-fives (and a print release). We have over ten years of experience and not one casualty!
Whether it's photographing weddings, families, or cute animals, they're pretty okay at getting along with your mom (she's not as high-strung as you warned them about), talking about photo equipment with your uncle (while politely and quietly backing away because it's usually right before the ceremony starts), and trying to make sure your bulldog doesn't have too many double chins (but just the right amount). They'll be prepared and helpful, and surprisingly professional despite the bat logo and Carolyn's affinity for eccentric hairstyles.
For weddings: you're with your photographer more than anyone else on your wedding day (possibly even more than your new spouse), so you better pick someone who's good at carrying your flowers in one hand and defending you from a zombie attack with the other (they've beaten all the Resident Evil games).
For photo sessions: zombie attacks could still happen there too, so, they're still good people to know.
The artists have been described as documentary-style with a dash of portraits and a hint of "not boring." They hope their clients can look forward to passing down the more ridiculous shots to kids, grandkids, or people who are interested in looking through their photographs at their retirement home.
It's been told that they eat nachos after coming home from every single wedding and that this is the true source of their power, but this has not been confirmed nor denied.
Want to see more pictures of Carolyn and Geoff in action so that you can try and place bets on what length/color Carolyn's hair will be when you meet her? Visit the Making Fools of Ourselves blog posts! 2017 // 2016  //   2015  //  2014  //  2013  //  2012