We are totally in a book, you guys. Like, a real, actual book that you can buy places like Barnes and Noble. Our pictures are on those little preview pictures with the magnifying glasses where you can zoom in on the Amazon website. AMAZON, MOM AND DAD. Heck, my name is listed on an acknowledgment page. I was acknowledged!! This rules.
Emma Arendoski, the wonderful owner of Emmaline Bride, contacted us after having gone through our archives and pulling out pictures that she wanted in her book. I almost passed out, but instead decided I should probably export them and give them to her via Dropbox before I do that, in case I'd hit my head. Emmaline Bride has been a long standing supporter of us and has been publishing our weddings and engagement sessions for a long time and has been way, way too nice to our business. We cannot thank Emma enough for giving us this opportunity and chance to be published in a book and we are forever grateful for her neverending support.
Now – I know you all are going to think we're super biased as we write this book review because hey, we're in it, and hey, we love ourselves some Emma Arendoski. But we promise that this book rules despite all of that, and is an amazing resource for planning brides. Here's our book review of The Handcrafted Wedding by Emma Arendoski! (That link goes to Amazon, where you can buy this… AMAZON YOU GUYS). It is accompanied by pictures we took of our pictures on the pages in the book (and a picture of ours is on the back cover hey heyyyy!).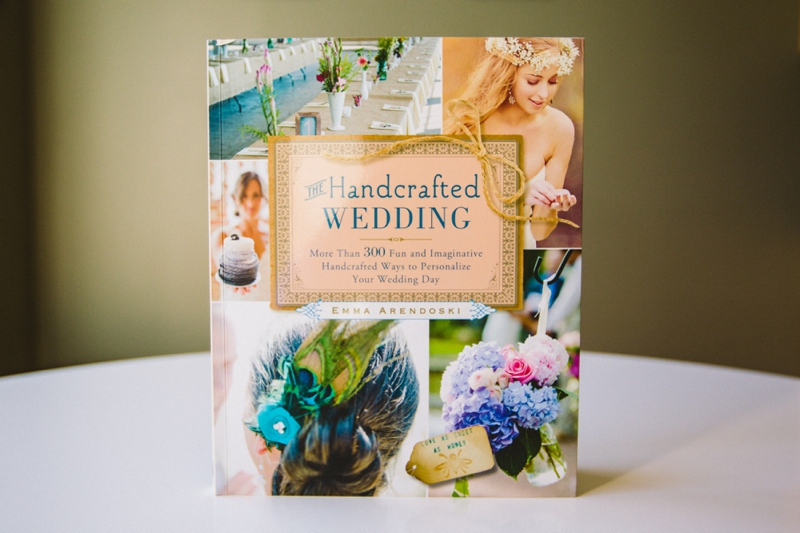 The book is subtitled "More Than 300 Fun and Imaginative Handcrafted Ways to Personalize Your Wedding Day" and that is exactly what it is. :) The book goes through everything that you'd need to plan your wedding (chapter by chapter), and discusses imaginative ways that you can craft your own everything by hand and without breaking the bank.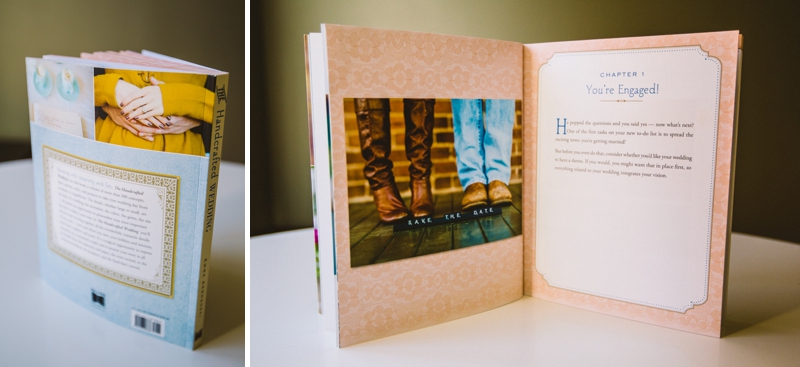 The Handcrafted Wedding starts out with "You're Engaged!" where it discusses how to pick a theme for your wedding and personalize your day based around a theme or your combined interests and/or hobbies. We completely agree with the themed wedding. It takes a ton of the stress out of planning by picking a theme and sticking to it for literally everything. It narrows down your seemingly limitless options. Our wedding was Halloween themed because it's our favorite time of year, and it was very simple to pick our decor because it had to be specifically themed. In the book, Emma talks about different seasons  you can theme it around and some different activities to get your brain thinking about how you can adapt your wedding to be about the two of you.



What's great about this book is that the ideas are very specific. Emma writes about how to personalize everything from your wedding dress to his wedding suit to your flower girl and ring bearers' attire and just about everything else. But the ideas are concrete and there are always several ideas per theme (for instance, several different ways do your invitations, or several different ways to jazz up the groom's outfit). What's nice about that is that you can take one of Emma's ideas and run with it just how it is, or your brain will be jogged by one of her ideas and you can adapt it to be your own.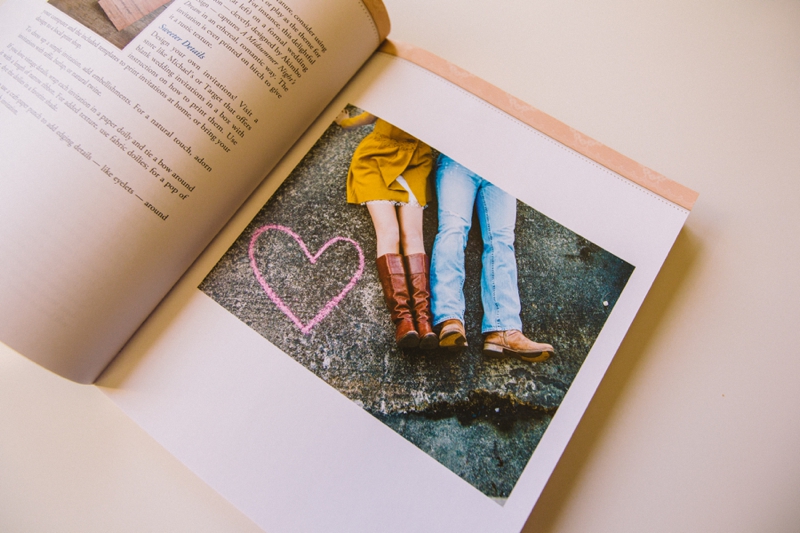 Throughout the book there are also lots of step-by-step guides with illustrated pictures on how to make certain things like floral wedding headbands, your own boutonnieres, fabric earrings, ring bear pillows, table numbers, and more. She gives you a list of the materials you'll need and then specific instructions on how to create exactly what's in the picture, and it's super easy to do!


The book also gives you options for ideas on gifts to give the special people in your wedding, how to arrange your ceremony seating for all types of weddings, how to personalize your vow delivery, and how to acknowledge different guests in your ceremony.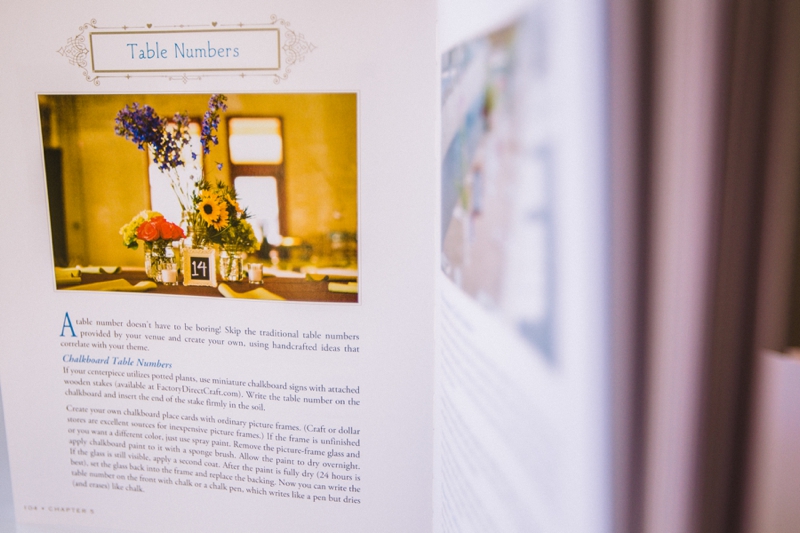 There are multiple ideas listed for table runners and how to entertain kids at weddings. There's even a section on how to arrange for bathrooms if you're having a backyard wedding. :) She discusses signature drinks, food, and favor ideas…. giving you a ton of options to choose from and a great place to get brainstorming.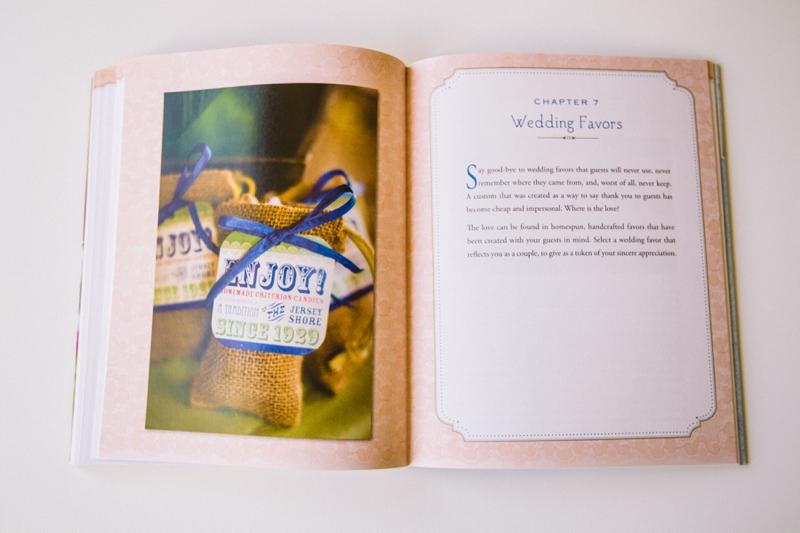 This book is really a fabulous resource that I wish I had when I was planning. It goes literally chapter by chapter through all of the things you'll need to get in order to pull off a successful wedding, and how to personalize each one of them with easy, concrete ideas. If you get the book, you won't find yourself wondering if you forgot a piece of your wedding planning as she lays it all out there – even what to do with mosquitos or if your guests get cold. :) We highly recommend this book to our future clients and their friends (and seriously not just because we're in it, but because it's really great). :) If I could give out how to put little stars in my blog post, I'd totally give it 5, because it deserves it. :D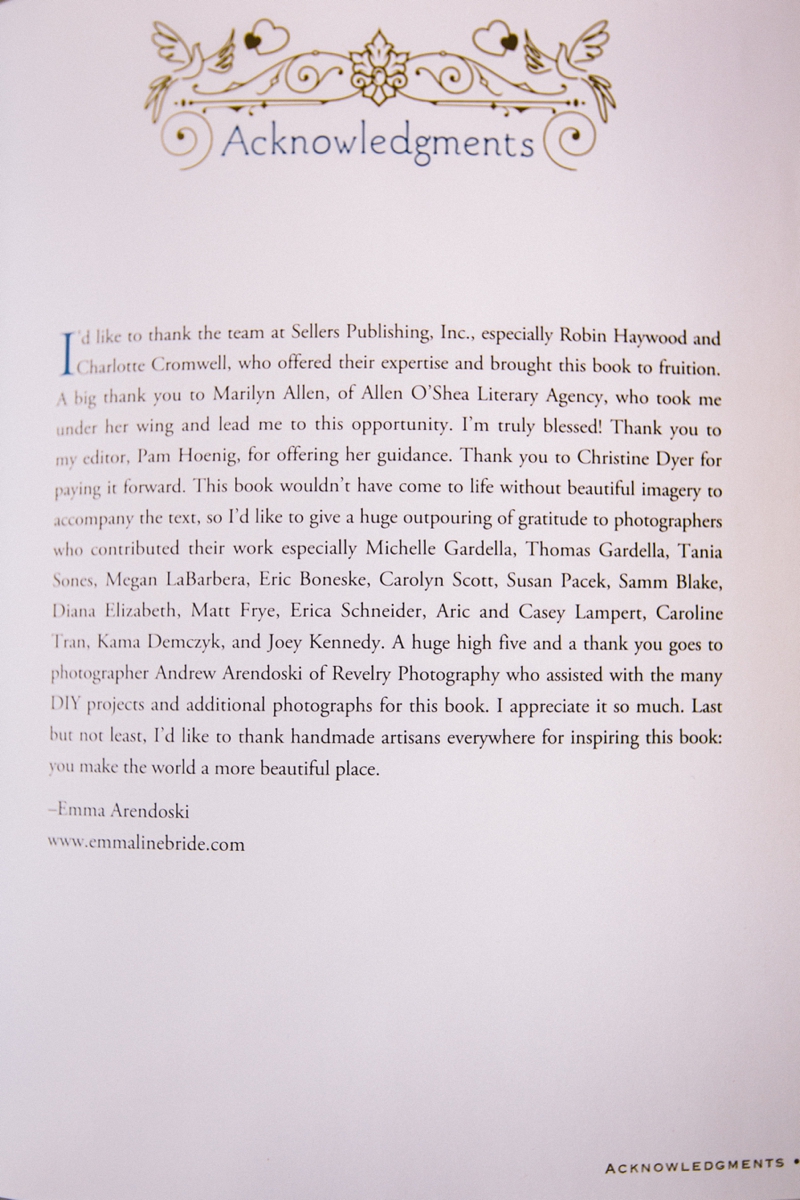 ^ What! My name is in a book. I never thought that would happen to me ever. It sits next to my computer and sometimes I get it out just to look at it… just to make sure. :)
**Special thanks to Geoff Brown, Shannon and Phil Young, Katie and Blake Sammons, Elise and Jeff Sarvas, and Nancy and Casey Kinosz for being great clients and allowing yourselves to be pictured here… and on Amazon. ;)