Some of you know that I've been decently sick since February of 2010 with a yet undiagnosed illness that carries a lot of awful symptoms with it, one of which being a sudden onset of multiple food sensitivities. Currently I have cut about 5 main foods out of my diet, which doesn't sound like much, but they're foods that are in everything. I can't eat anything that has these foods in them, or derivatives of these foods, without becoming very sick. It's hard for us to go out to eat, and we have to check the labels on everything. So right now I am not eating any products that contain gluten (wheat, barley, rye), dairy, or potatoes, and can't go near red onions or peppers for some strange reason. I am not allergic to potatoes, red onions, or red peppers, which makes this all the more perplexing.
Dairy is difficult to avoid in foods (milk culture, whey, cream, etc. are in a lot of things), but not impossible. I've replaced regular dairy cow cheese with goat cheese (regular and cheddar), and it's pretty awesome, and butter has been replaced with butter-flavored Crisco in cooking or Best Life spread. I miss nachos and regular milk, but that's about it. Skim goat milk tastes pretty similar though, so I'm surviving okay without the dairy.
So the problem is this: wheat or some form of it is literally in all things (breads, cereals, pastas, pastries, deserts, soups). It's a thickener. So it seems easy enough to avoid when you go into a store and see things labeled "gluten free", but the problem now is that they've replaced the thickener of gluten with the thickener of potato or potato starch. :) Which I can't eat. :)
So Geoff and I make a ton of food ourselves out of fresh ingredients as we can't really buy anything boxed anymore. This is a pain. A giant pain. But it's better than being doubled over in a giant pain, so we'll take it. My sister-in-law got me a great gluten free cookbook for Christmas and we've been making lots of delicious things in them, but we were most excited for the cinnamon rolls. And they are AMAZING. I don't think I've ever had a better one, even when I could eat gluten and dairy. We'll probably weigh 50 more pounds each by the summer, but we're okay with that.
By popular demand from my Facebook followers, here is the recipe… modified slightly to accommodate my crazy allergies, and maybe yours too.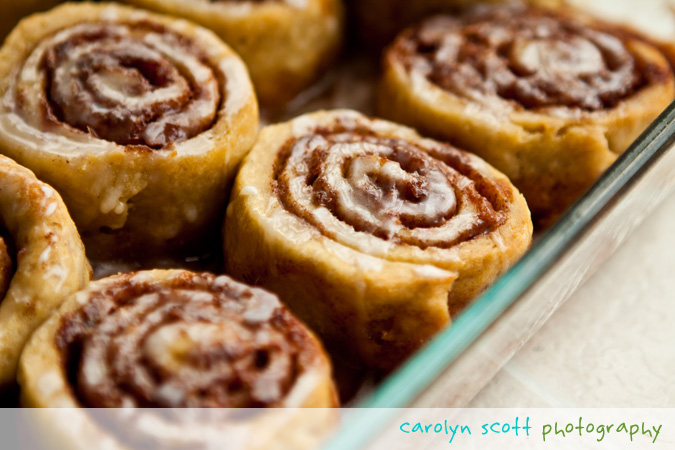 Dough Ingredients:
3/4 cup whole goat milk
1/2 cup sugar
8 tablespoons butter-flavored Crisco chopped into cubes (remember with Crisco extra water must be added to make butter, refer to package.)
1 1/2 teaspoons salt
1/3 cup HOT water
4 1/2 teaspoons active dry yeast
3 eggs
5 1/2 cups Pamela's Flour (this stuff is the best gluten free flour we've tried! available at whole foods and fresh market.)
2 teaspoons xanthan gum (this is a thickener that replaces gluten protein… you can get it in almost any normal store).
Yummy Inside:
4 tablespoons of melted butter-flavored Crisco
3/4 cup sugar
3 tablespoons ground cinnamon
Yummy Glaze:
3/4 cup powdered sugar
2 tablespoons whole goat milk
Directions:
1. Dough: Heat the goat milk in a saucepan over medium-high heat until bubbles form around the edge of the pan, then remove from heat and stir in the sugar, cubed Crisco, and salt. Cool to lukewarm…put back on very low-heat if you have to.
2. Combine the HOT water and yeast in a medium bowl and let stand for about 5 minutes. The mixture should start bubbling at least a little bit.
3. Add the milk mixture from the saucepan to the yeast mixture and stir to combine. Add the eggs. Add the Pamela's Flour and xantham gum and mix well until the dough is only a little tacky. Roll into a ball.
4. Clear and wash a large counter surface and sprinkle with flour. Put the dough ball on top of the flour and roll it out until it becomes a large rectangle (approximately 24×16 inches).
5. Filling: Get the melted Crisco and brush the rolled-out dough with it. Combine the sugar and ground cinnamon in a bowl and sprinkle onto the dough. Get a spoon or use your hands to spread out the cinnamon and sugar evenly.
6. Roll up the rectangle to form a 24-inch-long roll. Pinch the flapped edge to seal. Slice the roll into 16 equal cross sections, approximately 1 1/2 inches wide.
7. Preheat the oven to 350 degrees.
8. Grease a lasagna pan and place the rolls inside. Cover and place in a warm location to rise for 30 minutes.
9. Bake the cinnamon rolls for 25-30 minutes until golden brown. Remove and let cool for 15 minutes. Make sure the rolls are cool enough to apply the glaze without melting off.
10. Glaze: Mix the powdered sugar with the goat milk until thick. Drizzle over the cinnamon buns until gone.
11. EAT YOURSELF INTO AWESOME CINNAMON BUN HEAVEN.