in early april i had the pleasure of meeting and working with brian mcguire of mcsound productions during a wedding at duke gardens! i was immediately impressed with his professionalism and, later, his complete ability to rock the party! he played beautiful music for the ceremony and later threw a great reception party with a variety of music that everyone loved. i highly recommend mcsound productions to my brides and figured i'd let you all get to know brian a little better through this interview!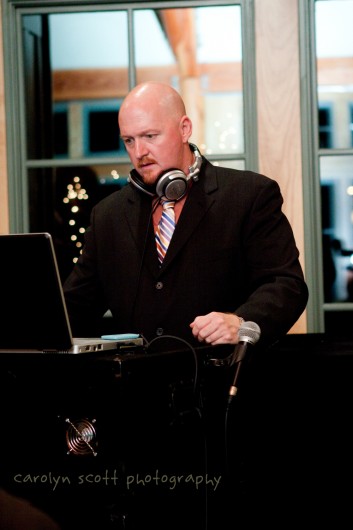 brian mcguire [mcsound productions]
http://www.mcsoundproductions.com/
info@mcsoundproductions.com
919-605-7509
1.) What made you decide to become a DJ?
For several years in the early 1980s, I played drums professionally and was doing some sound tech work. My DJ career started in 1985, when a friend asked me to put together some music tapes for a party in Durham, NC. One of the people at the party was a nightclub manager who really liked the music mix and asked my friend where he got the tapes. My friend introduced us and the club manager asked if I had ever done DJ work. I told him that I had played in bands and had played around with turntables and mixers but had never performed as a DJ. He said that his DJ had quit and he needed someone to DJ during band breaks at his club. He offered to let me DJ for a couple of nights to see if I could DJ live, like I had done on tape. And so my new career had started.
After just 3 nights, the club manager offered me the DJ position and I was working at the club 5 nights a week! I worked at that club for 2 years. During that time, I built my music library and continued to improve my DJ skills. I also started doing mobile DJ work for private parties and performed for my first wedding in 1986. That same year I was inducted into the Dixie Dance Kings, which is an exclusive music organization of 150 professional DJs all across the southeast United States.

2.) What kind of preparations do you do before a wedding?
I put a lot time preparing for a wedding. I have a custom seven page planning guide that my clients fill out. I then meet with the client as many times as necessary in order to make sure that I can coordinate with all of the other vendors such as caterers, photographers and videographers. My first priority is to make sure that the whole event goes smoothly. The client can make all of their music requests through my website.
3.) Is there a big difference in preparing for different types of events (weddings, corporate events, children's parties, etc.)?
Yes, there is a difference. Every wedding is unique. For most people, their wedding day is one of the biggest events of their lives. You have to understand what a wedding client needs and every client and event is different. Corporate events happen over and over again. Most companies have annual holiday parties and family picnics in the spring. So once you understand a corporate client you can predict what that client will want at each event. Most childrens parties are also similar with games and music. So again you have a general idea of what is going to happen.
4.) How do you decide on a playlist for a wedding?
I don't pre-program playlists. The client has complete creative control of the music requests. Some clients only pick a few songs and I encourage the guests to make requests. Other clients pick almost every song and I use my expertise to know what to play and when to play it. Because of my experience and ability to read a crowd, I can predict some songs that will always draw a crowd to the dance floor.
5.) What are some of the most popular song requests you receive?
Believe it or not, Don't Stop Believin' by Journey is the overall most requested song. Some of the other most popular classic requests for weddings include We Are Family, Celebration, Brick House, Dancing Queen, Have I Told You Lately, and What a Wonderful World. New favorites include Cupid Shuffle, I Gotta Feeling and Lost in the Moment. Single Ladies is popular for the bouquet toss.

6.) What is the most unique song you've played for the first dance?
I Can't Get No Satisfaction by The Rolling Stones was the most unusual first dance song. I still don't understand that choice. I would hope that a couple is really satisfied when they get married!

7.) What is your personal favorite type of music?
I enjoy lots of music but some of my personal favorite artists are Earth Wind & Fire, Chicago, Toto, Billy Joel, Steely Dan, Brad Paisley, The Commodores and Michael Jackson.
8.) You have over 20 years of DJing experience…what's the craziest thing you've seen happen during an event?
Without a doubt it was the time that the party rental company arrived before the reception was over and started taking apart the dance floor while PEOPLE WERE STILL DANCING!!! I literally had to tell them to STOP! I still laugh about it every time I think about it!
9.) What do you think brides should look for in a DJ?
The DJ you hire should meet your needs. Most people want a DJ that is also an MC who make all announcements and keep the event flowing smoothly. The DJ you hire should be experienced with your type of event. Whether you are planning a wedding reception, birthday party, prom, corporate function or holiday party, the DJ should be able to provide you with the right service for your event.
Ask your prospective DJ for references. Find out what previous clients thought about the DJ. The DJ should be able to provide you with references that you can contact. Is the DJ insured? This is a question that most people do not ever think about. What happens if one of your guests trips over a cord and gets injured? You could be opening yourself up for a lawsuit. Many venues now require that all vendors have liability insurance. A professional DJ service will be insured!
Does the DJ help with planning your event? A professional DJ will be able to assist you with the planning of your event. They should provide you with a detailed planning guide which will help you organize your event and coordinate with other vendors. This way you know your event will go smoothly. Will the DJ you meet be the one performing at your event? There are some companies who book multiple DJs. Most of these companies are completely truthful about who will be performing and will arrange for you to meet the actual DJ. However, there are a few dishonest companies who will "bait and switch", leaving you with a DJ you have never met before. Make sure that you interview the actual DJ who will be performing at your event.
What is your budget? You'll notice that I put this question last. Disc Jockeys have different rates. Do not cut corners on your DJ service. Just because a DJ offers a lower price does not mean you will be happy with the DJ. In fact, a cheaper DJ is usually a signal of inexperience. Hire a DJ who has the experience you are comfortable with and fits your budget. An experienced professional DJ is worth every penny. Your guests will remember your entertainment.

10.) What do you think sets you apart from other DJs in the area?
Experience. I do not book any other DJs and only book one event per day. When a client books me for their event, they know that I will be performing at their event. I have personal relationship with every wedding client. It's my reputation on the line so my client knows I will do a great job for them.
**thank you for participating in the interview, brian! i look forward to working with you again in the future!