this is totally way past due, but considering i just sent out all of my thank you cards for the wedding yesterday, it should say something about how crazy our lives have been since we got back from costa rica. :)
we had a ton of compliments on our invitations, thank you cards, and wedding programs and i'd like to highlight derica justice of bon bini print and design for doing such a wonderful job with our wedding stationary!
we are very picky people and wanted our wedding invitations to be different. we browsed a lot of wedding websites looking for examples of halloween invitations, but they were usually pretty cheesy. we wanted a kind of vintage, elegant, gothicy type of look. we had a few ideas, but weren't really sure how to put it all together. we found derica's work online and met with her soon after. she took our ideas and ran with them, creating our awesome invitations by hand and designing all of it herself. we had a great time working with her and couldn't be happier with her work. everything was the best quality and she took utmost care in making sure we were happy with everything. she is awesome!
here are some of the pictures i took of our stationary (minus the leftover programs which are packed away in one of 12 large tupperware containers full of wedding decorations that are still sitting untouched in our basement) followed by an interview with derica about her business. :)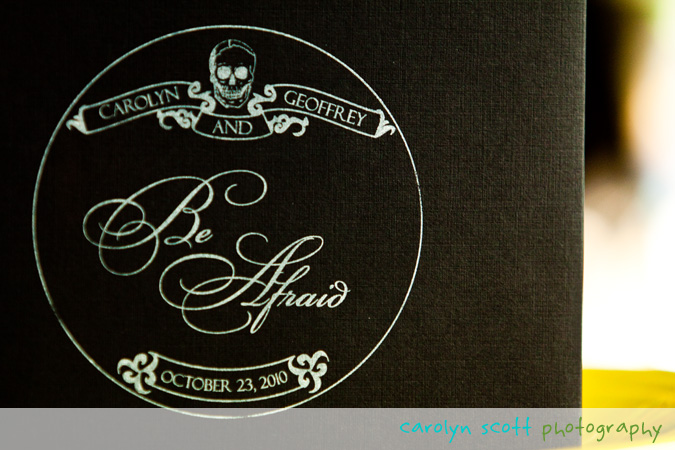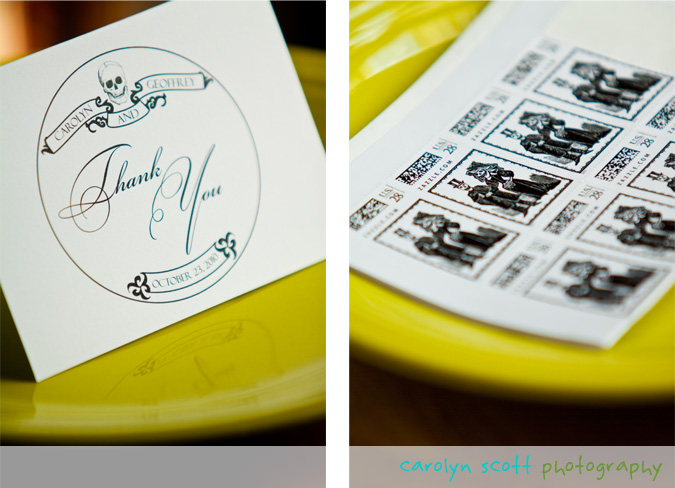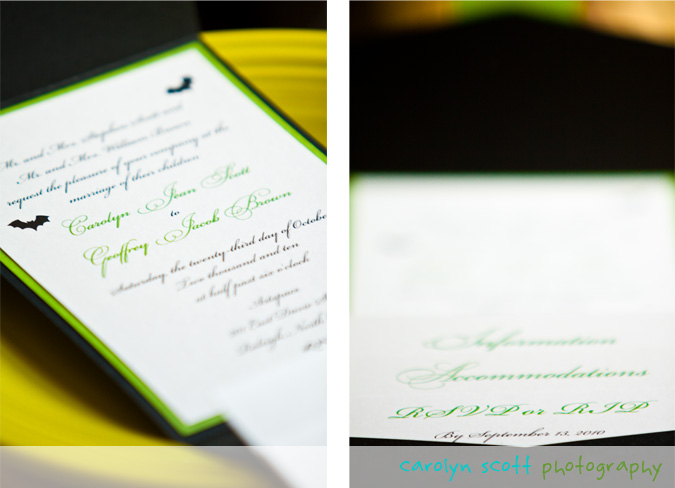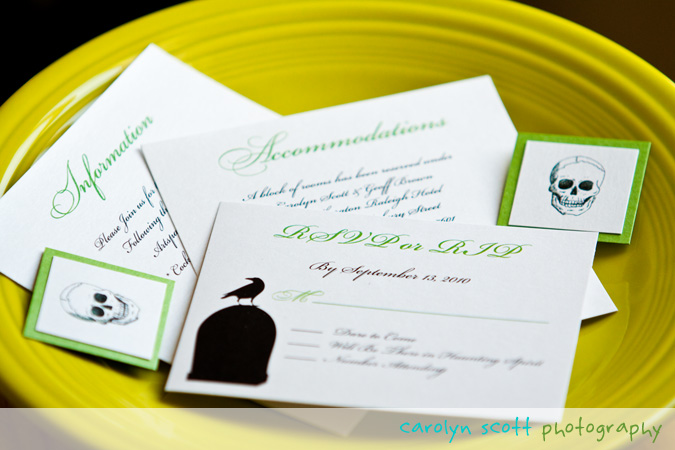 1. Tell me a little bit about your business.
Bon Bini Print & Design was created for individuals who want a unique invitation design experience not found in a store or online. It specializes in outside of the box wedding & event invitations! Bon Bini allows clients the ability to create an invitation or stationery from the ground up and customize any elements of the design all at a reasonable price. We love to design for everyone's stationery needs from complete wedding designs including save the dates, invitations, and programs to personal stationery needs such as thank you cards. Carolyn and Geoff's Halloween invitations are the perfect example of the invitations we love to create!  Something you won't find anywhere else!
2. How did you start making invitations for weddings?
The first wedding item created was for my own wedding over 4 years ago. I decided to design and print my own programs so I could include all the ideas I wanted without the outrageous price tag. Shortly thereafter, I had a co-worker getting married who could not find her perfect invitation, so I offered to create some designs and she loved them! From there, the word started to spread about my designs and the Bon Bini business was born.
For those curious about the origin of the Bon Bini Print and Design name, I admit it was of the hardest steps in creating my own business!  Bon Bini, pronounced "Bon Beh-knee," means welcome in Papiamentu, which is the native language of the ABC Islands (Aruba, Bonaire, and Curacao). My love for the islands of Bonaire (where I honeymooned) and Curacao (my favorite place to vacation!) and my love for stationery were combined to create the name Bon Bini Print & Design.
3. How do you go about creating designs for invitations?
The design process all depends on the clients: what they want, any design they have in mind, etc. For clients with a specific design, we meet to discuss their ideas, what they like/dislike, and then from there I create several samples. For clients without a specific design in mind, we find inspiration in other elements of their wedding, their personalities, or some of their favorite items. From there, I create a few samples to get the design process started and then allow the clients to pick their favorite elements from each design to combine into one perfect invitation!
4. What is the most difficult aspect of invitation design and creation?
The most difficult aspect is pinpointing the uniqueness of each client in order to provide a special design that reflects them and their event. I love individualizing and customizing invitations to match my clients' imaginations! Instead of creating the same exact invitation over and over again, I work with my clients to express their own inner designer, however deep it may be buried!
5. What do you like best about creating stationary for weddings?
The final product, of course! I love seeing a design come to fruition in all the stationery items for a wedding. It is exciting to see how one small design in a save the date or invitation can branch out into all the stationery items for wedding (i.e. programs, thank you cards, and table numbers). It is also a great feeling to see the excitement in a bride when she finally has the perfect invitation for her special day!
**We love you, Derica! Thank you so much for creating our perfect wedding invitations! And for all of you out there who are curious, Derica does out-of-state weddings as well! So please visit her website and ask if you have any questions.