Hey guys! Long time no blog. ;) We've been spending January getting all of our ducks in a row for the oncoming wedding season, but we're all set now and anxious to blog! I polled some fans on my Facebook fan page this morning (http://www.facebook.com/carolynscottphotography) about what informative post they'd like to see regarding weddings, and it was tied between how to make your wedding more personal and how to organize your timeline. So today we tackle personalizing your wedding, and later this week we'll deal with the timeline. :)
There is an endless sea of ways to personalize your wedding. Since everyone is different and unique, each wedding subtly reflects the personalities of the couples we meet. But sometimes people don't know where to start… or aren't quite sure how to personalize their wedding when so many weddings they see contain the same elements. So I'm here to show you a few different ideas that real couples of mine have used brilliantly in the past and hopefully you can glean some inspiration from them!
SPICING UP YOUR INVITATIONS:
Invitations don't have to be formal or plain anymore unless you'd prefer it. Here's some funky stationary we've seen as of late that really reflect the personalities of the couple: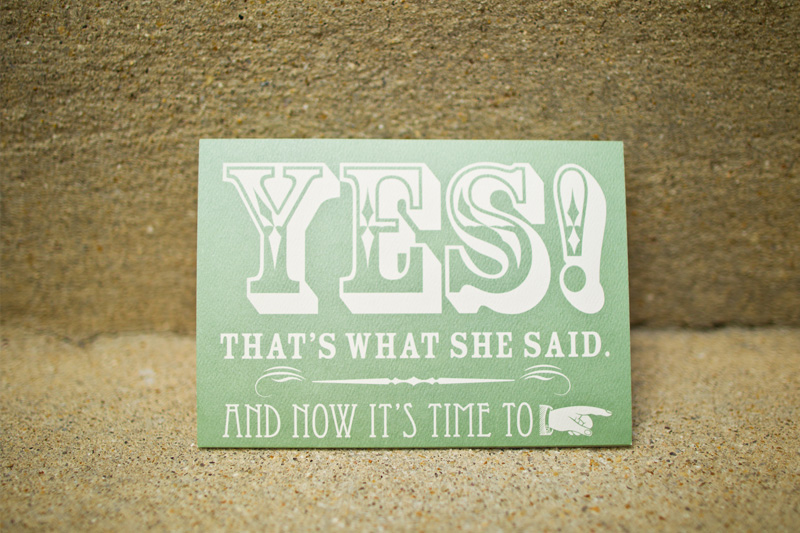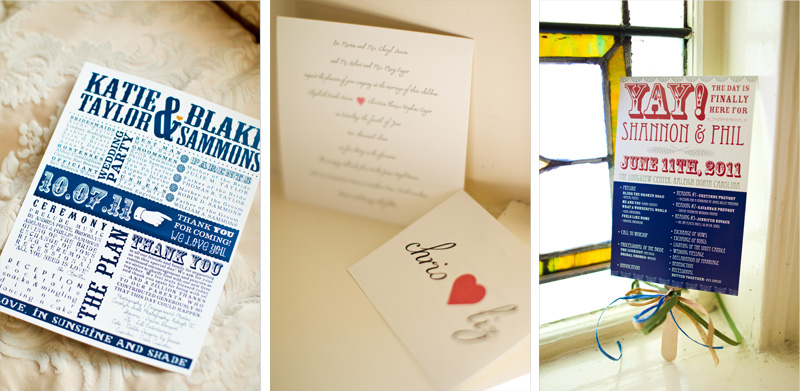 Above: (Left) Katie+Blake's one page program for their wedding ceremony, outlining the evening and thanking family, friends, and vendors
Below: Abby+Grisha's handmade wedding invitations. The envelopes were made from a book of maps around the world. The envelope shown below was kept by Abby because it was made using the map of their honeymoon destination.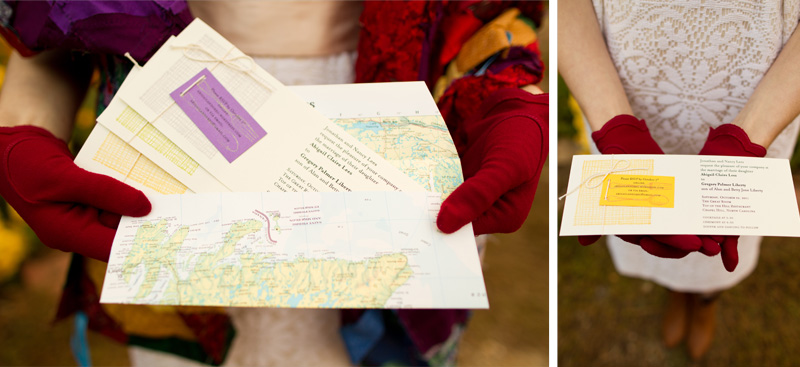 HANGING UP YOUR FAMILY PHOTOS:
Photos of the family are great to have around a wedding. It gives family and friends a talking point and something to look at while they're milling around. We've seen pictures of family members in frames, in scrapbooks, hanging from trees, and on clotheslines. And who doesn't love a baby picture of the bride and groom? :)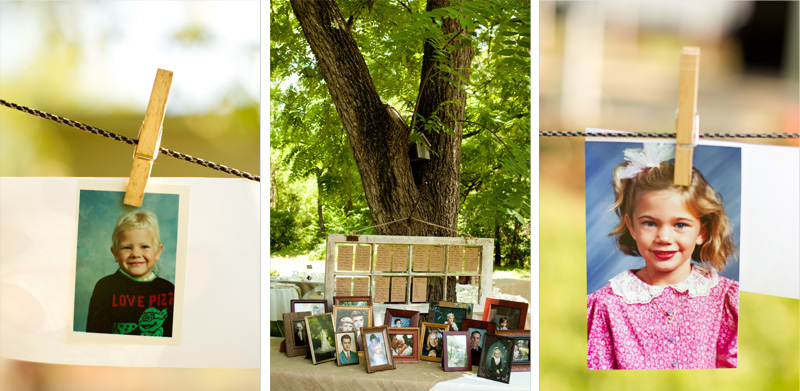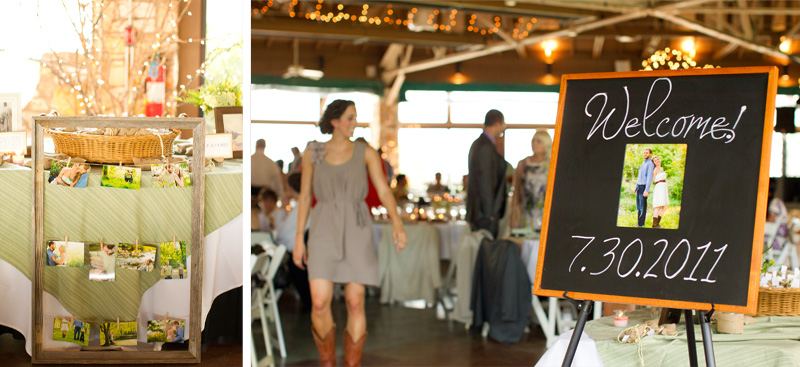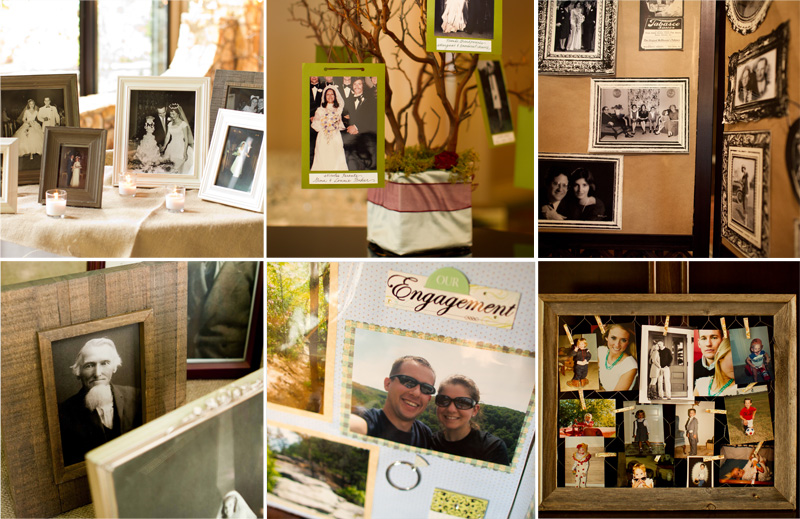 UTILIZING YOUR HOME:
What better, EASIER, and more personal thing to do than utilize your home for your wedding? Weddings at home are the chillest of the chill. Everyone's in one spot. There's no driving around to various locations. And usually Fido can be incorporated. Plus, it saves a ton of money. If you already have your venue picked out, why not get ready at home? It usually makes for a much more appealing space for pictures than a hotel room and can frequently have more light. PLUS there are some funky and cool places to take shoe shots and other pictures. :)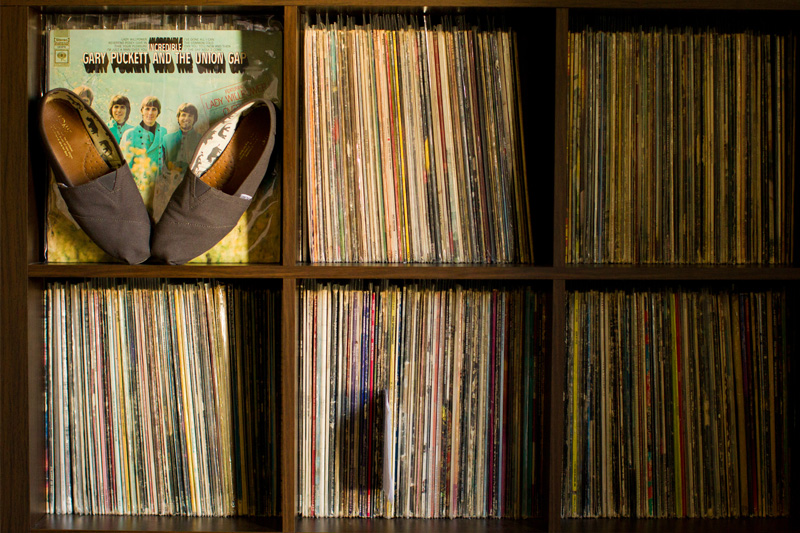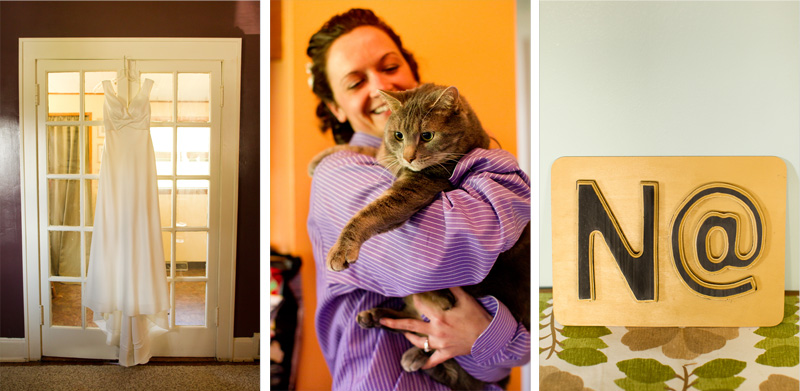 Above: Getting ready portraits taken in Morgan's home allowed for some funky dress and shoe shots, along with portraits of Big Snack the cat.
Below: Melissa+ Chris held their wedding at a friend's farm that they were living on at the time. Friends helped in the kitchen by preparing all of the food for the feast and the cakes.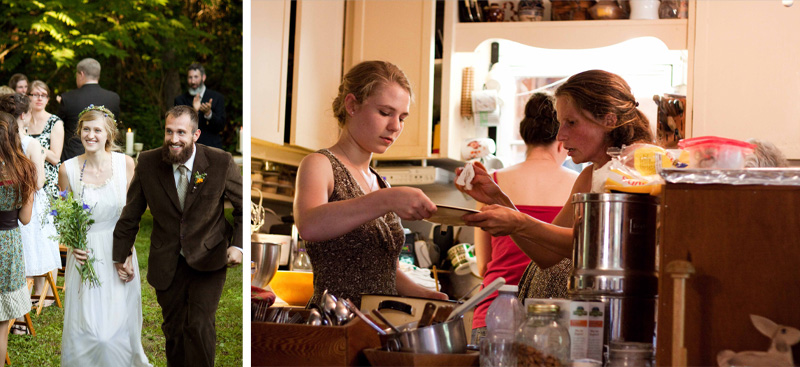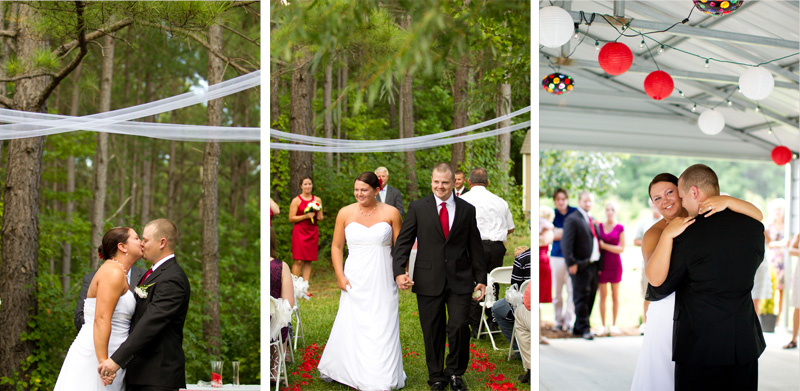 Above: Jenna+Josh get married in the backyard and creatively use their carport as a first dance space.
Below: (Left) Kelsey+Adam have an informal reception on their back porch. (Right) Melissa+Chris's back yard farm reception.


GUEST INTERACTION: HOW TO ACHIEVE IT AND WHY IT'S GOOD
There's going to be a time during your wedding day when the guests are kind of bored (mostly it's because we're taking pictures of you). Cocktail hours are fine and good, but the best weddings I've seen with the happiest guests have involved some sort of craft project to keep them entertained during the lulls in the timeline. This gets the guests interacting, interested, and less likely to leave your reception early. Plus you get some incredibly amusing pictures and keepsakes… all while sticking to the theme of creating a personal wedding based around you as a couple.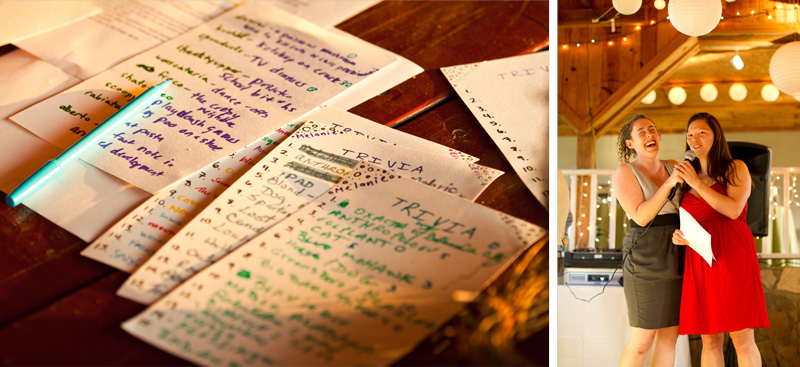 Above: In lieu of a DJ-spun dance reception, Melanie+Eric opted for a trivia game which was much more up their alley. Their friends hosted it (Right) and the guests wrote down their answers to trivia about Melanie+Eric's relationship (Left). It caused a lot of laughs and kept the guests entertained.
Below: The guest book at Melanie+Eric's wedding also kept the guests entertained by having them fill out a form. It was double-sized and created by Melanie on her computer. They printed out the sheets, hole-punched them, put them in a binder, and provided the guests with tons of colored markers to fill in their answers. This simple idea kept the guests constantly entertained… as well as myself, who kept returning to the guest book to check out the new answers (which were always hilarious).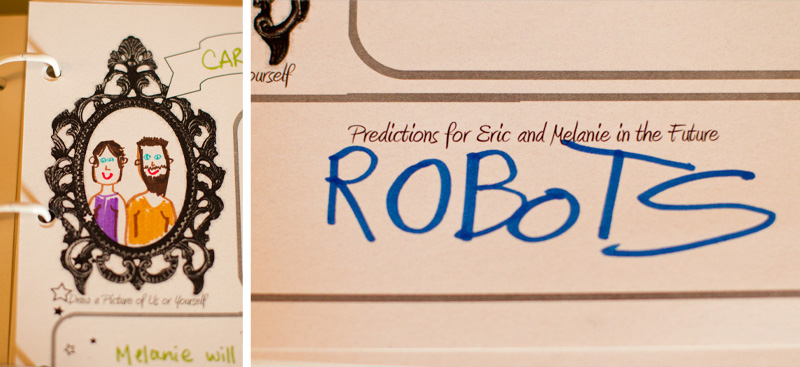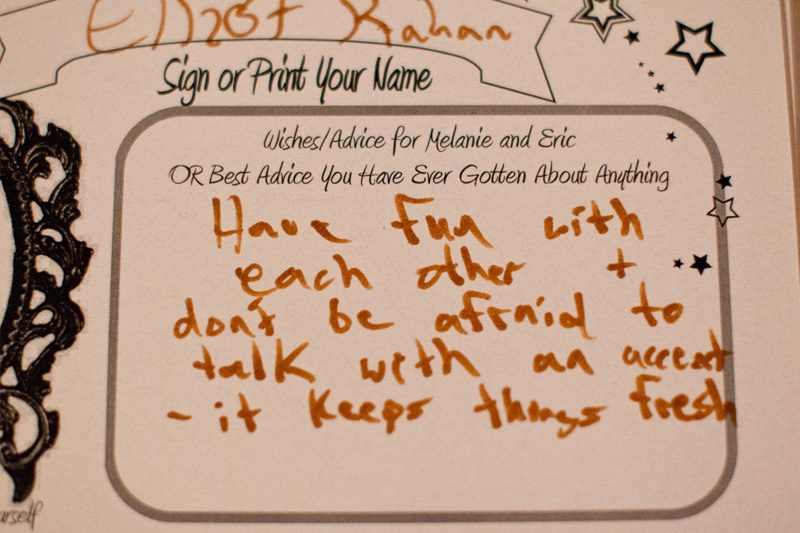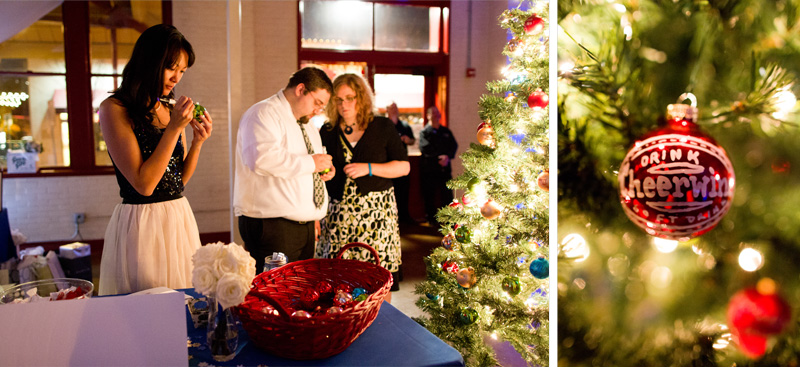 Above: At their Christmas-themed wedding, Gwen+Nick had guests decorate ornaments to put on their Christmas tree. A themed wedding is an INCREDIBLY easy way to add your personality to ANY wedding as well as make it easier to limit your decoration options if you're too overwhelmed. Ours was Halloween themed. :)
Below: Shannon+Phil made a makeshift Photobooth that kept their guests entertained throughout the night as well as served as a guest book! Providing guests with a Polaroid camera, film, gluesticks, a scrapbook, silly props, and a black curtain, guests went back repeatedly to take goofy pictures and pasted them into the scrapbook with accompanying messages.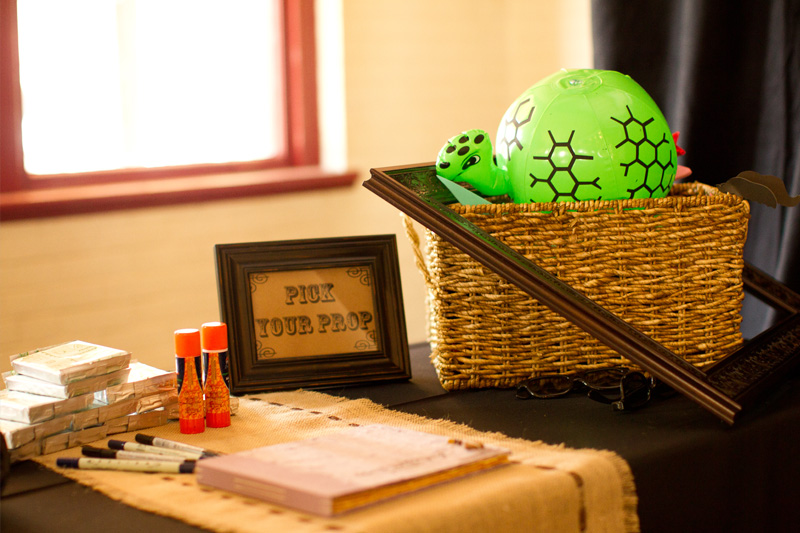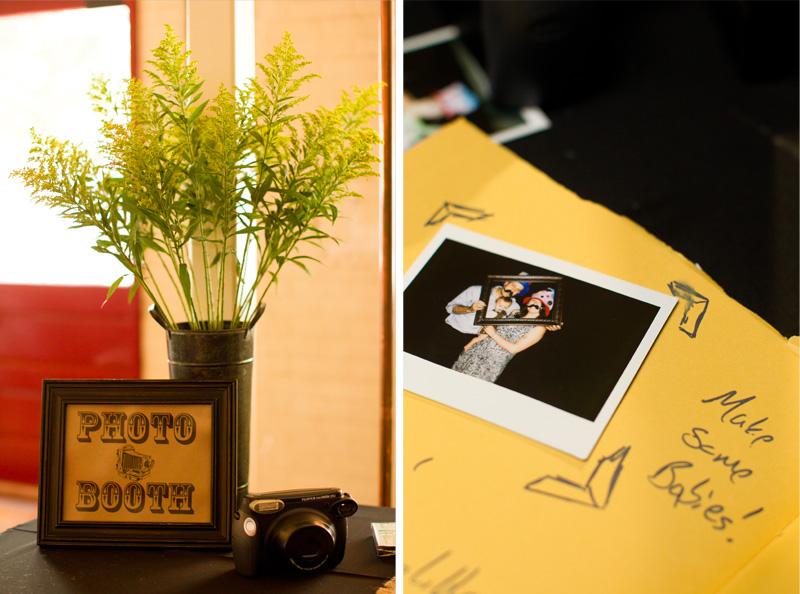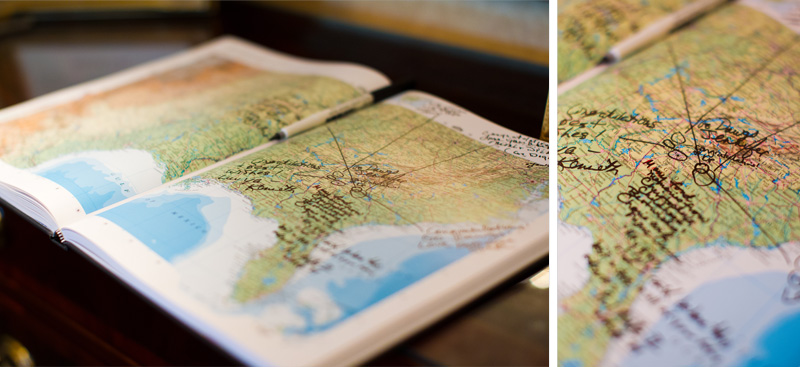 Above: Caitlin+Christopher kept their slew of out-of-town guests occupied by providing a world atlas as their guest book, with each guest signing next to their own of travel.
Below: Various games can provide entertainment for a lull in the timeline for guests, as well as provide fun interaction for those guests of yours who don't enjoy dancing.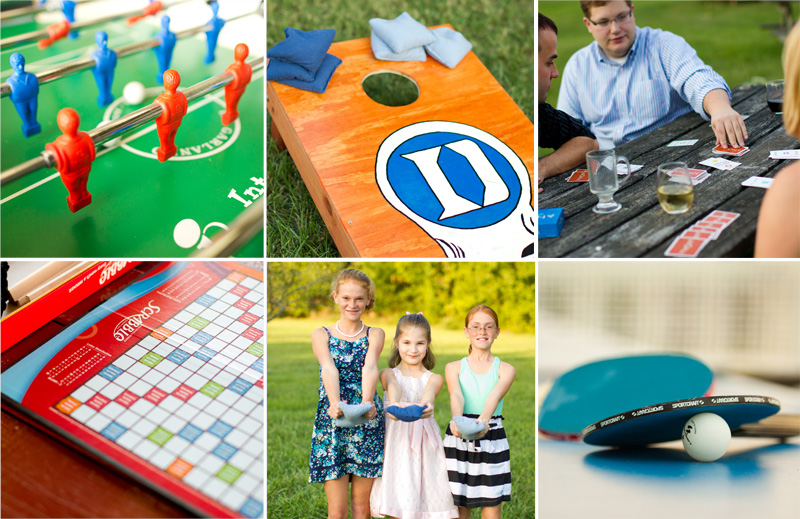 ALTER YOUR ALTAR:
Churches, indoor, and outdoor spaces alike can all use some sprucing up sometimes. Just because it's a plain space now doesn't mean it has to be for your wedding day. Check out these ideas other couples used to spice up their space in a personal way!


Above: (Left) Married at Marbles, Lindsey+Jonathan were faced with having a background that was literally a giant black projection screen. Trying to figure out how to decorate it, Jonathan came up with the idea of projecting their favorite painting onto the screen, creating a beautiful and personal projection behind them. (Right) A salvaged fireplace mantle and two vintage doors were repainted and reused as a background to an indoor wedding.
Below: (Top Right) Liz+Chris were married with two young trees to mark their altar space. The trees were then taken and planted at their new home, adding a beautiful and personal touch to their wedding. (Bottom Right) Special cloth that had been in the family for generations was used to decorate this huppa adorning the ceremony.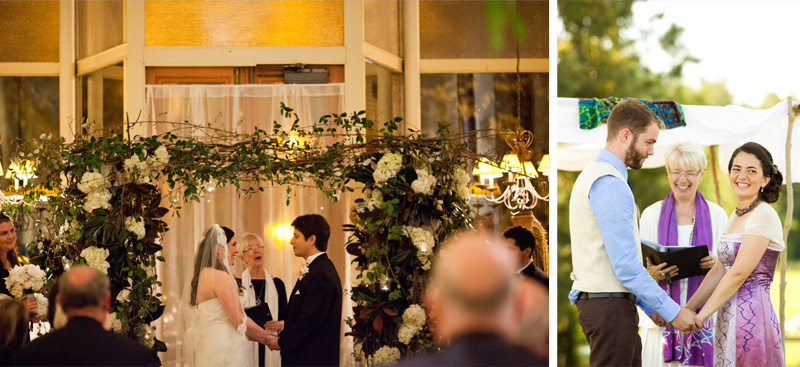 ADDING A PERSONAL TOUCH TO YOUR RECEPTION SPACE:
So you've rented a hall… and now you're not quite sure what to do with it. Ask yourself: if it were your home and you were having a party, how would you decorate it? After all, a wedding is pretty much just a giant (more meaningful) party. :) Consider what the couples below did in order to spruce up their reception in a way that suited their tastes and changed the space for a better (and more personal) way.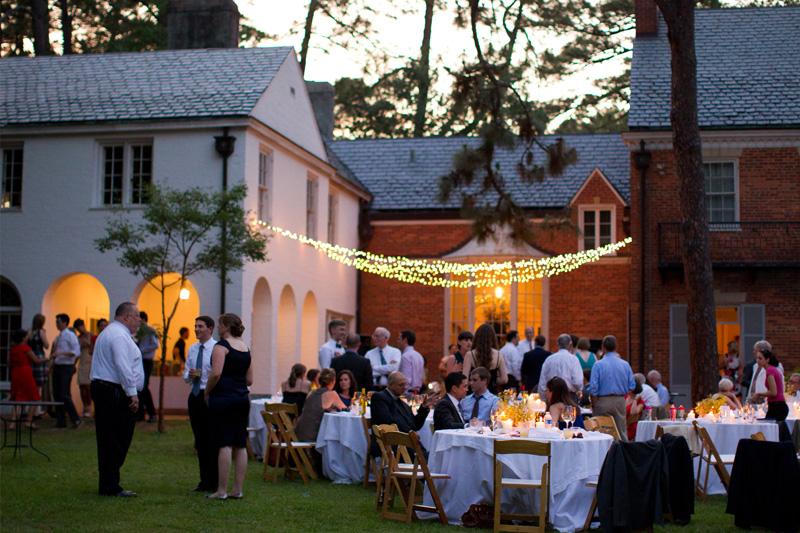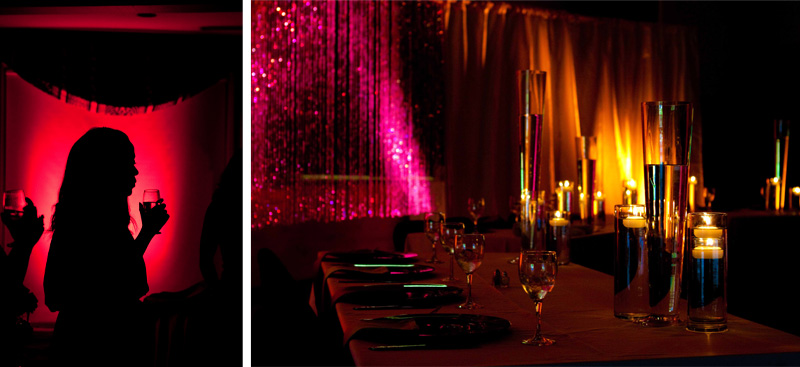 Above: (Left) Adding uplighting to any space instantly brings your wedding colors into your reception and creates a club-like vibe. (Right) This school gymnasium was beautifully turned into a stunning reception space simply by adding curtains, uplighting, and classy decoration that highlight the couple's personalities.
Below: (1) A couple writes their name in chalk on a wall in their reception space. (2) A couple adds lanterns and drapery to the ceiling to create a more intimate space. (3) Another example of uplighting a reception to bring in the wedding colors. (4) A couple uses wildflowers from a local farm to tie in their views of supporting local farmers with their wedding. (5). Colorful lanterns are hung inside a reception tent to liven up the atmosphere.



HEY MR. DJ: I WANT A BAND
I've met a few couples that just aren't into modern or mainstream music. Bringing their own personality to their party instead of partaking in the norm, they chose to hire various bands (ranging from an oldies band to a mountain jugband to an indie-country band) that reflect their tastes.



DISSING THE STANDARD CAKE FOR SOMETHING A LITTLE MORE… THEM:
A few of our couples ::gasp!:: haven't liked cake. :) A few more of them went to try their wedding cake… and couldn't choose just one. Instead of squeezing themselves into the model wedding cake idea, they chose to bring to the table what suited them best… and highlighted their personality.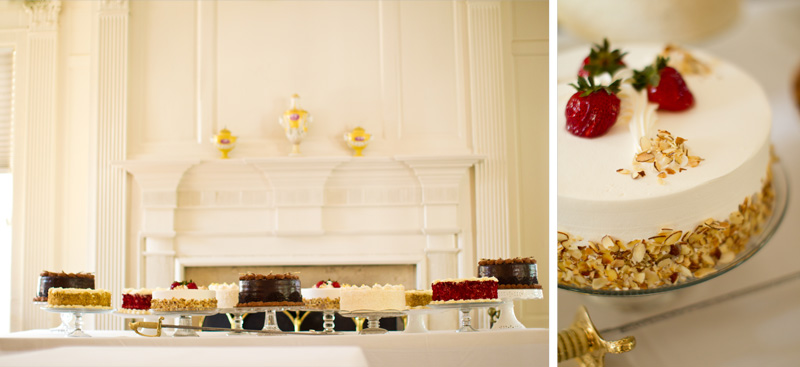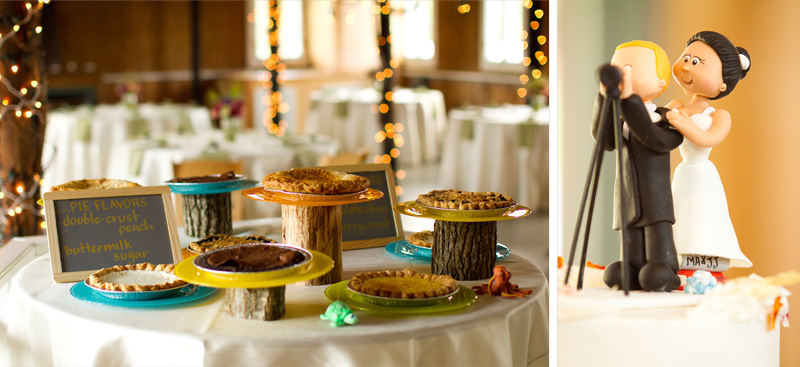 SHOWCASING YOUR PERSONALITY AT YOUR WEDDING: I DID IT MY WAY
Here are some hodgepodge images of things that couples have done to make themselves stand out from the crowd. I tend to attract couples who don't take themselves incredibly seriously (thankfully!) and tend to highlight that playful nature at their weddings. Their weddings end up fun, relaxed, and just fit the couple to an absolute "t". Let's look at things they did that might spark some creativity of your own. :)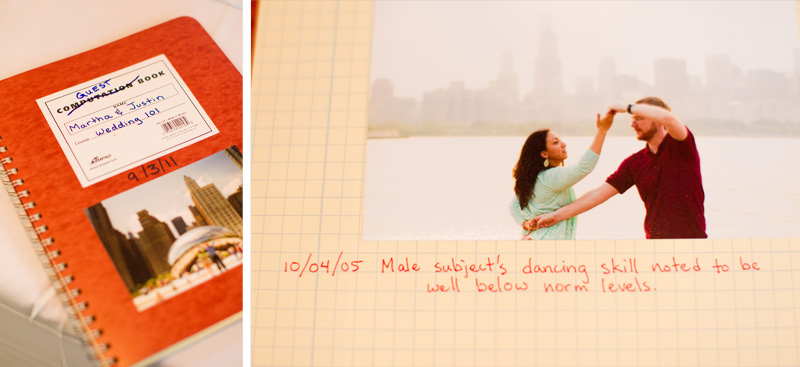 Above: Martha+Justin, who both have jobs in the science field, incorporated their jobs into their wedding by using a standard Computation Book and turning it into their guest book, complete with pictures of themselves marked with funny lab notes. :)
Below: Sarah+Jimmy's centerpieces were double sided on every table: one side included one goal they had set aside for themselves as a couple to accomplish each year, and the flip side was a quote about love that was significant to them.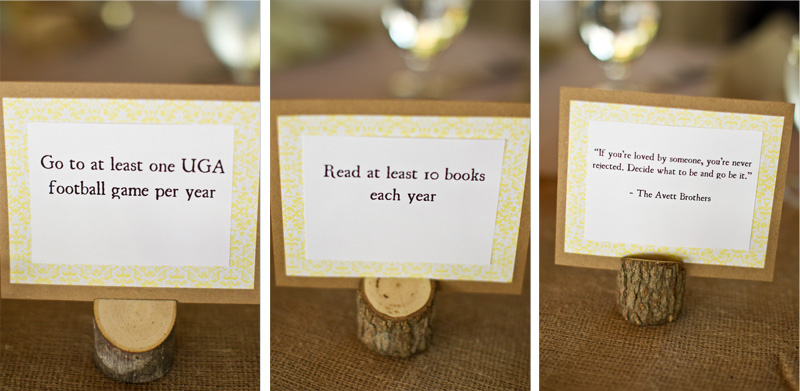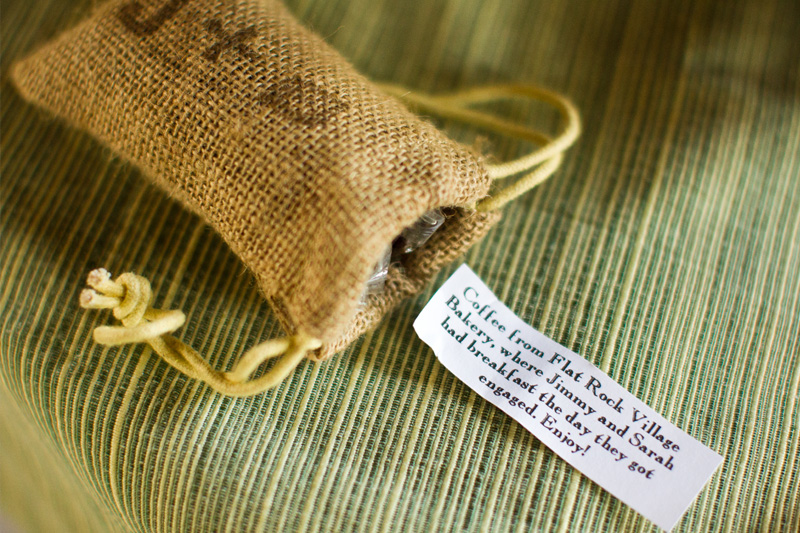 Above: Continuing with Sarah+Jimmy's wedding, the couple's wedding favors were bags of coffee from the breakfast place where they ate the day they were engaged. A perfect way to personalize your wedding favors!
Below: (1) The groom was a fireman, so this personalized fireman's hat was brought in as unique decor for their wedding. (2) Another vintage door was hand painted using regular paint, chalkboard paint, and chalk and set aside as decor. (3) A mini-replica of the couple's house was used as a card holder. (4) Sweet tea home-brewed by the couple was given away as a favor at a backyard wedding. (5) Taffy, a candy native to the bride's New Jersey shore, was the personal favor at this wedding.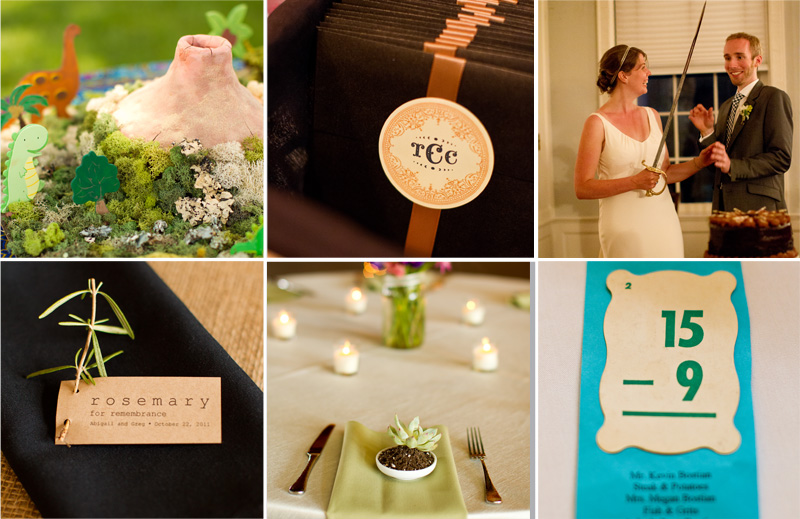 Above Six Squares: (1) This nature-loving couple opted for the Unity Volcano instead of a Unity Candle at their offbeat ceremony (yes, with baking soda and vinegar like middle school… it was beyond awesome). (2) Taylor+Chris made their guests mix CDs of their favorite songs packaged in cute initial packaging for their favors. (3) A sword passed down through generations and used to cut many wedding cakes is used at Liz+Chris's wedding. (4) Rosemary, an herb important to the couple and meant for remembrance is placed on the napkins of all of the guests. (5) In lieu of standard favors, this couple presented their guests with a small plantable succulent. (6) Table numbers were identified in this clever way at the wedding of two math professors.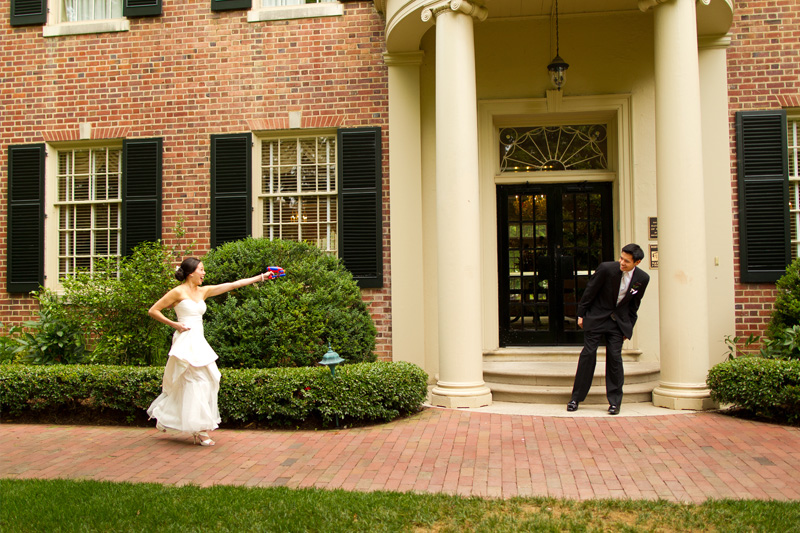 Above: In addition to creating fun and personal decor, don't forget to let your own personality shine through. :) Weddings can be stressful, but if you relax and allow yourself to be, well, you (like this bride did), you can turn your regular first look into something hilarious and unforgettable.
Below: Pie was served instead of cake at this wedding. Also, in lieu of having a standard receiving line or greeting guests at their tables, the couple decided to don aprons and scoop ice cream onto the plate of every guest who came through their line. It was an adorable and quirky version of a traditional guest greeting… and was very much in line with their personalities.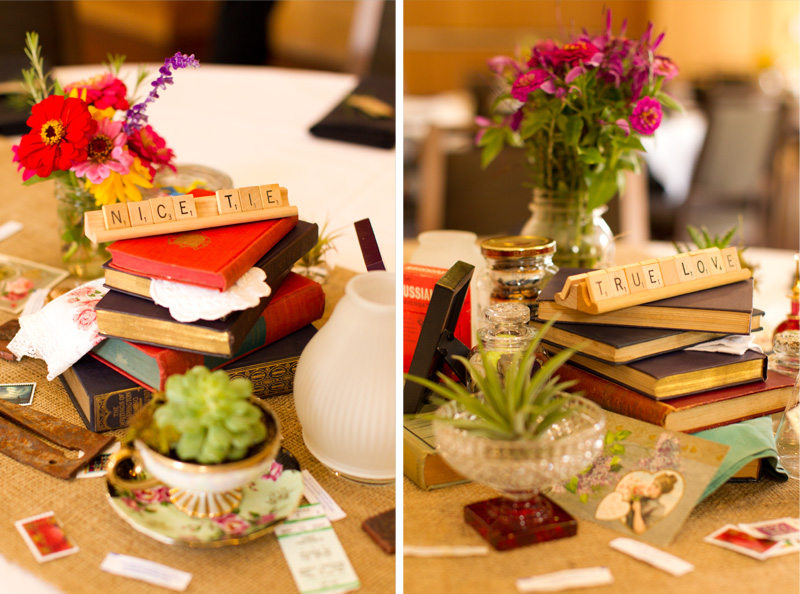 Above: These seemingly random items all had meaning for the couple and were gathered over several years. Funny and cute sayings were added using Scrabble tiles (the "Nice Tie" saying was placed at the table facing the bride's dad… who paid more for his tie than his whole suit, much to the amusement of his family).
Below: The scientists strike again! Using test tubes taken from their lab (they weren't used!), the couple filled them with M&Ms and tags. Their centerpieces incorporated wildflowers and the groom's personal collection of books about space and science.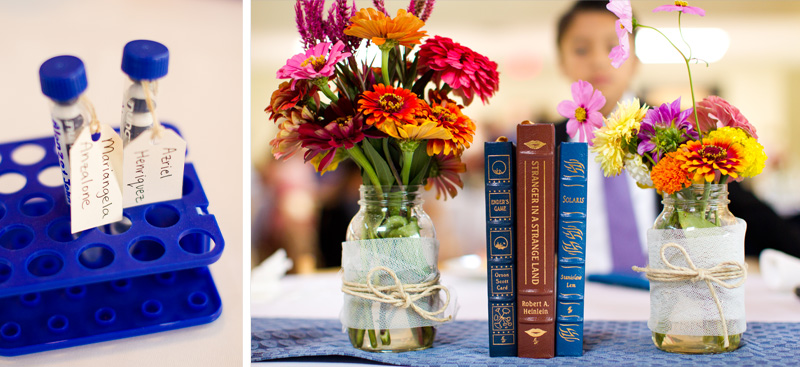 I hope that this blog post was able to strike up some ideas on how to incorporate your personalities into your wedding! Please feel free to list further suggestions (I definitely didn't cover them all!) or start a discussion based on decor. I love learning about ways to take things that are inexpensive and personal to create an awesome wedding vibe!