my wedding vendor interview for this week is stephen scott, a raleigh wedding DJ who I've previously had the pleasure of working with. stephen is very professional, organized, and has fantastic equipment. i would recommend him to anyone, so i've featured him in our blog to give my brides and the rest of the internet world a peak inside his head!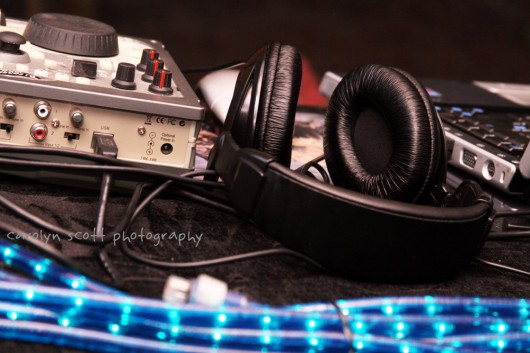 Stephen Scott
Professional Entertainment
919-633-1500
1.) What made you decide to become a wedding DJ?
I love music and making people dance. A wedding reception is the best place to show your skills and create a memory that will last a life time.
2.) What is your favorite thing about DJing at a wedding?
Being part of someones special day and the fact that it is a joyful experience were everyone is happy.
3.) What is something you wish you'd have known when you first started to DJ?
I wish I would have purchased the best equipment first, the quality is there and it lasts!

4.) How do you go about deciding on the playlist for a reception?
I use my DJ PLANNING GUIDE to help with all of these type of show specifics.  You answer questions based on people's ages, number of each attending, types of music styles they like, specific artists they listen to, do they want line dances, what music they do not want played, plus songs they must have played.  I take all the information and design a show that will build in excitement and cater to all ages at first and then slowly fade in the newer music at the end of the night.  My goal, as your wedding DJ, is to provide entertainment and the right music environment that will help you and your guests enjoy themselves.
5.) What type of equipment do you bring with you?
Top of the line equipment with a superior sound quality.  I also bring back up gear to solve any equipment failures that might stop the music production.   Having been a DJ for over 10 years, problems will arise that you must solve, the show must go on!!!
6.) Do you DJ other types of events as well?
I can DJ any type of event, my focus and expertise is wedding services.  To be in the top of your field you must focus on doing something well.

7.) What is the craziest thing you've seen take place at a reception?
I saw the bride break dance in her wedding dress, what a sight and a great moment that night!
8.) What do you think a bride should look for in a wedding DJ?
A professional with experience that has a system in place that covers everything that will happen that night, like my DJ PLANNING GUIDE.  Not only does this make the reception go smoothly but will organize the other vendors like photographers and videographers to the formalities that are taking place.
**thank you, stephen, for taking the time to be a part of this interview and i can't wait to have the opportunity to work with you again in the future!