after our wedding we skipped town and headed to costa rica for two weeks. i'll spare you the long and agonizing story of how continental lost our luggage, broke our luggage, and then manage to get 30% of the contents of my luggage sold on the streets of liberia. but after two grueling days without any contact solution and several very expensive and angry phone calls to continental later, we received our luggage (or what was left of it) and hit the beach. we stayed at the flamingo beach resort in playa flamingo in guanacaste, costa rica (the pacific side). the picture quality isn't as clear as i'd like it to be as i took my non-professional camera gear, but they came out pretty good!
helloooo view from our balcony!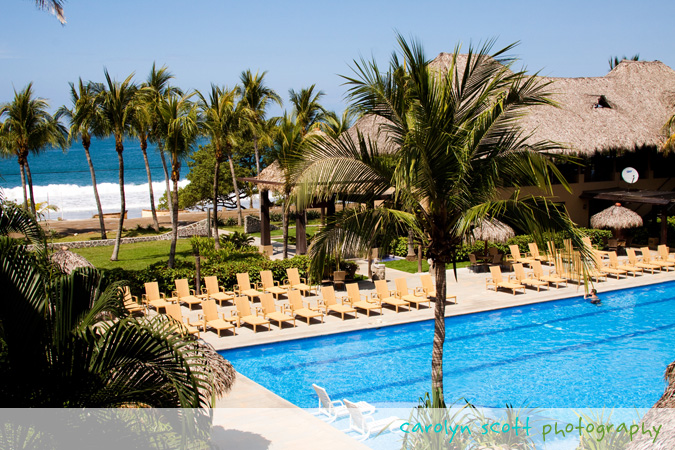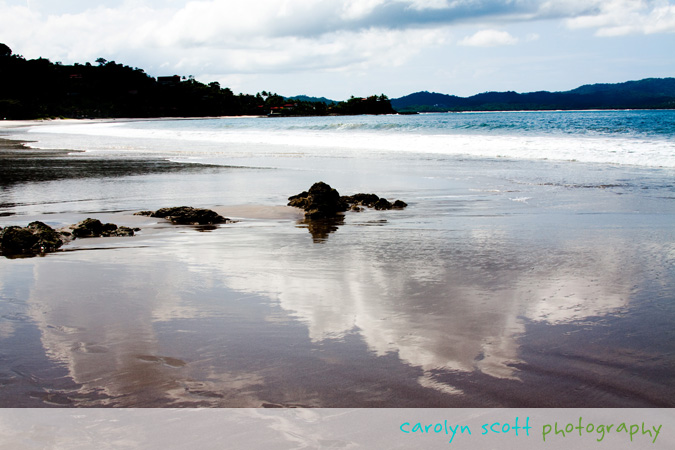 the food there was outstanding. david, the head chef at the restaurant, is fantastic. everything has tasted awful since we came back to the states… and that's a sign of good food.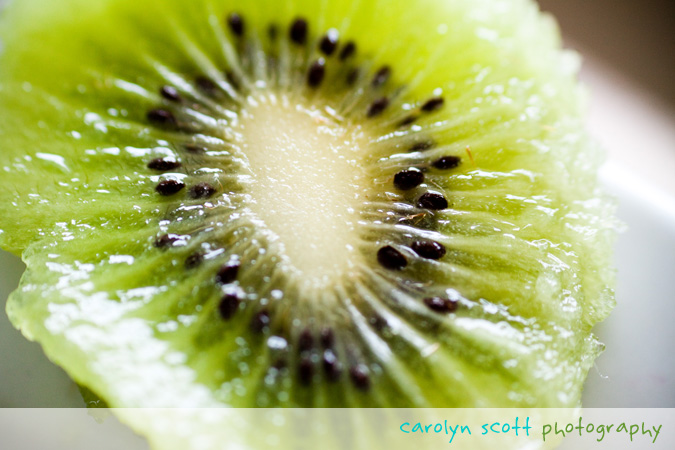 giant birds! the footprint on the left is geoff's size 12 foot for comparisons. they were everywhere and usually looking at you in a threatening manner.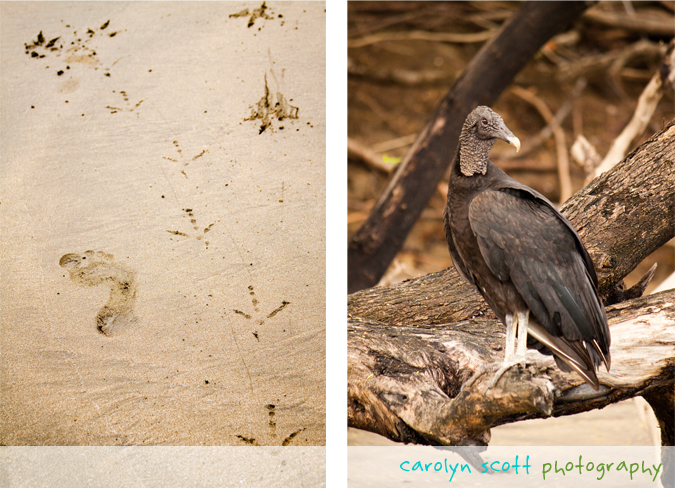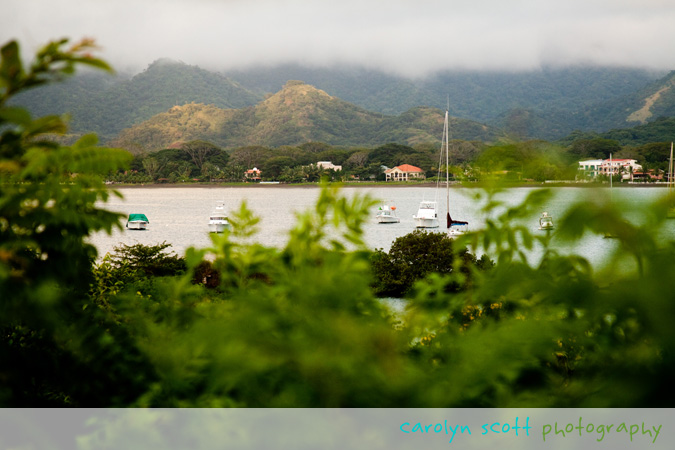 me feeling very bad for homeless cats and dogs was, unfortunately, a large part of our trip. peta needs to intervene in this country stat. all of the dogs were ridiculously skinny, everywhere, and would chase after your car, atv, or anything that moved. the cats were a little more subdued and slightly less malnourished. here's one of the locals who lived near the resort whom we befriended because he looks like our cat, dolfy.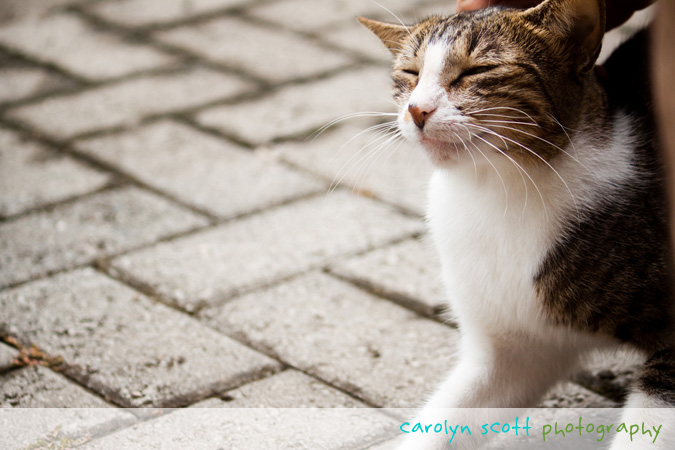 the sign below is pretty self-explanatory. they sat on every table outside placed outside and around the resort. and while at first we laughed, we later realized that these critters are serious. the bird on the left, for example, will steal all the food off your plate if you get up for one second to go to the bathroom. or, if the can't find food, we found several of them stealing splenda packets, ripping them open, and eating them.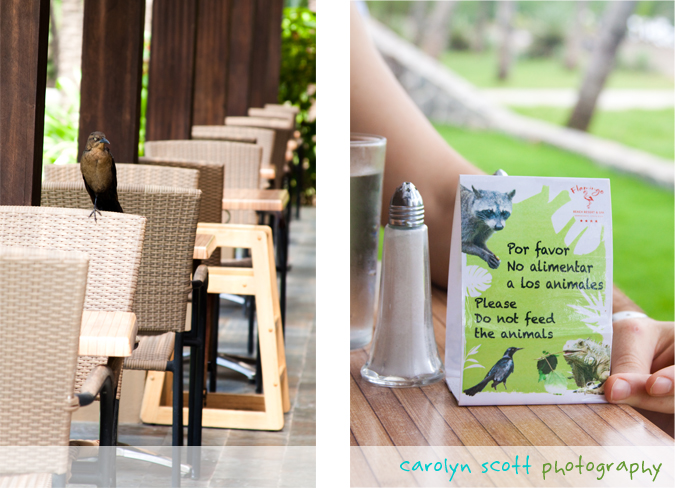 next we introduce you to the bane of the hotel management's existence. yes, he's a racoon inside the hotel. the walls of the resort were basically structure supports, so most of the resort didn't have walls, so critters could just walk up the stairs and come in. most of the time the recycling containers would be knocked over and he could be found head-first in a garbage can while the hotel staff could be seen running around yelling at him in spanish and picking up his garbage.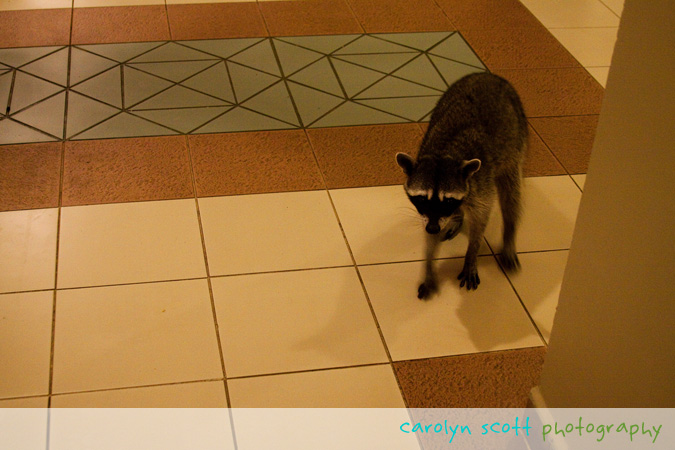 one of the only 3 monkeys we saw while we were there. super disappointed in the ratio of monkeys people said we'd see vs. the monkeys we saw, but they were cuties when we did see them.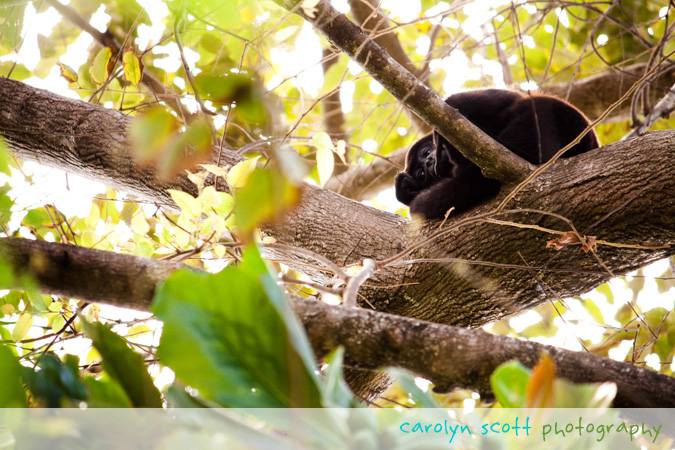 again, animals just chilling around the hotel. old school CSP watermark on this puppy to avoid stamping over the bird.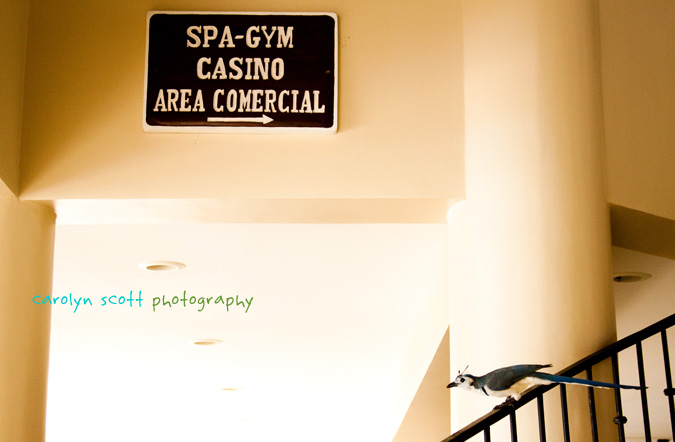 this was the 3rd critter on the "do not feed the animals" sign, sitting on the table next to the pool chair like he did every day for two weeks unless it was raining. we got super lucky with the weather and it only rained at night, for about two hours in the afternoon, and our last couple of days. oh, and the entire time we were in monteverde, but that's a different story.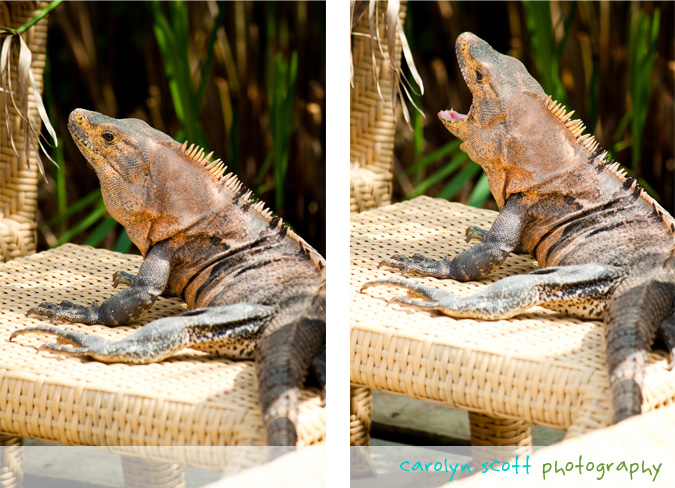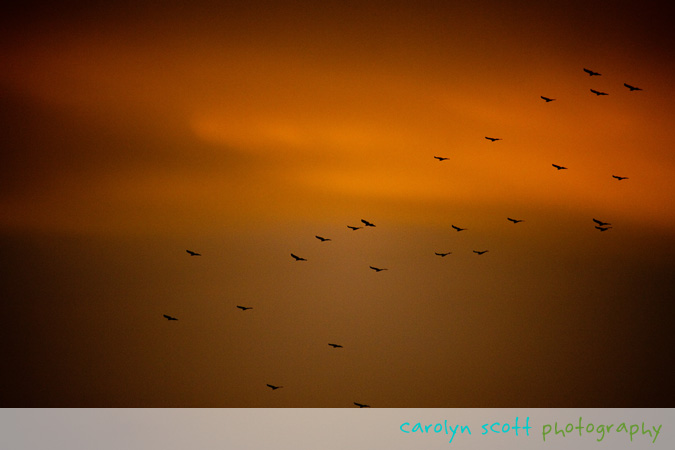 the sunsets at flamingo beach were cool and turned everything orange.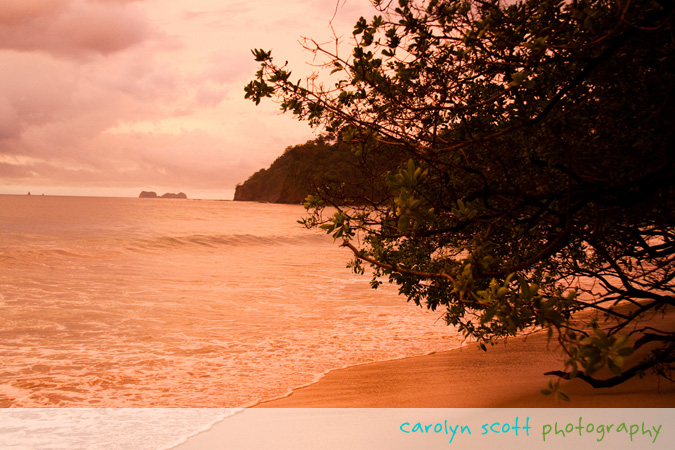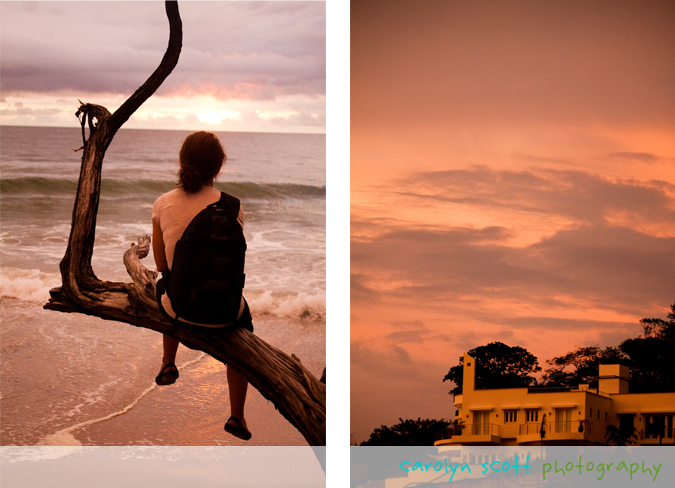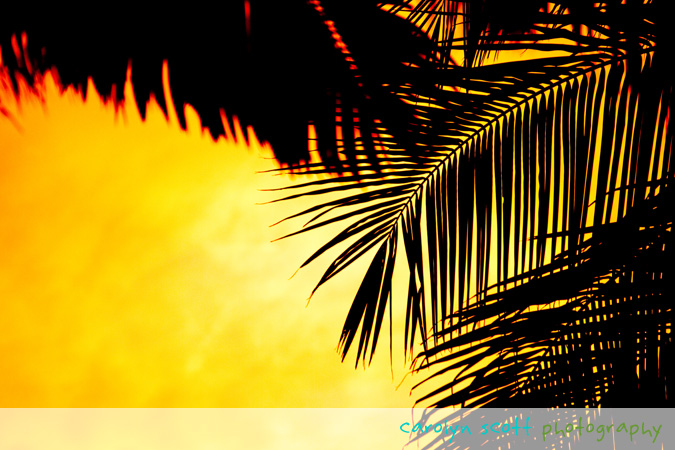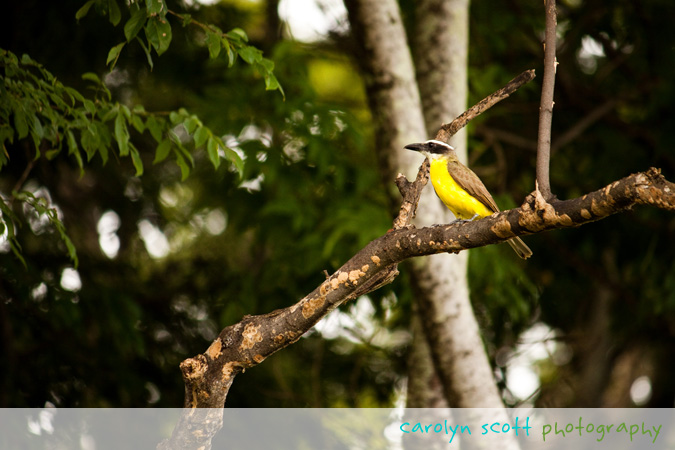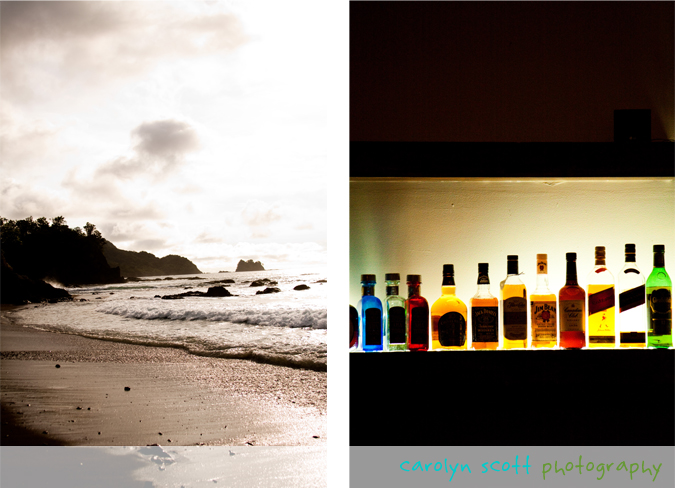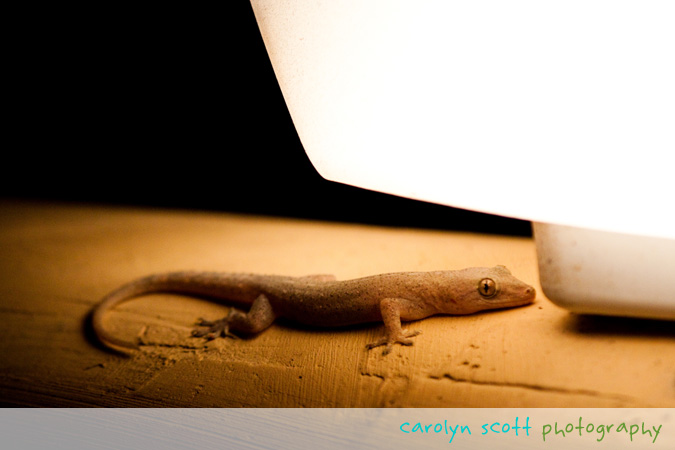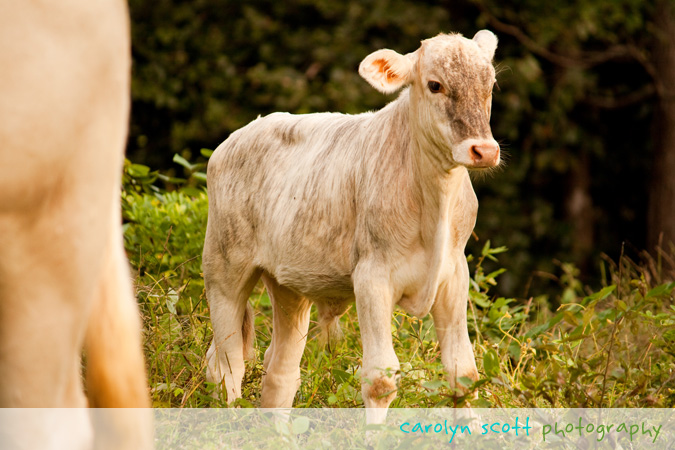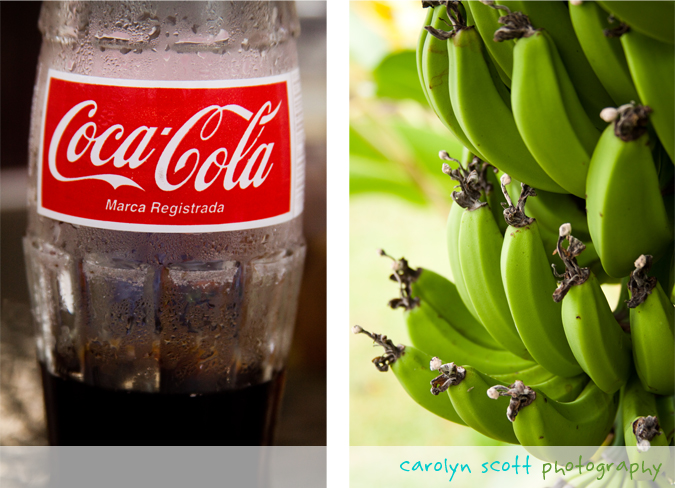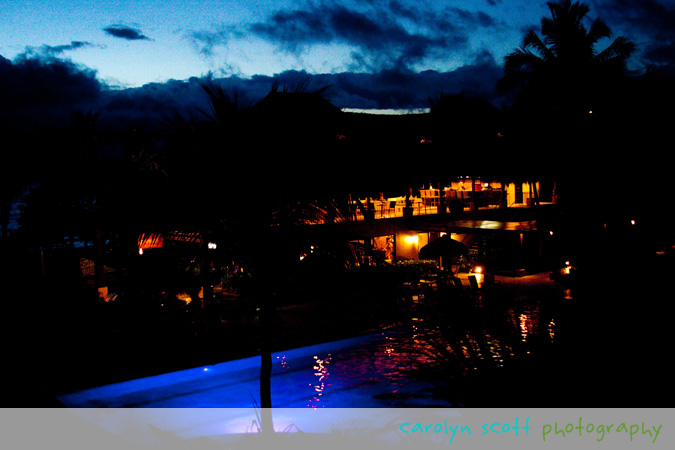 you might be wondering what you're looking at in this next picture here. if you're wondering, "is that a…?" then yes, you're correct. that's a dog in a bag… traveling on the back of a motorbike. really? wow.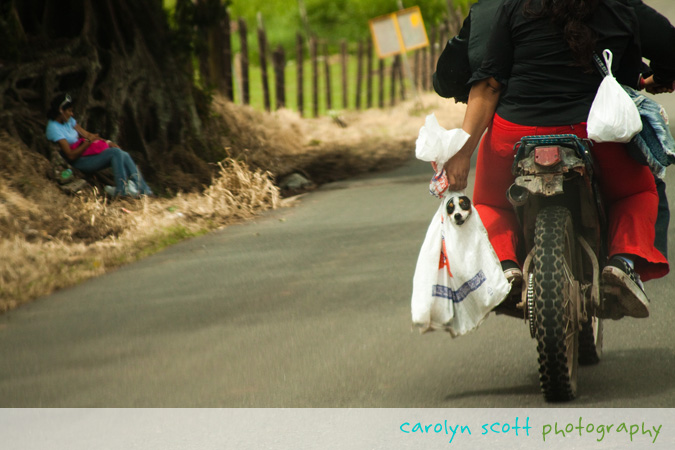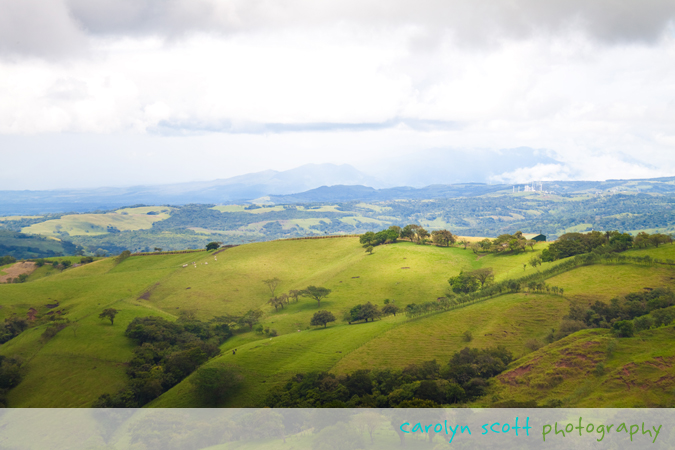 so after spending almost a week at flamingo beach, we headed up to go see the arenal volcano, which is located about 3.5 hours inland. we stayed at volcano lodge, which had awesome gardens and the ability to walk out our little patio door and have a volcano in our backyard. we stayed there for two days and saw the volcano for 30 minutes. it doesn't come out much. it's often so foggy that you'd have no idea  volcano is even there, but you're reminded of one of the world's most active volcanoes exists in your immediate vicinity by the signs that show people running frantically out of your hotel room, down the street, towards the hotel lobby.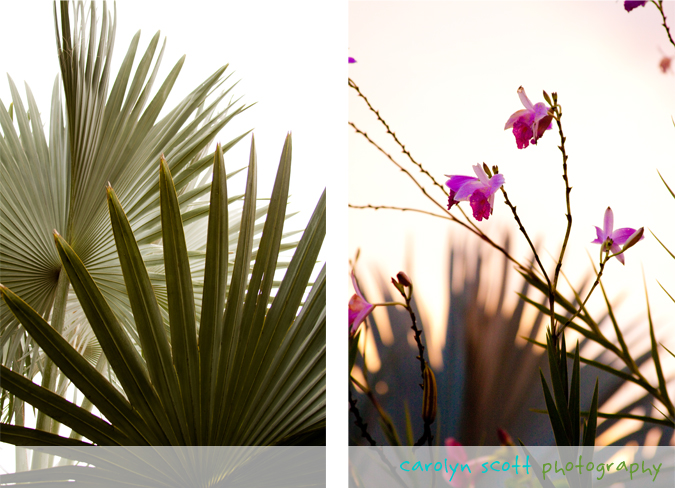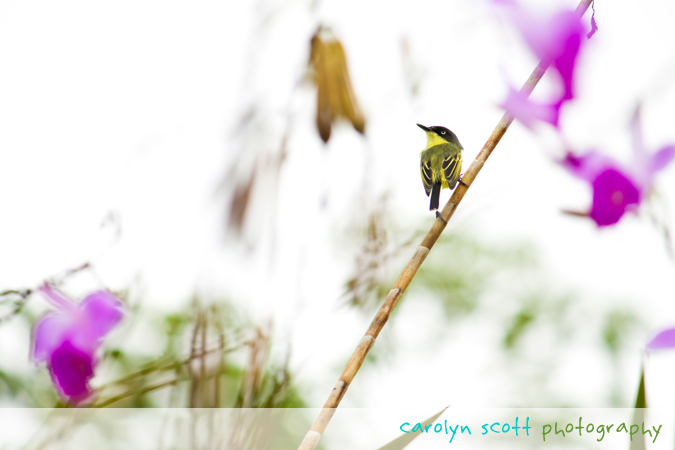 don't mind us… the drive was incredibly grueling. the roads in costa rica are horrendous and we drove ourselves, which involved us getting lost in dangerous places several times and me almost throwing up everywhere. (this trip had a lot of motion sickness and vertigo problems brought on by a mixture of extreme sport adrenaline and panic attacks caused by: scuba diving, ziplining, whitewater rafting, climbing inside a ficus tree to a skybridge, atv driving, nightwalks with tarantulas, and trying to survive in a spanish-speaking country for two weeks after taking 5 years of french).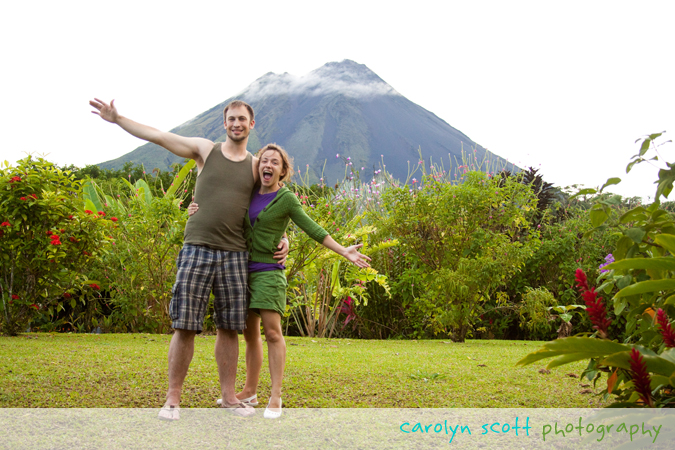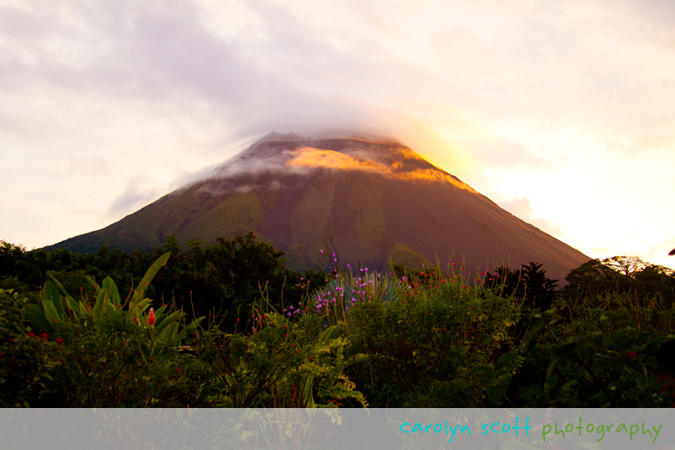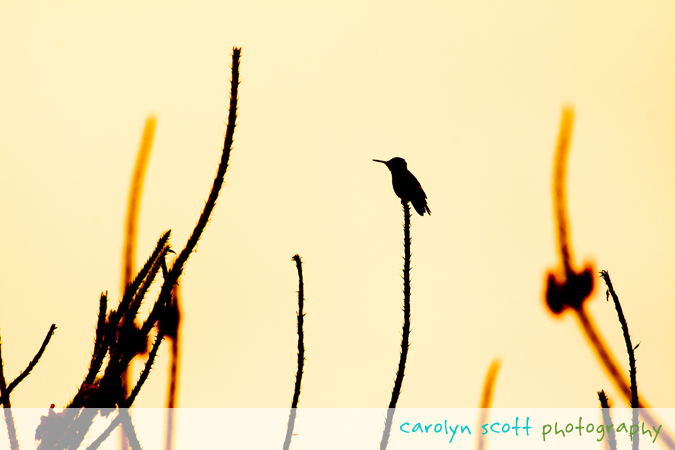 the sunsets are unbelievable.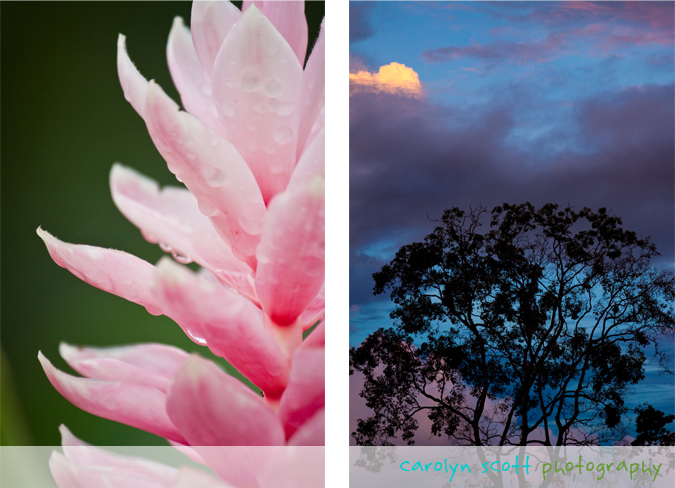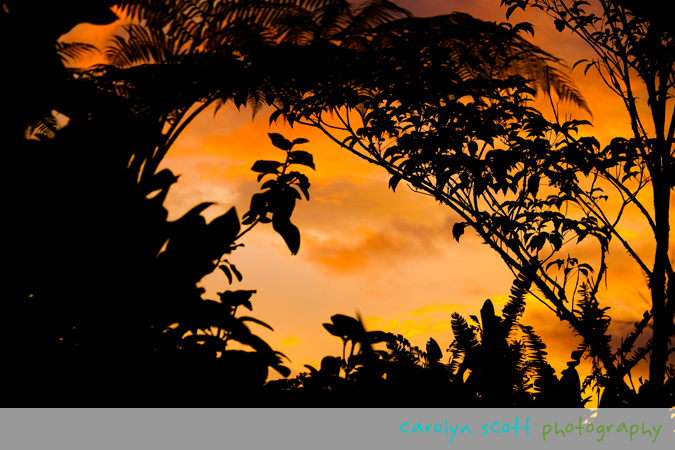 one of the nights we stayed up in arenal we hit up the baldi hot springs on the recommendation from several of the locals and the couple we whitewater rafted with who were staying there. they filter in the mineral water from a stream that runs through the volcano and input it into a bunch of different pools (i think there were twenty-some). all of the pools are different temperatures ranging from a flesh-burning 152 degrees to a normal 82.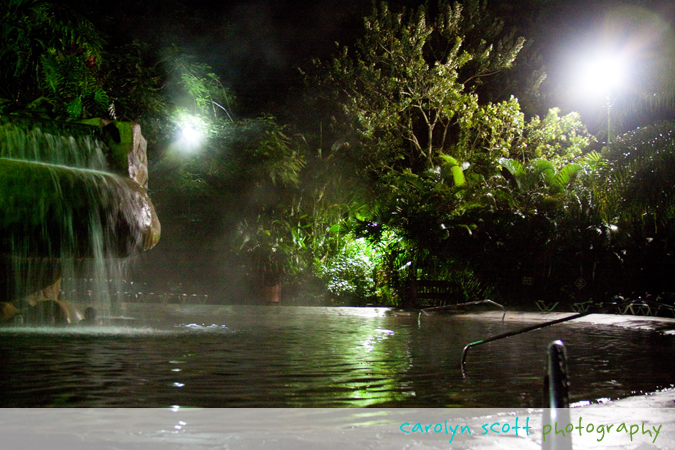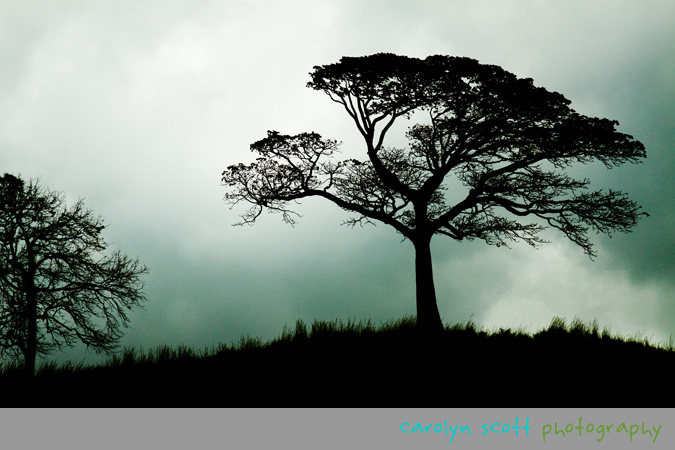 so after being in arenal for two days we decided to try and make the trek to monteverde, one of the rain forests in costa rica. it's technically a cloud forest which differs from the rainforest in species of plants and animals as well as weather, but it's close. the drive to monteverde is extremely treacherous. you can and should take a tour bus. the road below is an example of why. not so much because of the oxen being driven up the street, but because you can see the "lanes" aren't really big enough for two cars and that, oh wait, there really aren't any lanes. or pavement for that matter. see between the gap in the cows? all those big rocks? that is the road. and we drove this for 4 hours (mostly because we got lost) in… wait for it…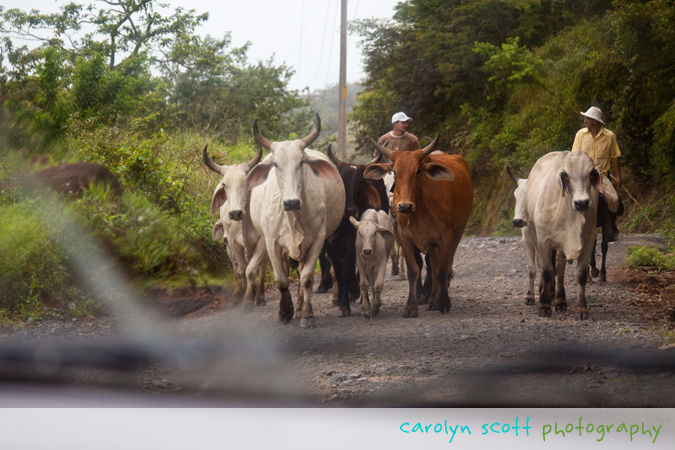 A YARIS. yes. highly un-recommended for driving unpaved roads through a rainforest in a developing country. surprisingly enough, despite it sounding like it was going to shake apart at any moment and the battery light flashing on and off and a weird squeaky noise coming from what we think was a belt somewhere, the yaris survived! it was safely returned to the rent-a-car place and we got our $1,000 deposit back… which is good, considering they don't tell you that you even have a deposit and that they preemptively charged your credit card with it. the yaris in monteverde: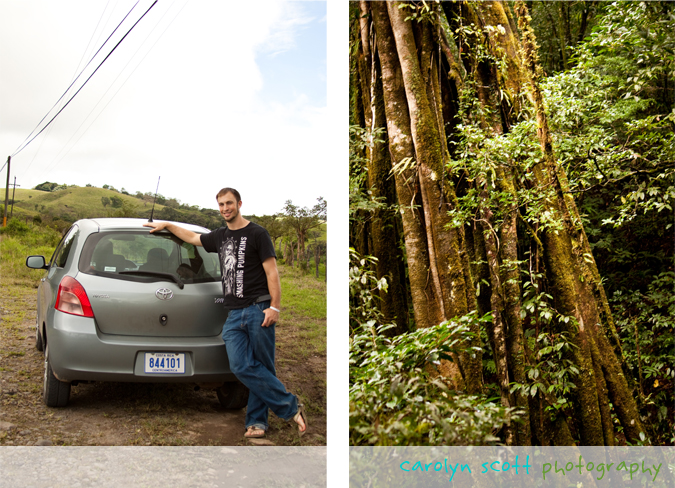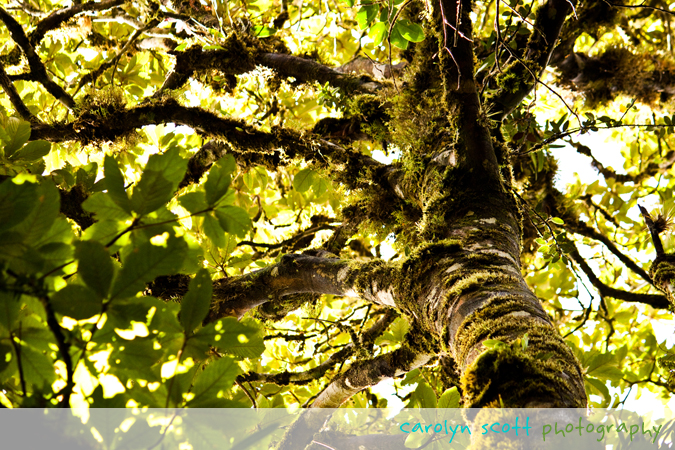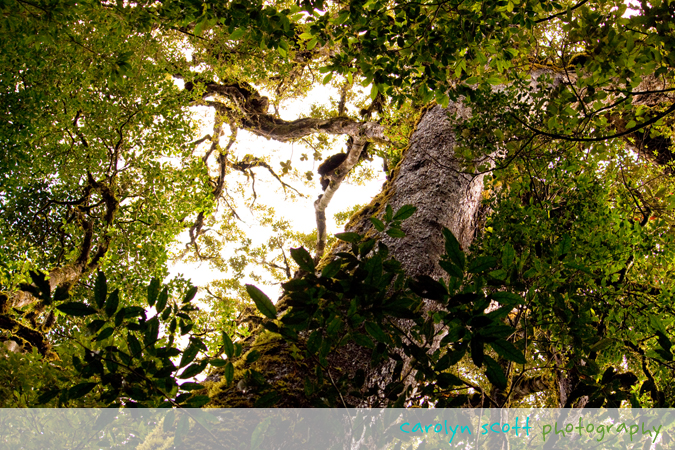 on a skybridge. those things are pretty high up!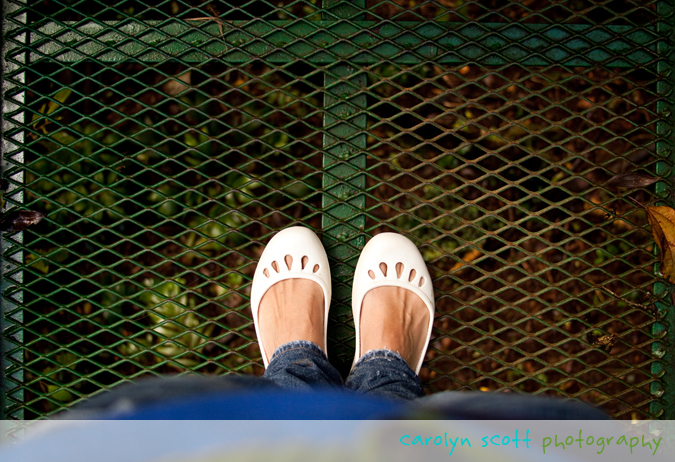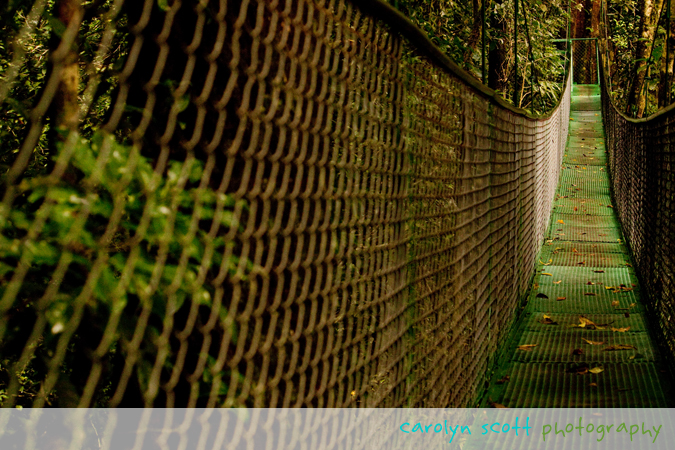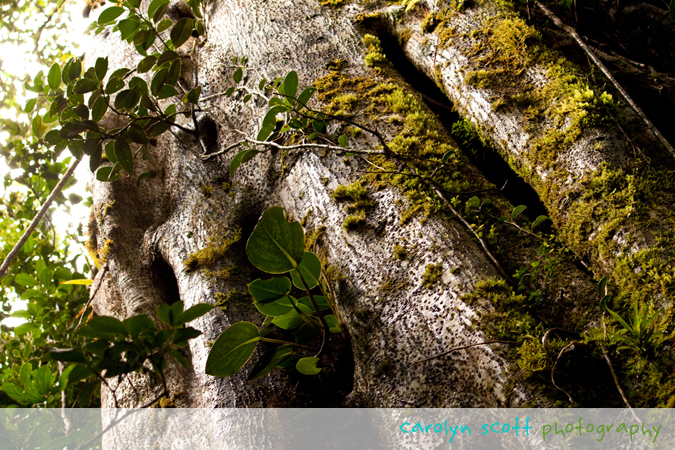 this owl wouldn't stop "staring into my soul" as geoff called it. it was pretty freaky, but he was cute.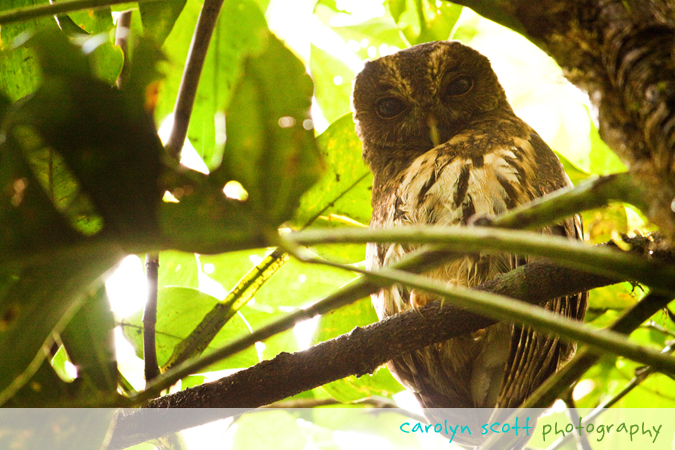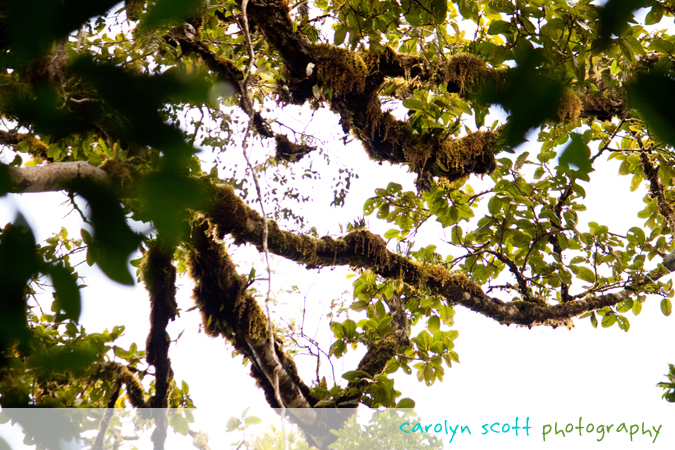 so there is most of the pictures of the stuff where we could actually stand still and take a camera! we had a most excellent time, but it was nice to be back in the states where i could take my first hot shower in two weeks and actually put things in the dryer (everything in the entire country seems to be perpetually wet from the humidity). it's a very lovely country and if you get a chance you should definitely visit. the resort we stayed at was amazing and all of the locals are super nice, helpful, and friendly. pura vida! :)