after a string of irritating incidents at wake med, i'm now taking my gluten problem to an allergist. i get sick when i eat anything with gluten in it…what don't you understand about that, wake med? i can't eat it. no, i don't want you to test my pancreas. no, i don't want you to see if my liver or gall bladder is failing. i have no symptoms of that, but i do have a history of being allergic to wheat. i feel fine…except when i eat wheat. geeeeeeez. (can you tell i'm leaving wake med yet?) :)
anyway, geoff and i made delicious delicious gluten-free chex mix this weekend if anyone out there is gluten-free and interested! you'd be surprised what things have gluten in them, so i listed the brands as well.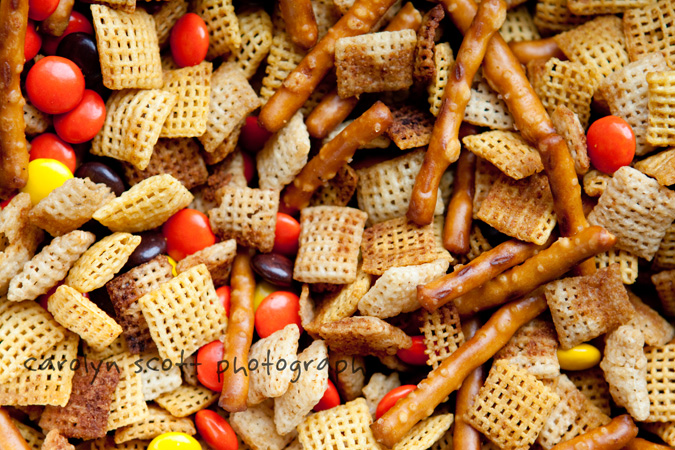 Mix in a large microwave-safe bowl:
4 1/2 cups Corn Chex
4 1/2 cups Rice Chex
2 cups Glutino Gluten Free Pretzels
**
Melt & mix in small bowl:
6 tbsp butter
2 tbsp Lea + Perrins Worcestershire Sauce
1 1/2 tsp season salt
3/4 tsp garlic powder
1/2 tsp onion powder
**
Pour mixture from small bowl over the large bowl and microwave on high for 5-6 minutes, stirring every 2 minutes.
Spread evenly to cool.
Add back into a large bowl and add 2 cups Reese's Pieces (M&Ms are traditionally used but they do contain gluten, so if you're sensitive, use Reese's).
Enjoy! :)