Funky wedding shoes
Groomsmen getting ready for wedding
Bride walking around Leslie-Alford-Mims House
Bride seeing her bouquets for first time
Groomsmen helping groom get ready for wedding
Bride adjusting flower crown
Groom getting ready for wedding
Bride putting on dress
Bride putting on shoes for wedding
Bride first look with father
Father daughter first look
Bride walks down stairs
First look at wedding
First look at wedding
First look at wedding
Huge wedding bouquets
Raleigh Wedding Photographer
Unconventional photographers
Unique photographers in the south
Southern destination wedding photographers
Holly Springs wedding at Leslie-Alford-Mims house
Alternative wedding photographers
Alternative wedding photographers
Alternative wedding photographers
Alternative wedding photographers
Bride walking up staircase at Mims house
Bride and groom portrait in window
Cat cake toppers
Alternative wedding photographers in North Carolina
Key details at wedding
Alternative weddings
Bride and groom in hallway
Flowers by The English Garden Raleigh
Flags at wedding
Leslie-Alford-Mims House Wedding
Badass wedding photographers
Hallway picture of bride and groom
Wedding rings on Icelandic flag
Bride and groom portrait next to a heart
Giant flower crown
Interesting wedding portraits
Bridal portraits
Groom portrait
North Carolina wedding photographers
Bridal portrait
Groom portrait
Bride walking down stairs
Weird wedding portraits
Bridal party in forest green
Interesting wedding bouquets
Alternative wedding photographers in the south
Groomsmen
Bridal portrait
Mims House Wedding
Groom portrait
Southern wedding photographers
Southern Wedding
Bridal portrait
Groom adjusting tie
Wedding party in forest green
Bride opening letter from groom
Before the ceremony starts
Guest holding child
Ring bearer and flower girl walk down the aisle
Flower girl sits down
Father walking daughter down the aisle at wedding
Groom looking at bride
Classical guitarist Ed Stephenson at wedding
Leslie Alford Mims House Wedding
Leslie Alford Mims House Wedding
Leslie Alford Mims House Wedding
Leslie Alford Mims House Wedding
Leslie Alford Mims House Wedding
Leslie Alford Mims House Wedding
Leslie Alford Mims House Wedding
Leslie Alford Mims House Wedding
Leslie Alford Mims House Wedding
Leslie Alford Mims House Wedding
Leslie Alford Mims House Wedding
Leslie Alford Mims House Wedding
Leslie Alford Mims House Wedding
Leslie Alford Mims House Wedding
Bride and groom with parents
Guests talking at wedding
Flower themed wedding setup
Leslie Alford Mims House Wedding
Leslie Alford Mims House Wedding
Cocktail hour guests talking
Flowers at wedding reception
Cocktail hour at old house
Leslie Alford Mims House Wedding
Leslie Alford Mims House Wedding
Leslie Alford Mims House Wedding
Leslie Alford Mims House Wedding
Wedding reception at Mims House in Holly Springs NC
Wedding reception at Mims House in Holly Springs NC
Wedding reception at Mims House in Holly Springs NC
Wedding reception at Mims House in Holly Springs NC
Wedding reception at Mims House in Holly Springs NC
Wedding reception at Mims House in Holly Springs NC
Wedding reception at Mims House in Holly Springs NC
Wedding reception at Mims House in Holly Springs NC
Wedding reception at Mims House in Holly Springs NC
Wedding reception at Mims House in Holly Springs NC
Wedding reception at Mims House in Holly Springs NC
Wedding reception at Mims House in Holly Springs NC
Wedding reception at Mims House in Holly Springs NC
Wedding reception at Mims House in Holly Springs NC
Wedding reception at Mims House in Holly Springs NC
Wedding reception at Mims House in Holly Springs NC
Wedding reception at Mims House in Holly Springs NC
Wedding reception at Mims House in Holly Springs NC
Wedding reception at Mims House in Holly Springs NC
Wedding reception at Mims House in Holly Springs NC
Wedding reception at Mims House in Holly Springs NC
Wedding reception at Mims House in Holly Springs NC
Wedding reception at Mims House in Holly Springs NC
Wedding reception at Mims House in Holly Springs NC
Wedding reception at Mims House in Holly Springs NC
Wedding reception at Mims House in Holly Springs NC
Wedding reception at Mims House in Holly Springs NC
Wedding reception at Mims House in Holly Springs NC
Wedding reception at Mims House in Holly Springs NC
Wedding reception at Mims House in Holly Springs NC
Wedding reception at Mims House in Holly Springs NC
Wedding reception at Mims House in Holly Springs NC
Wedding reception at Mims House in Holly Springs NC
Wedding reception at Mims House in Holly Springs NC
Wedding reception at Mims House in Holly Springs NC
Wedding reception at Mims House in Holly Springs NC
Wedding reception at Mims House in Holly Springs NC
Wedding reception at Mims House in Holly Springs NC
Wedding reception at Mims House in Holly Springs NC
Wedding reception at Mims House in Holly Springs NC
Wedding reception at Mims House in Holly Springs NC
Wedding reception at Mims House in Holly Springs NC
Wedding reception at Mims House in Holly Springs NC
Wedding reception at Mims House in Holly Springs NC
The first time we met Emily and Dan, we had a Skype meeting where they held up their tuxedo cat and we held up our tuxedo cat and we were both pretty thrilled at the greatness of our cats having a meeting over the internet (the cats, pictured below, for reasons unknown don't look as thrilled about it as we do).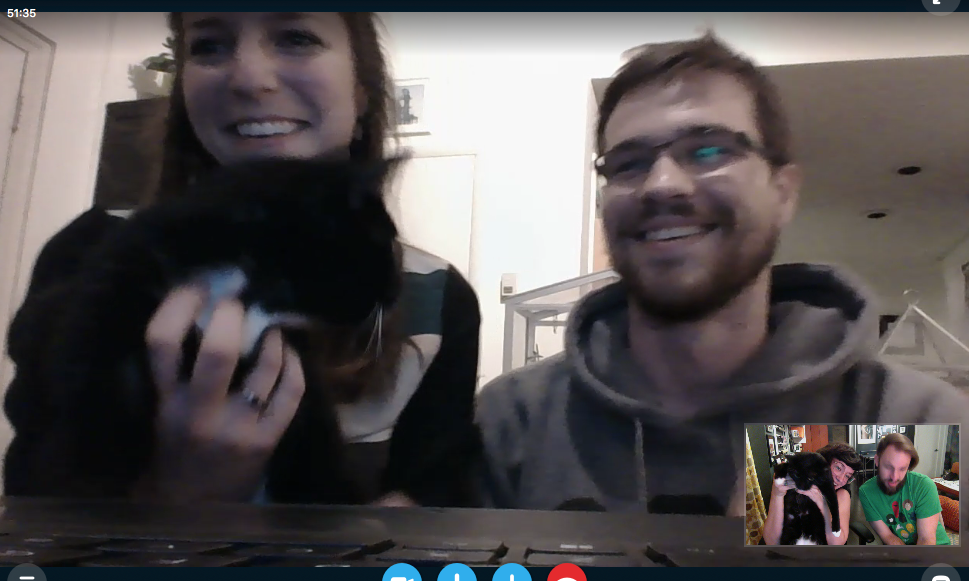 But what we didn't really realize at the time was exactly how much Pax and Buckles look alike, and how we'd come to confuse them on Instagram. Actual conversations with Geoff go like this:
– I show a picture of Pax to Geoff. Geoff looks at picture.
– Geoff, alarmed: When did you take Buckles to someone else's house?!
– Me: That is Pax, Emily and Dan's cat, the one that looks just like Buckles.
– Geoff: No, that is Buckles.
– Me:… No, it's really not.
Annnnnd repeat. Emily and Dan are currently living in Pittsburgh, and someday when we're up there visiting our families, I am determined to stop by unannounced and swap our cats for a few days and see if they notice (they'll forget this by the time I actually do it).
But before I do that, I need to back up here and talk about their wedding. It was fabulous! And involved a flower crown that currently holds the title of Supreme Queen of Flower Crowns everywhere and I imagine it will continue to hold that title for quite some time. I was concerned about her ability to move, but that flower crown held fast and strong and did not shed one single petal all day, nor move from its exact spot on her head. It was like a being from another world. I'm not sure what happened after they left the wedding, but I can only imagine that some sort of spell had to be cast to a.) release it from her head and b.) set it free into this world. She asked me how to preserve it, but I imagine now, after observing its powers firsthand, that it'll just do that itself.
Their wedding was so summery and gardeny and funnnn. There were little tiny cake toppers (one shaped like our cat – thanks, guys!) and wonderful floral elements and a flag representing Pittsburgh (that I think they also did for us – thanks, guys! wow, you thought of us a lot). AND they went to Iceland for their honeymoon and we spent way too much of their final consultation giving them advice on Iceland rather than their wedding (they didn't need the wedding help anyway). But come to think of it, they didn't really need the Iceland help either, especially when we saw that they gave each other hiking boots for their wedding gifts. We had an awesome time at their wedding and love how rad our clients have been this year! No pressure, the rest of you. Congratulations, Emily+Dan!
• Date: May 28, 2017
• Ceremony + Reception Venue: Leslie-Alford-Mims House // Holly Springs, NC
• First Dance Song: "Lovin' You Baby" – Charles Bradley
• Emily's Occupation: Neuroscience PhD Student at University of Pittsburgh
• Dan's Occupation: Media & Marketing Manager
• How You Met: High school AP English class
• Interesting Fact about Emily: Name twin will be at the wedding and they were also roommates in college at UGA
• Interesting Fact about Dan: Played the role of "Sk8er Boy" in a independent film in 2004
• Interesting Fact about Emily+Dan: Emily made a Pro's and Con's list before she decided to date Dan and Dan's Mom wanted Dan to date Emily after she saw Emily reading "Catch-22" at the pool.
• Honeymoon: ICELAND!
• Vendor Credits: Officiant – Rev. Patrick Ballard. DJ – Eric Hodgden of All Around Raleigh DJ Company. Florist – The English Garden. Cake – Sugar Euphoria. Caterer – Belle's Catering. Makeup – Michelle Clark. Hair – Jennifer McDonald. Coordinator – Annie Truesdell of Orangerie Events. Classical Guitarist – Ed Stephenson.