How much do we love Martha and Justin? Let me count the ways:
1. They took us to Chicago for their engagement session.
2. Martha likes to send me links about glow-in-the-dark cats.
3. They agreed to a Back to the Future themed wedding… but somehow that fell through.
4. They are smart: Justin is an astrophysicist and Martha is some sort of developmental biologist who holds some sort of job studying fish hearts (sorry, Martha, for butchering your official title… all I can remember are fish hearts).
5. They wanted to have their final consult over pizza… and any couple that wants to have a consult over pizza is a-okay with me (gluten-free for me, of course).
There are lots of other ways, but we all know I'm bad with math and science, so I'm going to stop at 5 because that's a reasonable number. May we now present to you Martha and Justin's wedding! It was full of sciencey goodness, rolling heads, blue shoes, and lots of salsa dancing. Read on, friends!
Date: September 3rd, 2011
Ceremony Venue: Immaculate Conception // Durham, NC
Reception Venue: Kirby Horton Hall at Duke Gardens // Durham, NC
Day of Coordinators: C and D Events
Catering: Durham Catering
Non-Bouquet Florist: Dan and Ethel Vogel
Bouquet Florist: Flowers on Broad Street
Transportation: Jason Clark
Cake: Daisy Cakes
Hair/Makeup: Posh the Salon // Durham, NC
DJ: Cortland Williams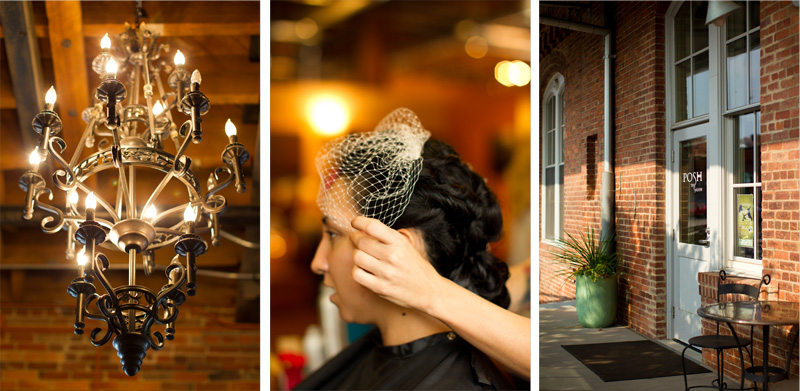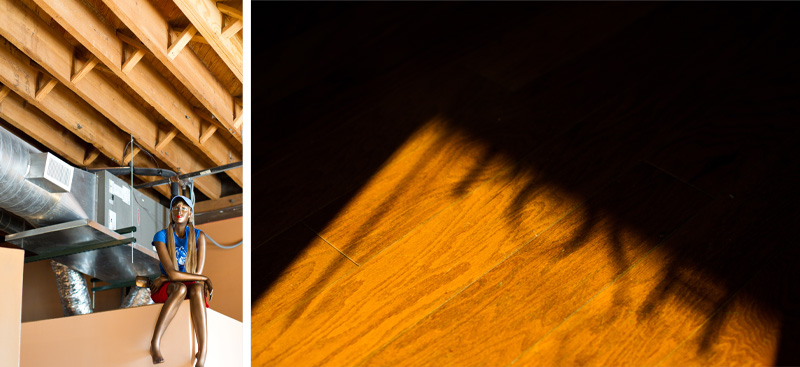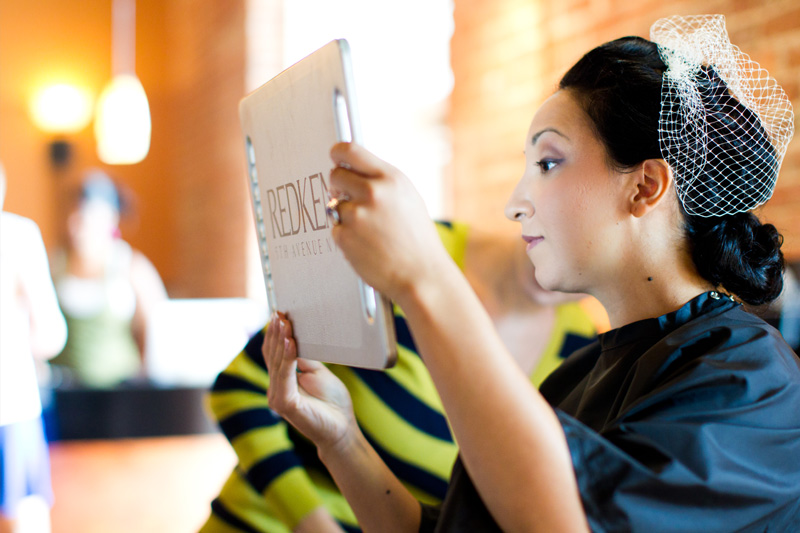 How pretty is our Martha? I loved her hair and veil. It fits her spunky personality perfectly. She's beautiful! Also, digging the blue wedding shoes.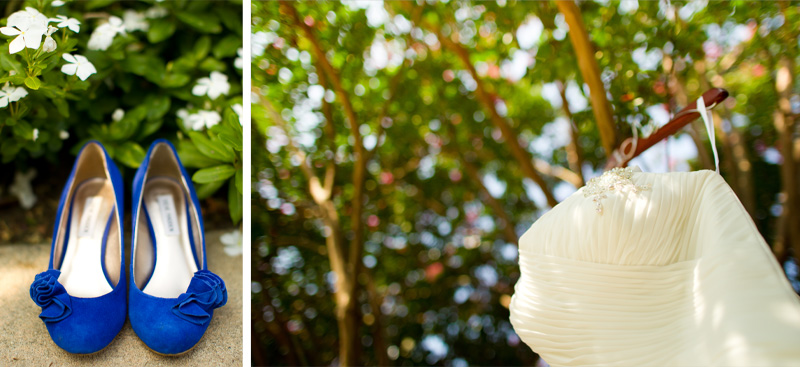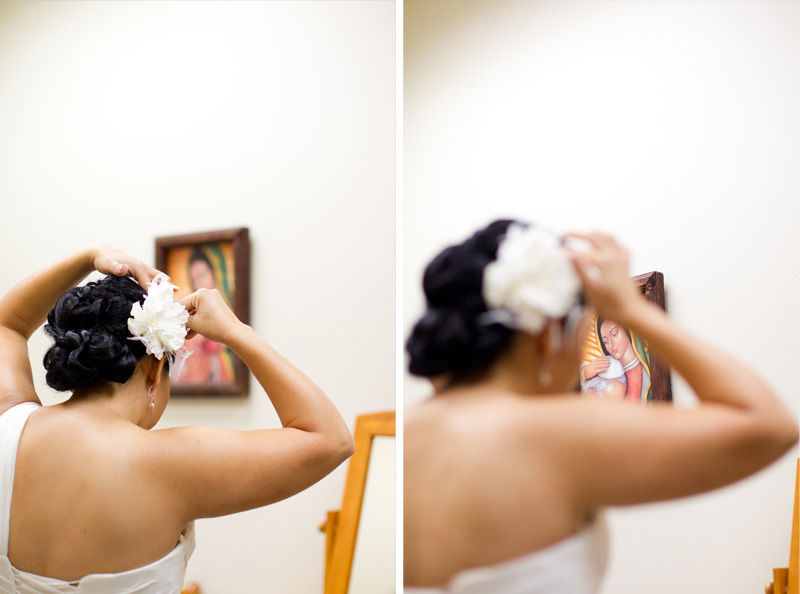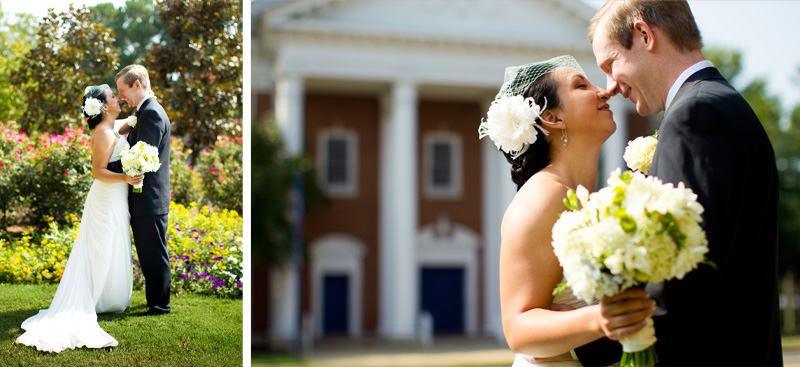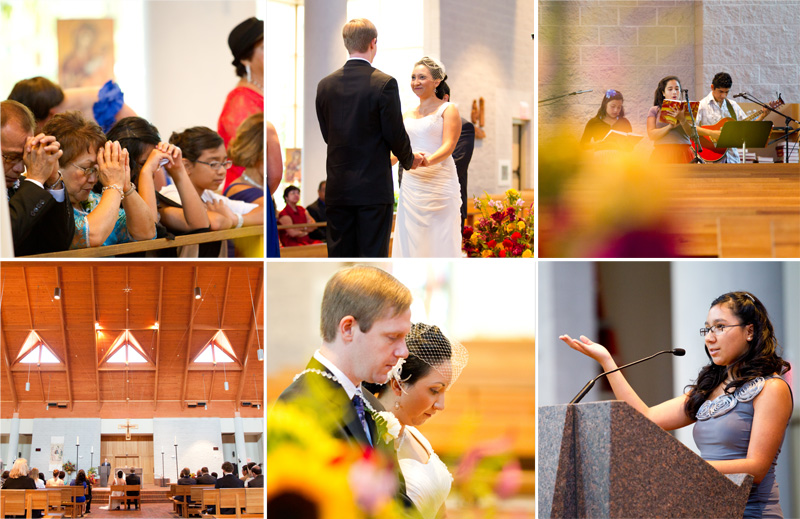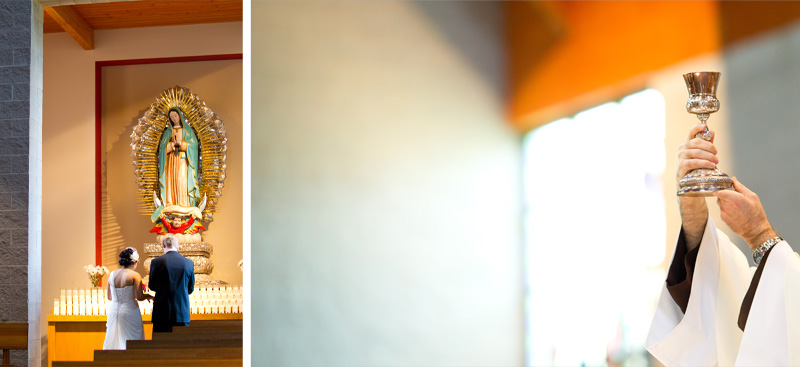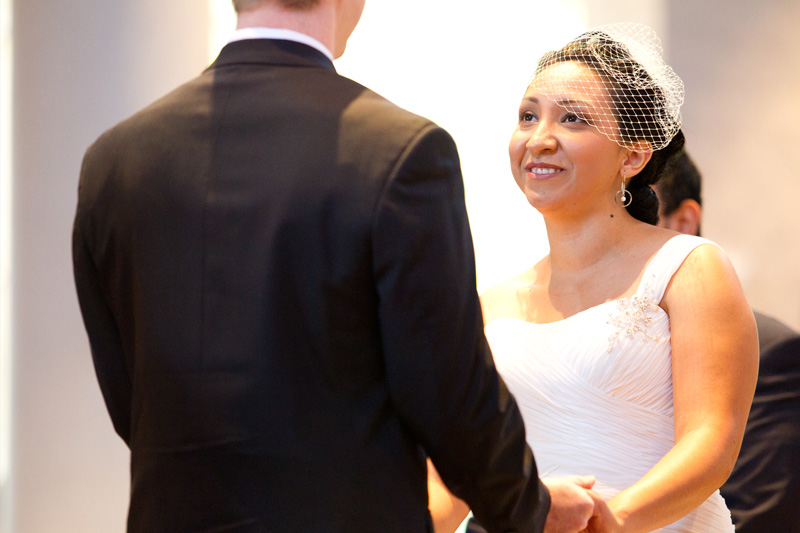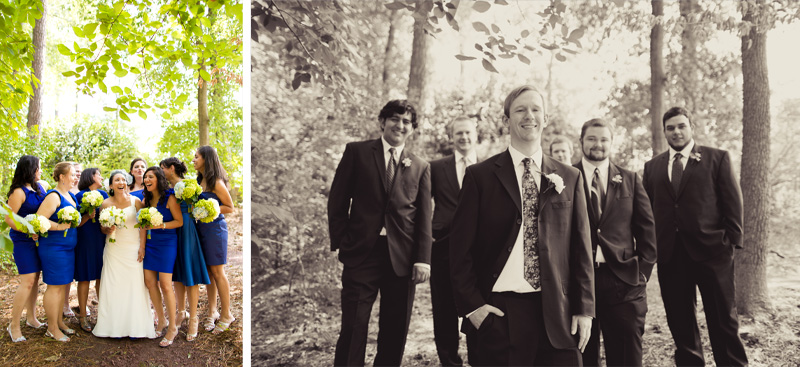 Their wedding centerpieces were fantastic. They laid pieces of different fabrics down the tables as runners, but the fabric was patterned and gave the tables a sort of antique-y feel. They coupled these with wild flowers in mason jars and old-timey science books. Yes, there was Solaris and Space Odyssey. It was an adorable and very tasteful way to incorporate their love of science. :) Later (a few pictures down), you'll see their computation guest book and the little tubes that Martha took from her lab to fill with M&Ms as favors, haha. Brilliant!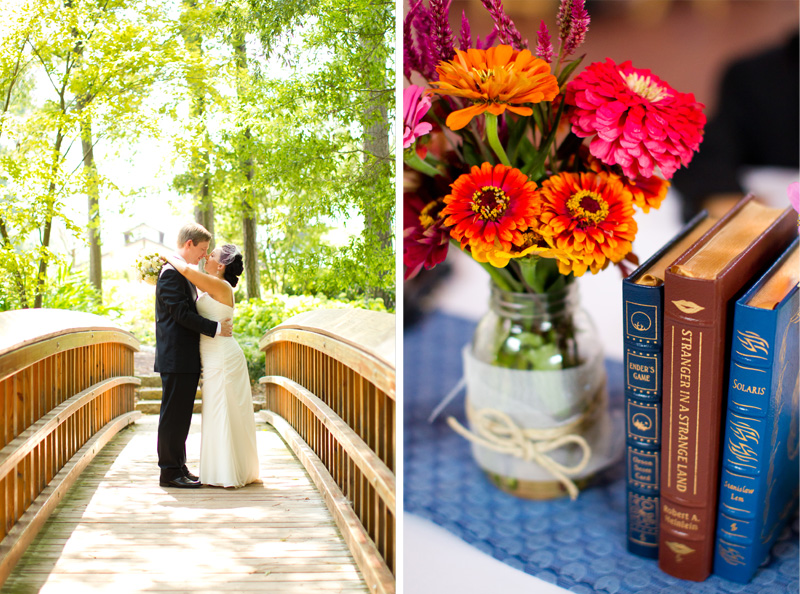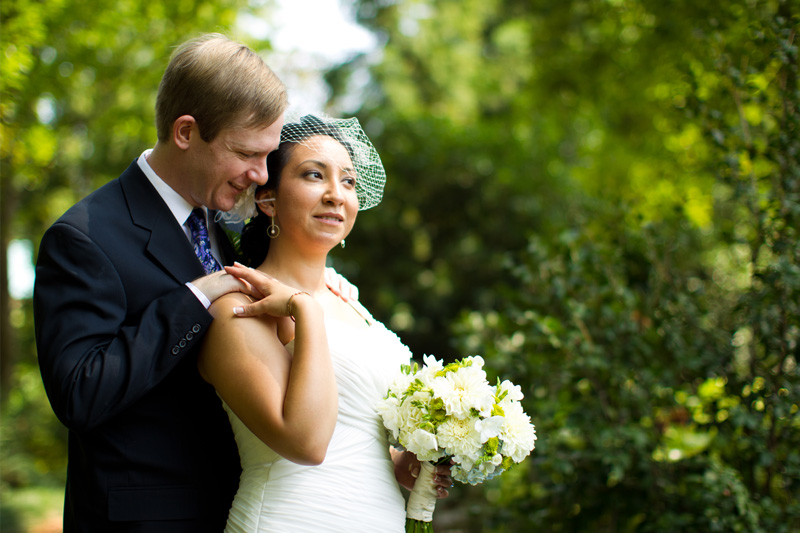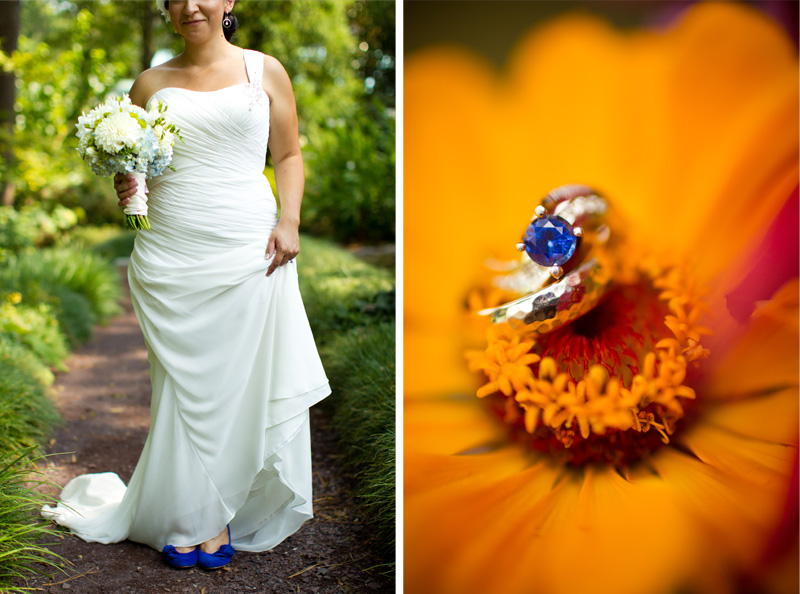 Martha's wedding ring is a sapphire and we loved Justin's tie!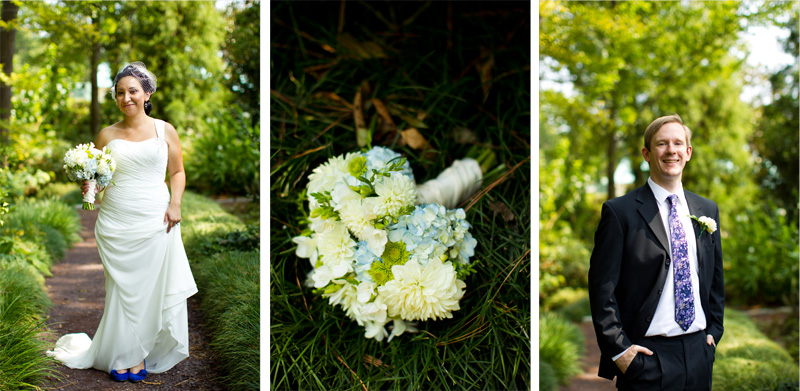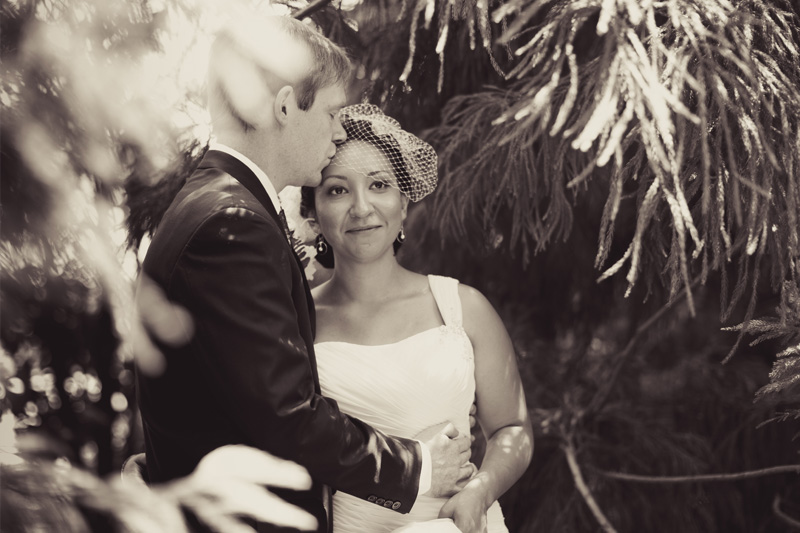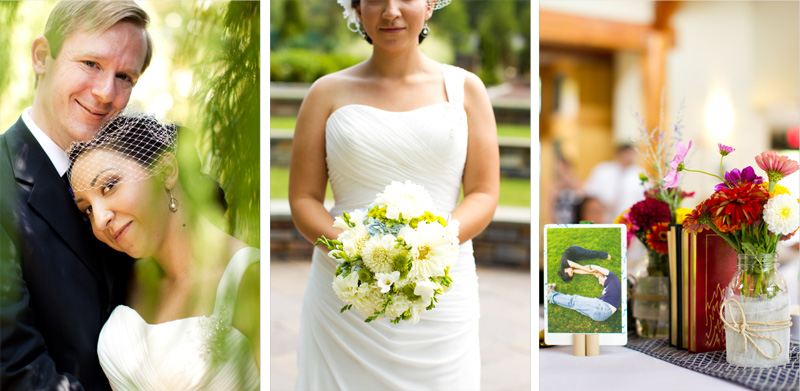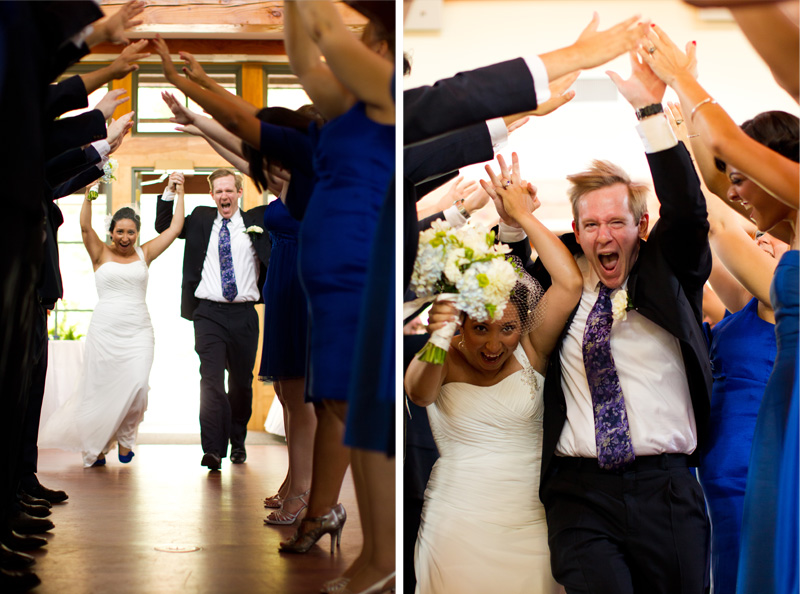 The stories behind the pictures below: Martha and Justin had a regular first dance, but they also had a choreographed dance. You see, Martha and her family are super good salsa dancers. Martha's family frequently make fun of Justin for his white-boy dance moves, so Martha's been teaching him. I'd say he's doing quite well.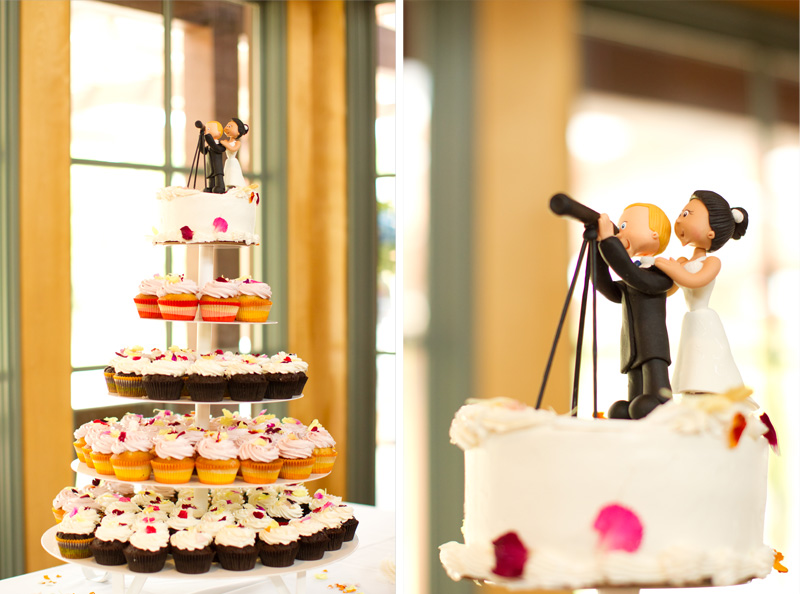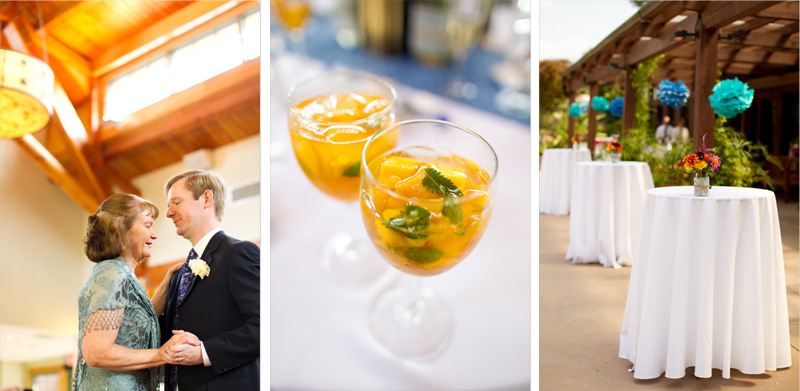 While it ended in tragedy, it was the best cake cutting ever while it lasted. Note Martha's head in the middle tipping a little too far to the right… then it's gone. Martha came up to me afterward and said, "So what does that mean?" and I said, "Good luck?" :) Justin was very concerned.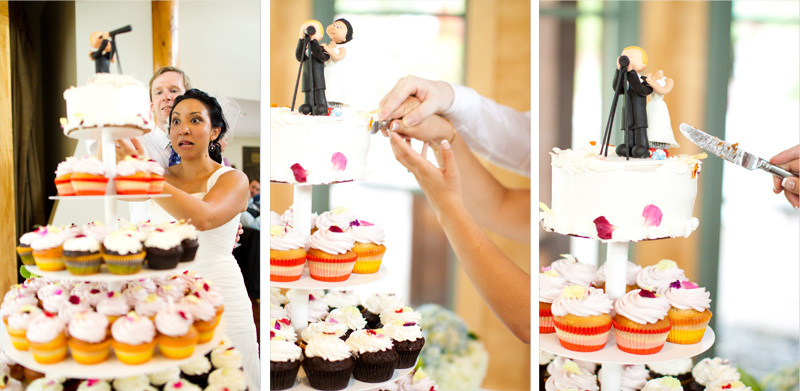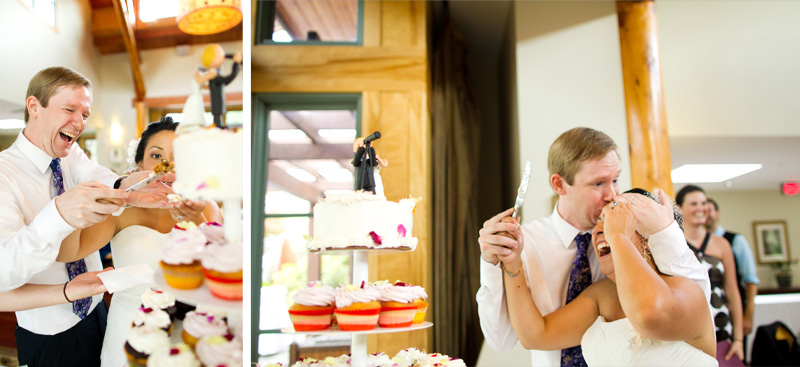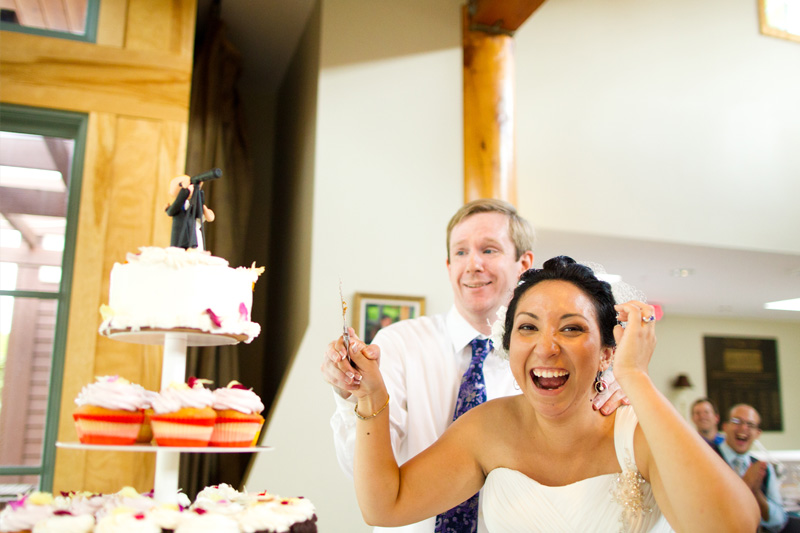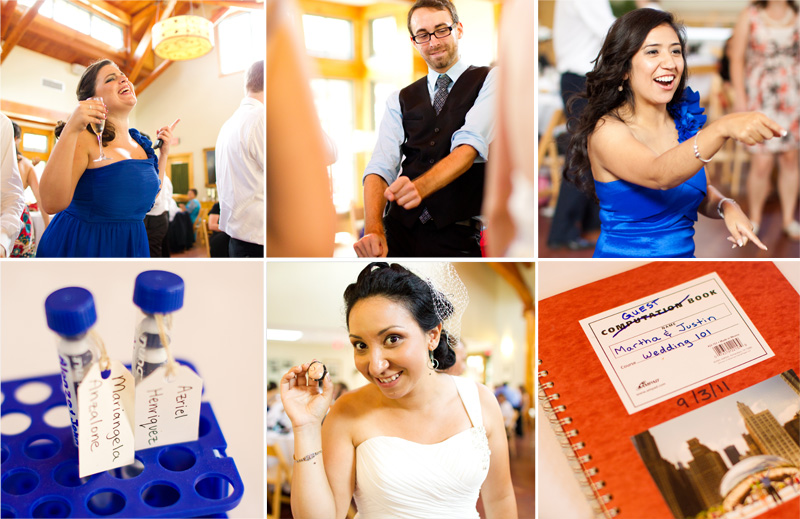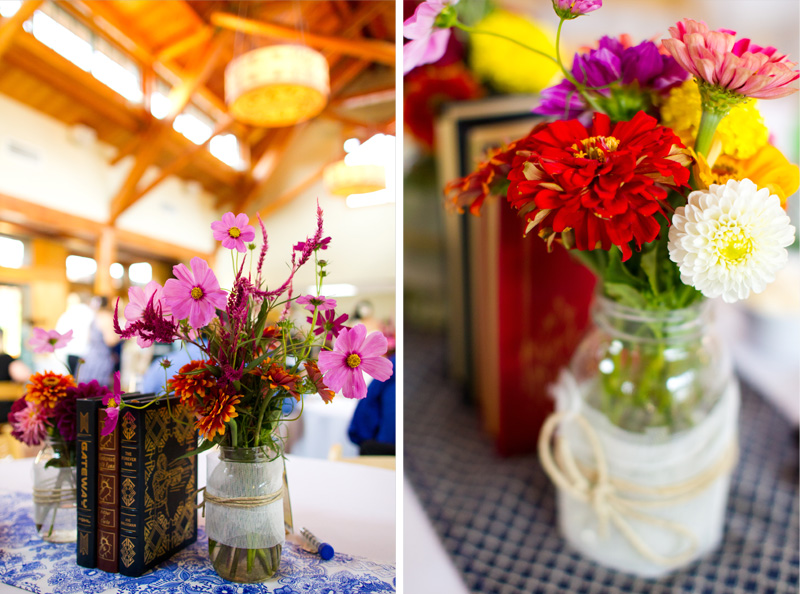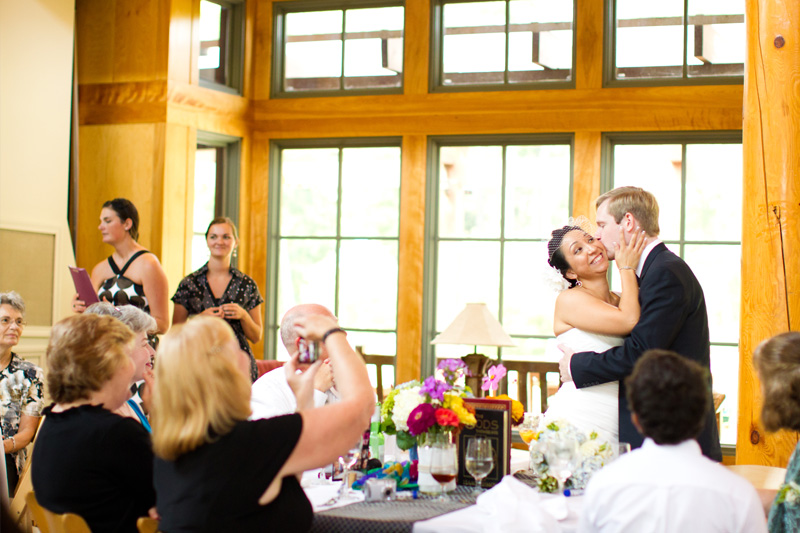 Geoff and I excessively documented the little boy below throughout the afternoon, as neither one of us can resist a kid playing a Gameboy in the middle of a wedding. The following are pictures of this adorable ring bearer being completely in the zone while everyone dances away around him.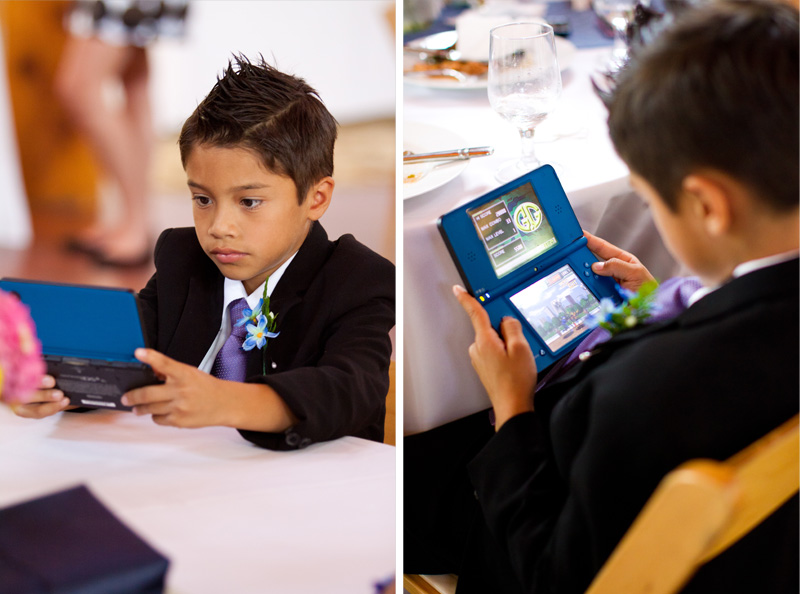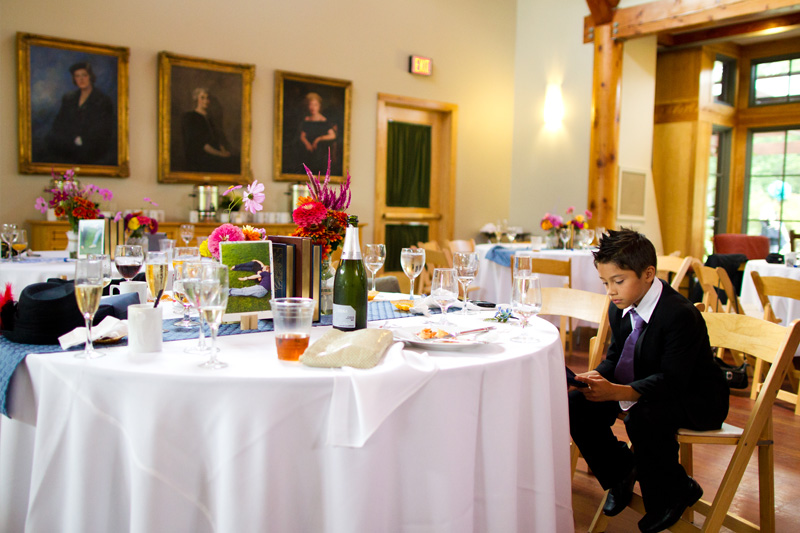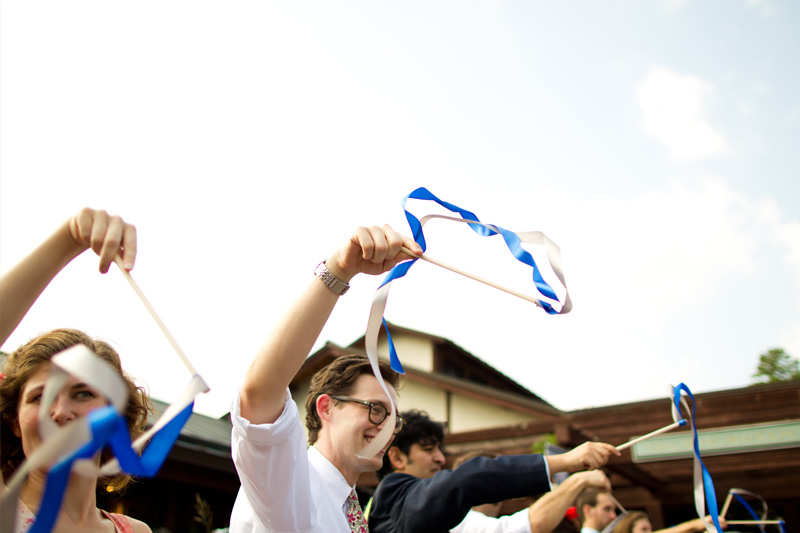 Loved the streamer exit, Martha's dad's exit, and Geoff's awesome picture below to the right. :)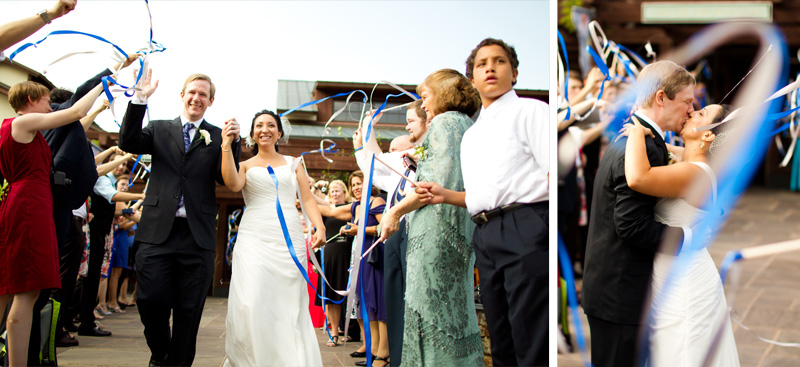 We love you, Martha and Justin! I'd say good luck and that we'd hope to see you in the future but we have a pizza date in the near future… and I hope that you both find jobs in Raleigh and get used to the total lack of public transportation so that Justin doesn't get too sad and convince you both to move back to Chicago. It's warm here! And we like you guys a lot!