Horray for Molly+Carla!! :D When Molly and Carla first found me, Molly and I spoke on the phone for over an hour… mostly talking about things not related to wedding photography. But it's very important that you get along well with your photographer since they're in your face all day, so it's a good sign when you can just sit down and talk! Anyway, Molly and Carla live together in Charlotte, NC and will be having their wedding in Asheville, NC. They really wanted engagement portraits in Charlotte, so we were trying to figure out a way to make that happen when I realized that Geoff and I were going to a show at the Fillmore in April! So my two Asheville weddings this year (both couples live in Charlotte) were able to get engagement pictures last weekend as we ran around Charlotte, visited Ikea, and saw Coheed and Cambria. :) It was a great weekend!
Molly and Carla are both nurses and awesome and hilarious people. I don't think I've laughed this much during a session in a long time! They kept apologizing for their awkwardness (which was non-existent) and cracking up. The result is that their pictures are very natural and adorable and I love them! Kudos to them for wearing awesome happy clothes too and driving Geoff and me all over the place. :) You guys rock!! We can't wait for your wedding and we hope you loooove these!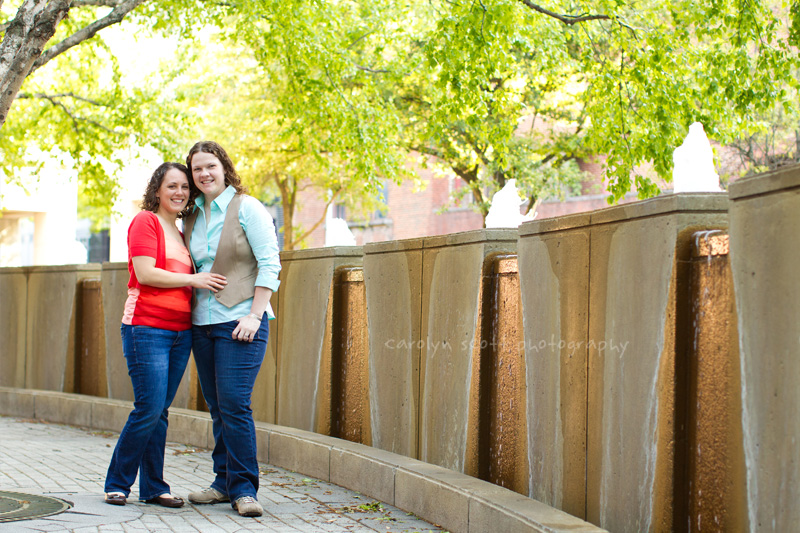 Do you see what I mean about the cracking up yet? They're adorable. Also, uptown Charlotte (which is downtown…) is an awesome place for engagement photos. I was kind of nervous because I hadn't shot there before, but actually I found it really fun to be like, "OOOOooo, look at this, let's shoot there!" without thinking of ways to make it different from other sessions I've done in the same location.


Molly is blue shirt/tan vest, Carla is red shirt. Hello, awesome Charlotte mosaic wall!!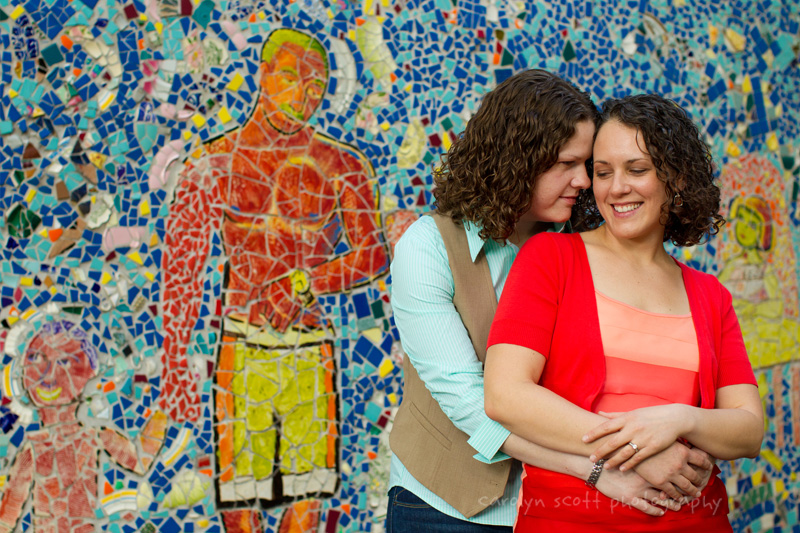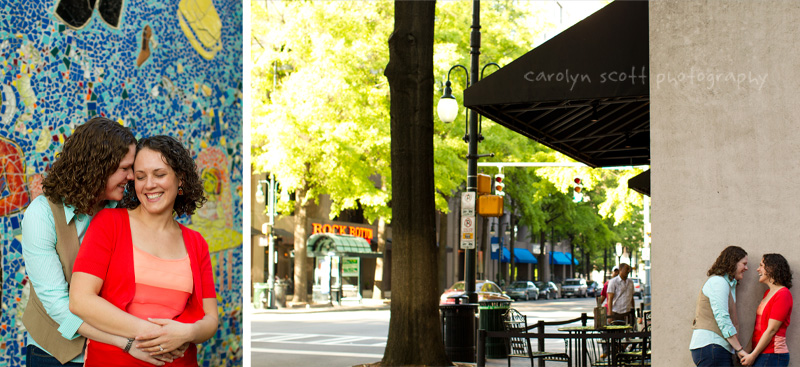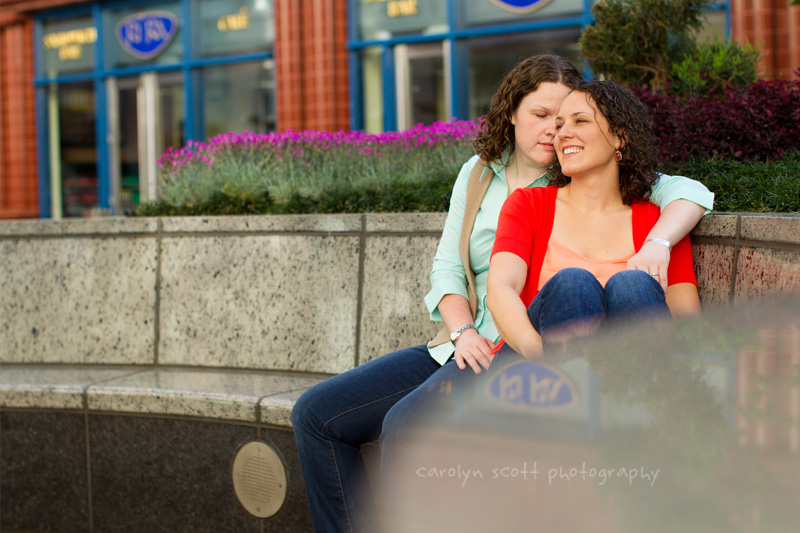 Geoff: "It looks like the Death Star."
Molly: "It's very popular in Charlotte."
Me: "Death Stars?"
Molly: "…No. The sculpture."
Me: "Oh! Right."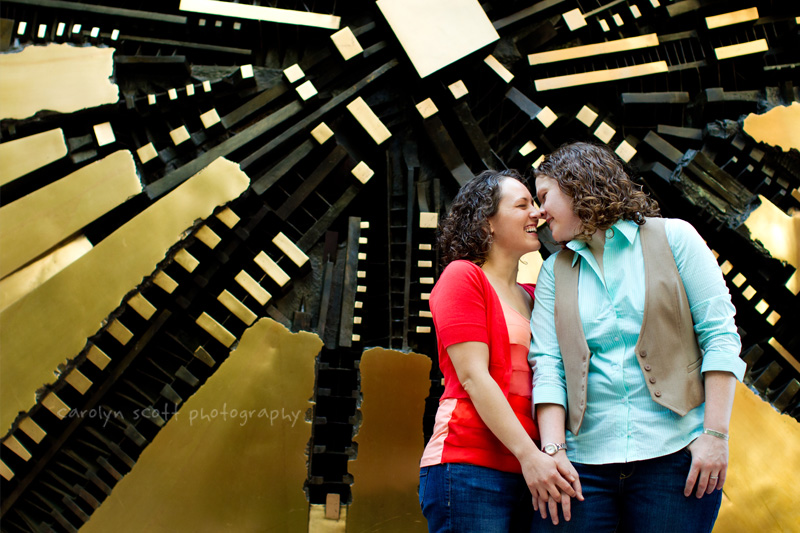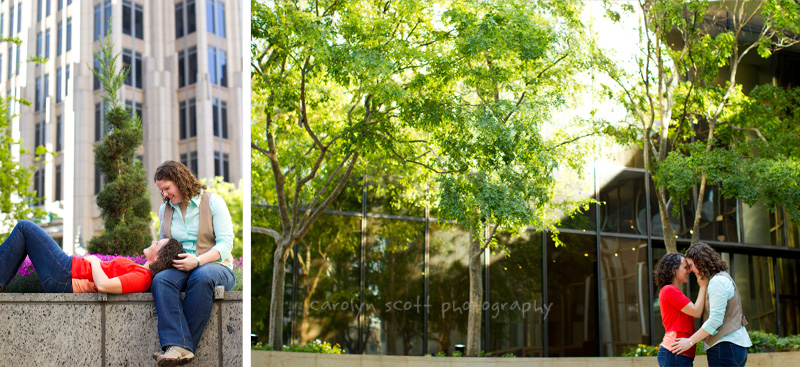 How lovely are these ladies! And so so so in love. Also, they both have rings, which is pretty awesome. Molly proposed to Carla, but afterward became jealous that she didn't have a ring too, so they got one, hahaha. Which is more fun for me because it's like double the ring shots on their wedding day!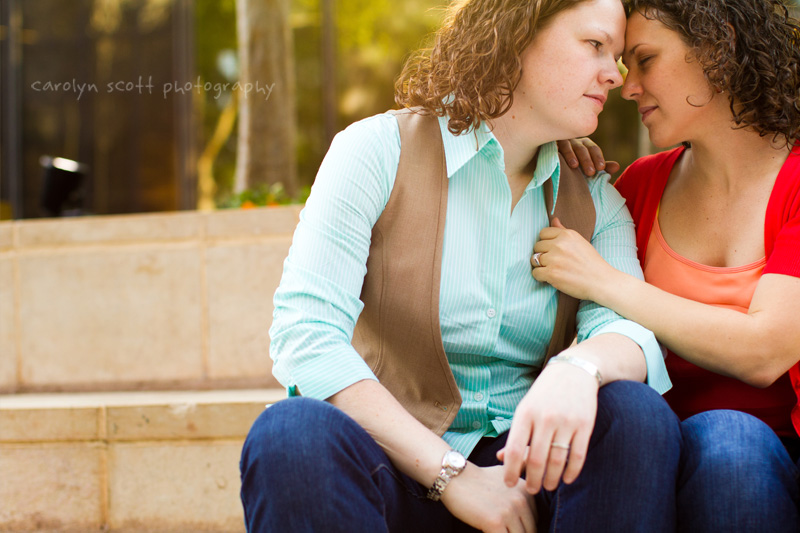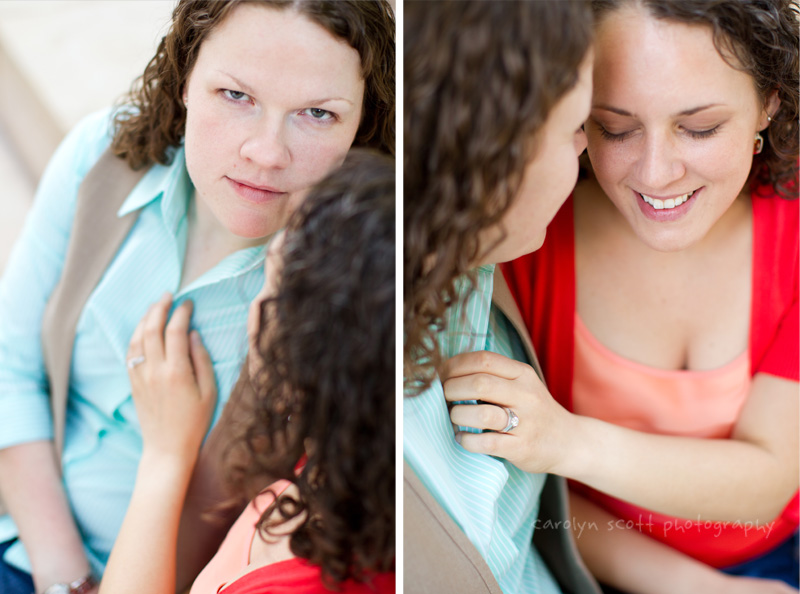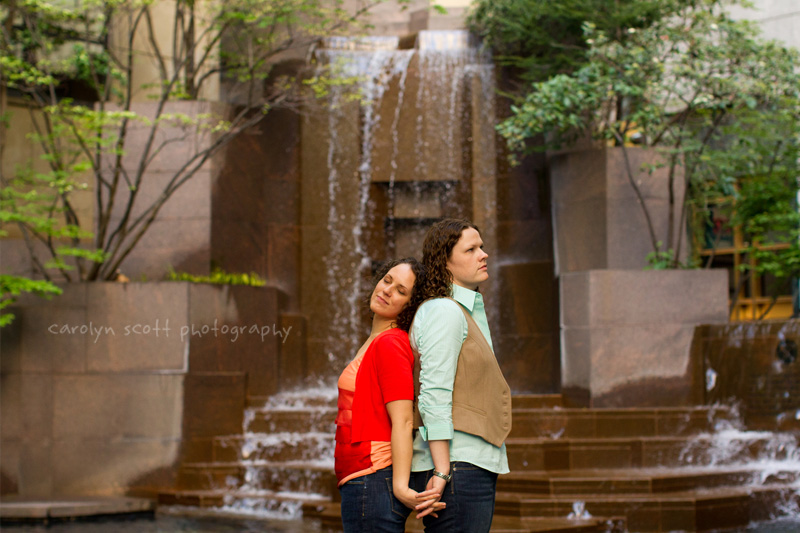 After we shot uptown, we hopped on over to NoDa, a hip little historic section of town with a bunch of bright funky walls.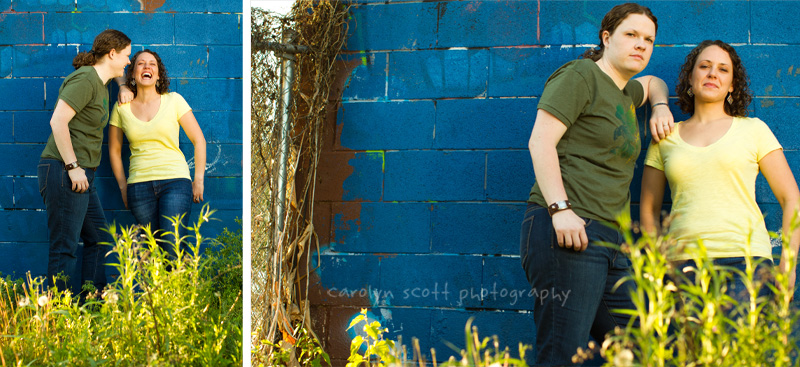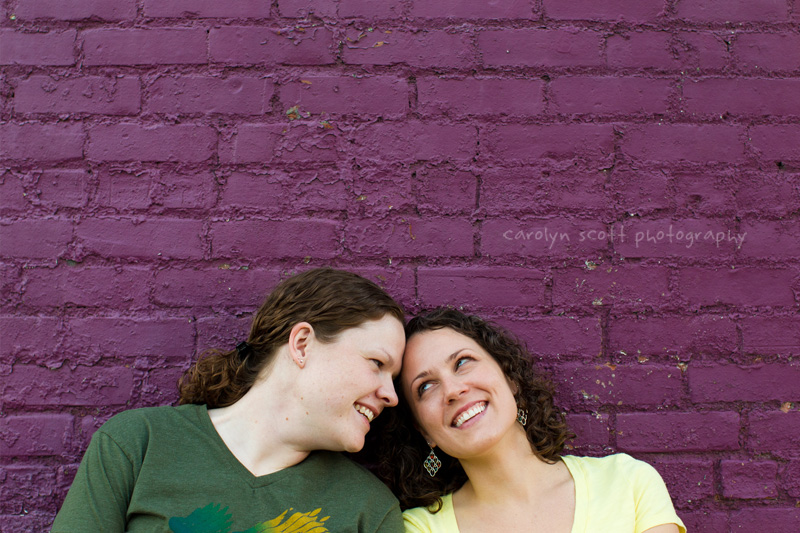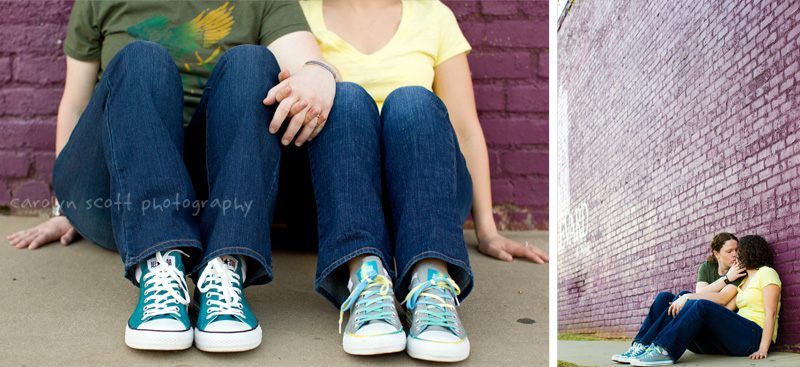 Thank you to Molly and Carla for being the best sports ever! We saw a graffiti wall and wanted to shoot there… but then realized it was just a GIANT SKULL FACE. So, of course, we still wanted to shoot there… despite unsure looks from our lovely clients. :) As Carla said, "…Because nothing says 'engagement' like giant skull teeth." Exactly. Thanks for being good sports… as we know you'll probably use this picture for nothing, hahaha, but we just love it!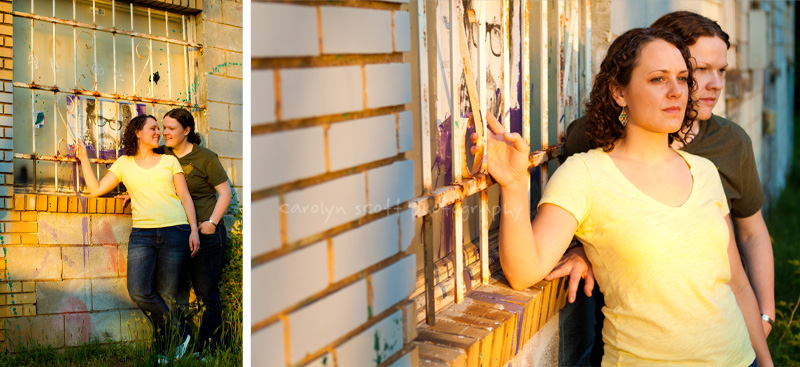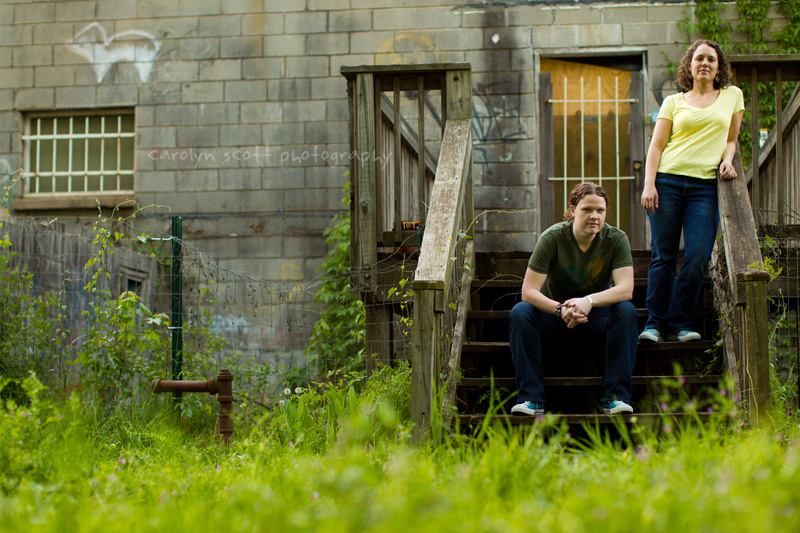 We made it to their hospital rooftop juuuust before we ran out of light for some skyline action! These gals were troopers. Thanks for having us all the way over in Charlotte, and we're excited to reunite in Asheville in October! :D