Reshma+Darren's wedding day finally came! This was a beautiful and very emotional day for not only the couple but for their families as well. And let me tell you, you could not find a more supportive, loving, community-conscious bunch. Main themes of the wedding centered not just around building a beautiful family out of Reshma, Darren, and Selena, but spreading that love and support into the community and helping others. I don't think I've ever seen families less selfish on what is typically a pretty selfish day. ;) It was beautiful! And of course, our bride was GORGEOUS and Darren was handsome and Selena was adorable… as usual. :)
Date: April 24, 2011
Venue: Maggiano's – Streets of Southpoint, Durham, NC
Hotel: Hilton Garden Inn – Southpoint, Durham, NC
DJ: TJDJ Music
Cake: Simply Cakes
Officiant: Rev. Kayelily Middleton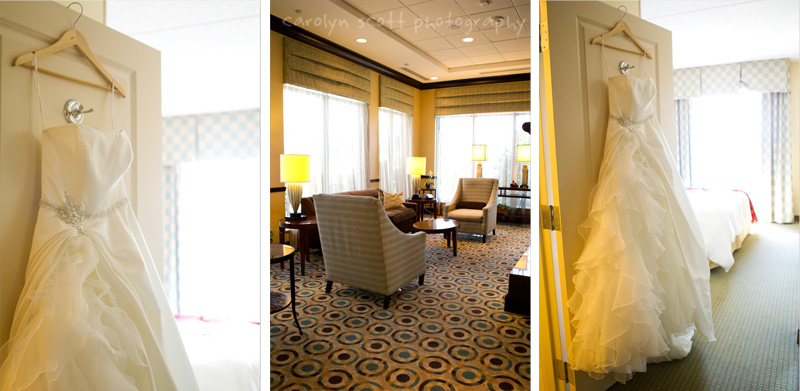 I love these little red shoes! The bows! Oh, so adorable. :)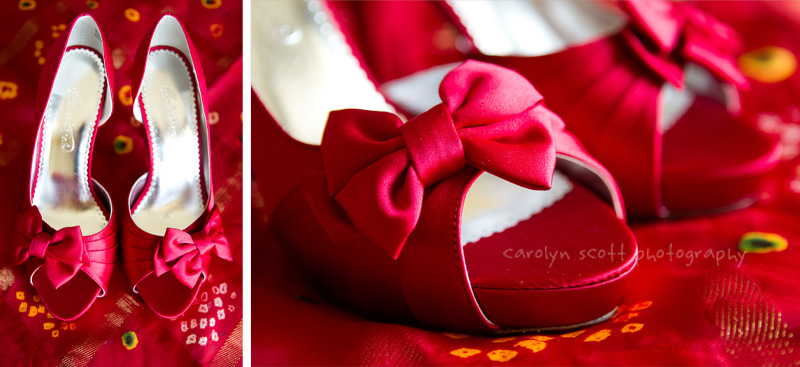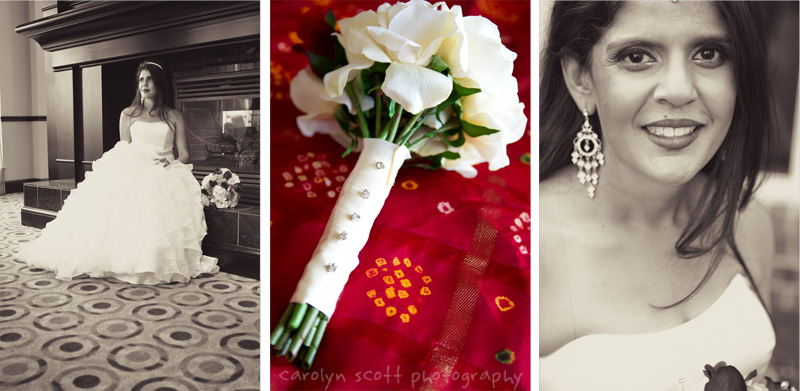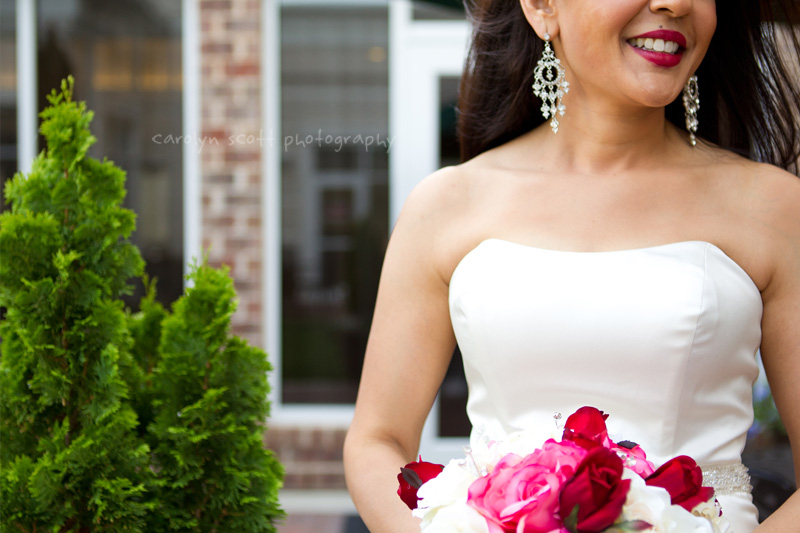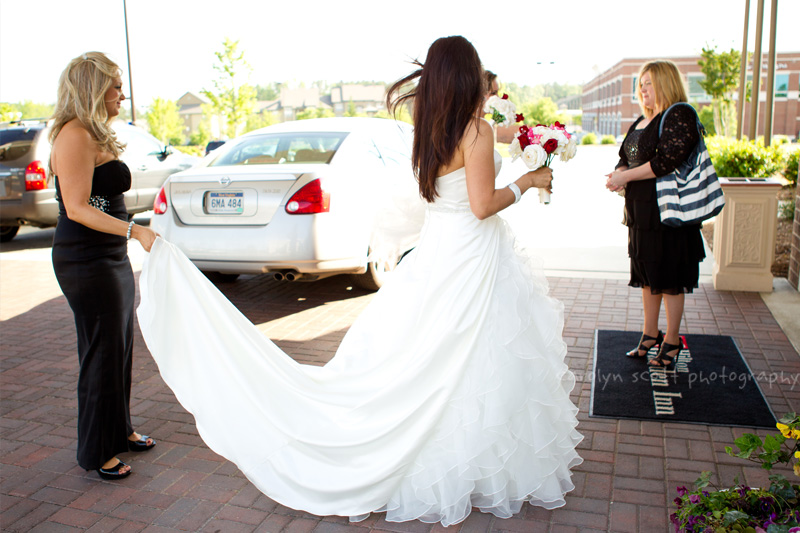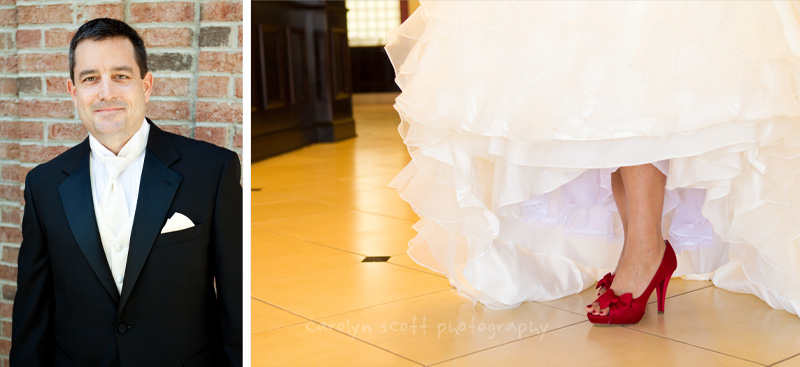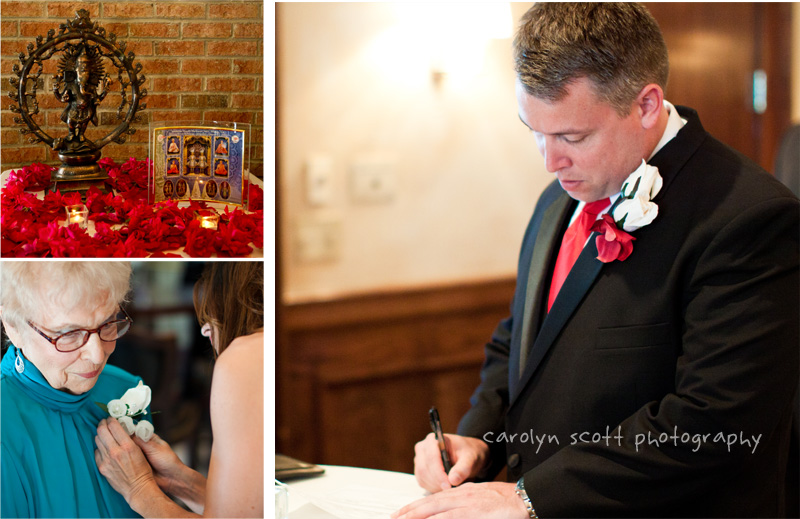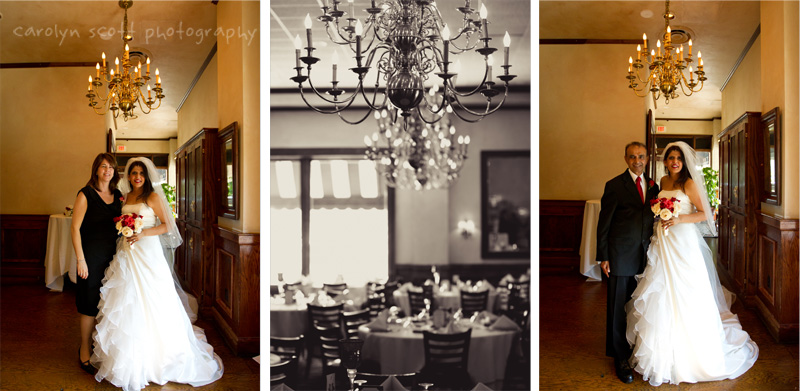 I looooved this room for a wedding ceremony. The circular-ness (is that a word?) made for a very intimate vibe. It was also fun to take pictures of. :)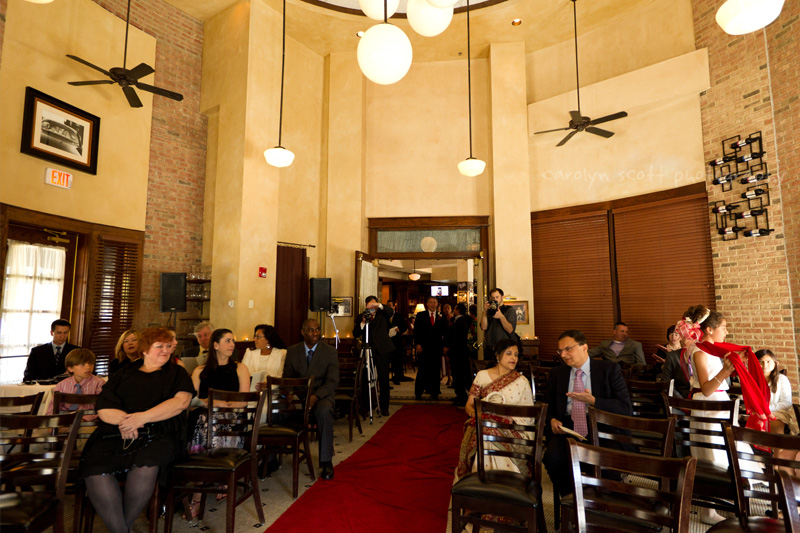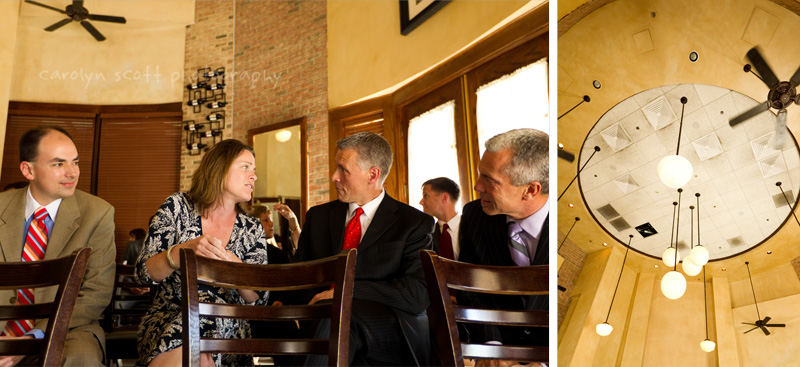 Reshma and her brother Sheel, a few moments before the walk down the aisle.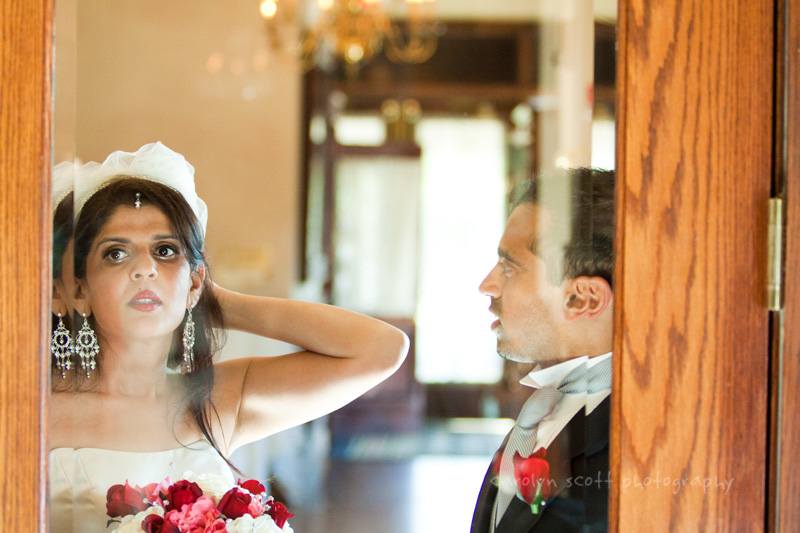 Reverend Kayelily Middleton was the ceremony officiant and did a beautiful job. She was very calm, serene, and tied this ceremony's Hindu and Christian aspects together perfectly. Reshma's family is of the Hindu faith, while Darren's is Christian, so they decided on a fusion wedding ceremony incorporating parts of each other's traditions. Reshma's daughter (now Darren's lovely daughter as well!) served as the beautiful flowergirl. :)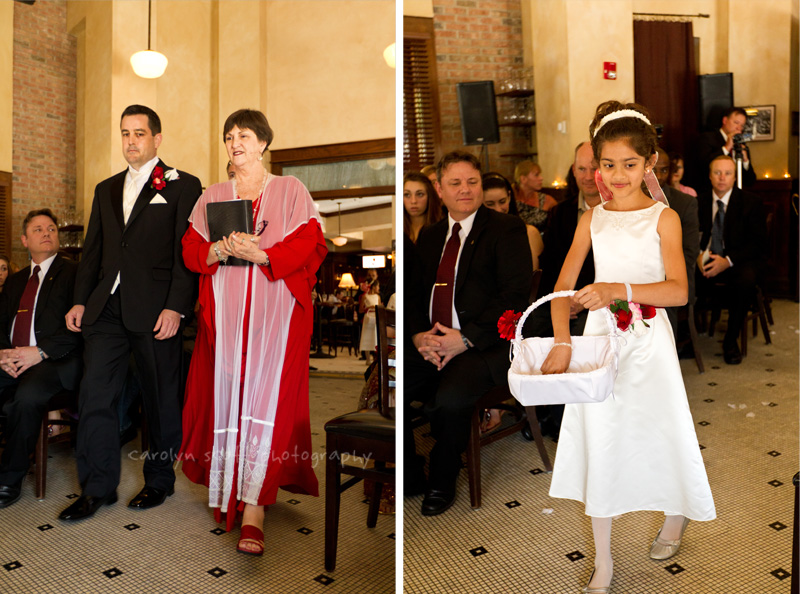 Reshma was walked down the aisle by both her father, (Dr!) Babu and her brother, (Dr!) Sheel. Not a bad deal at all! ;)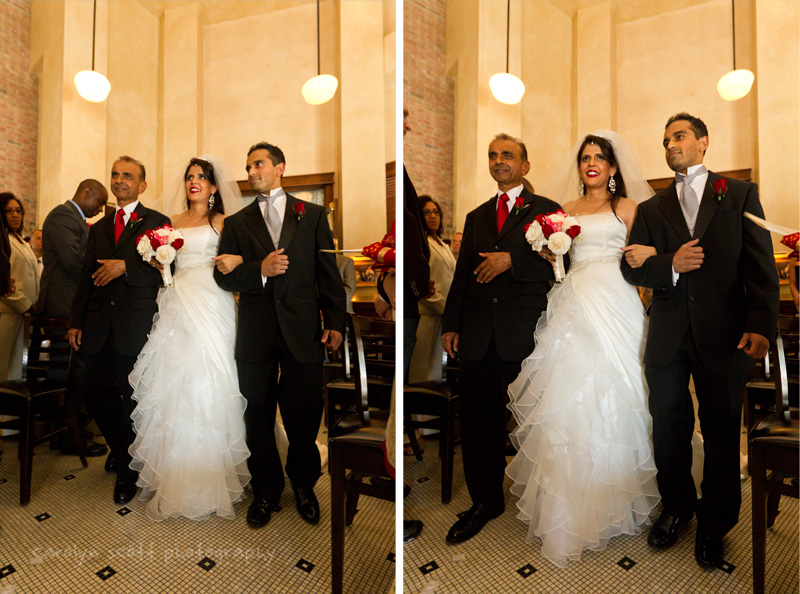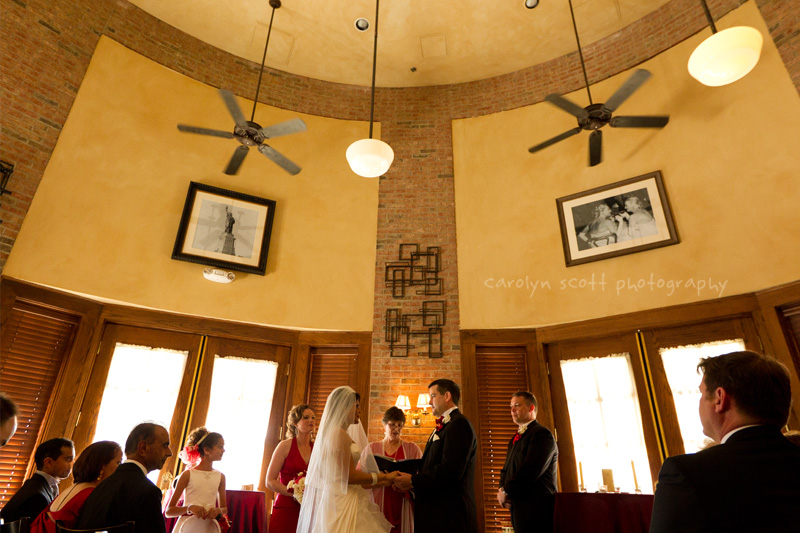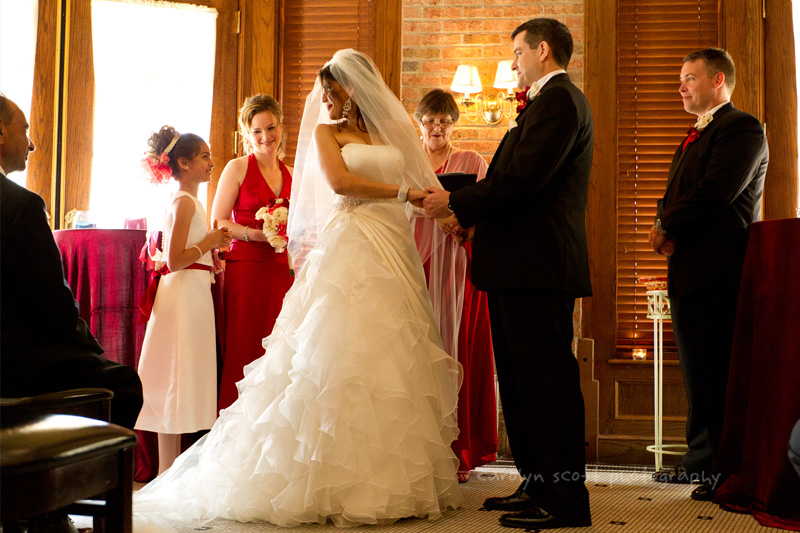 The couple had a unity candle and performed the Mangal Phera – circling around the holy fire symbolizing the walk of life. They walked clockwise around the circular table four times with Reshma leading the first three, and Darren leading the last.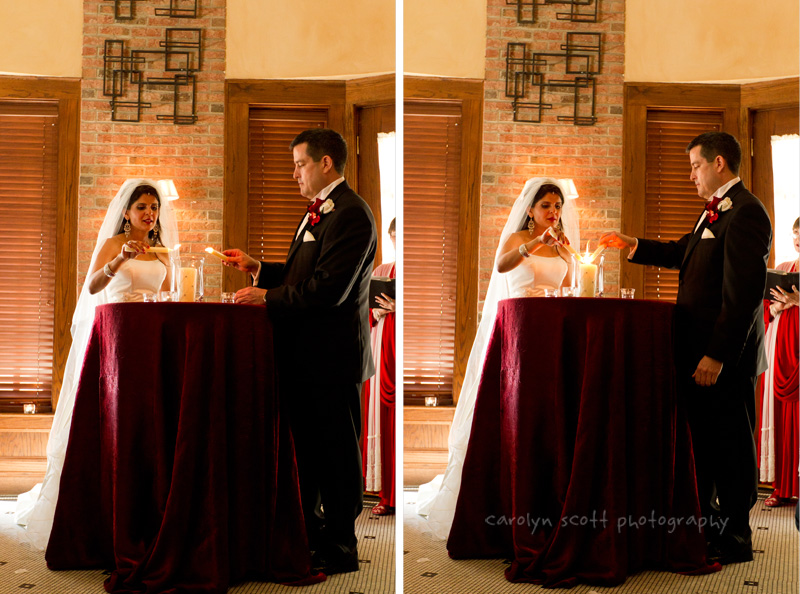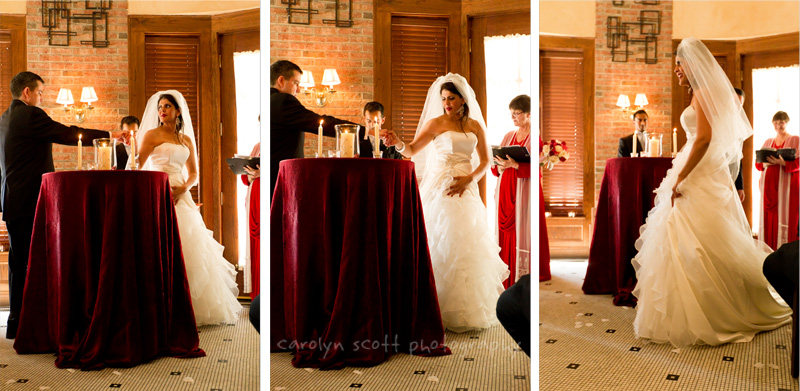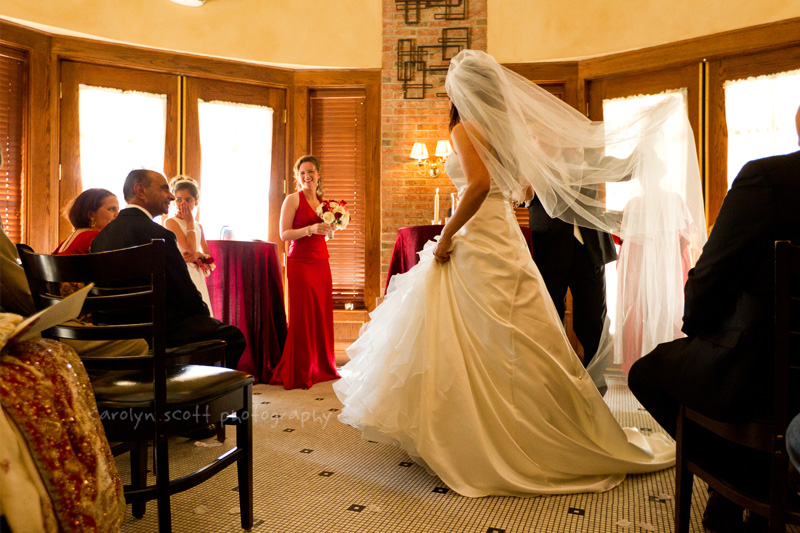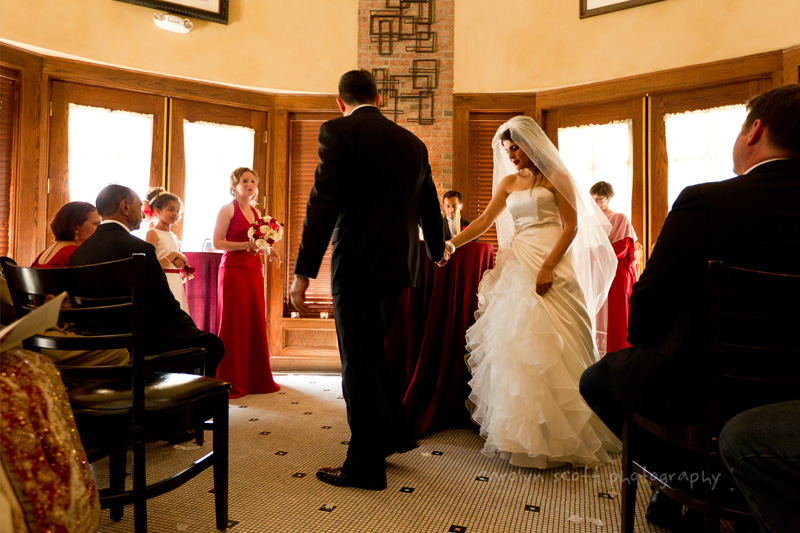 They then performed the Saptapati – the seven steps of marriage vows. The couple would speak their vows while taking small steps around the table.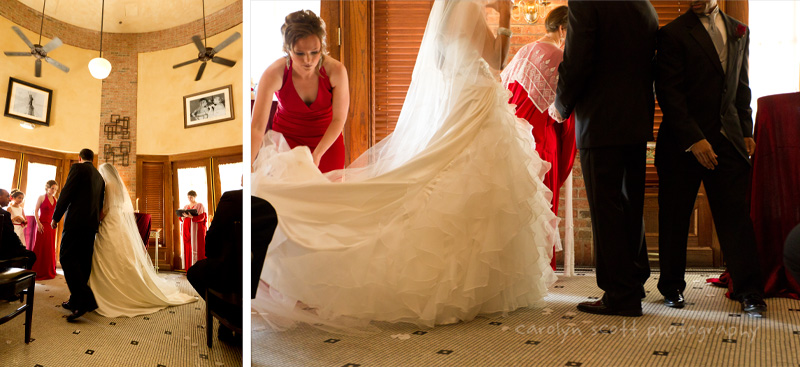 Last, Darren ties a sacred necklace around the bride's neck. This is known as the Mangal Sutra. The necklace symbolizes a married woman.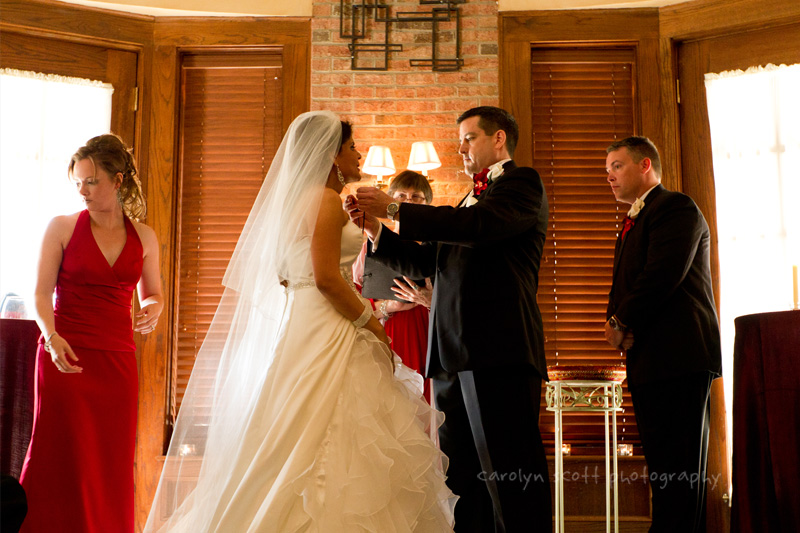 They did incorporate the "you may kiss the bride" into the ceremony. Her mother Meena, who is hilarious and adorable and also lived in Pittsburgh (!), leaned over during the rehearsal to tell me, "They are doing the kissing thing. We told them it was okay, but with weddings in our culture we normally say no… no kissing!" :) This, as well as a unity sand ceremony they performed with Selena, was part of the incorporation of a traditional Christian ceremony along with several prayers from both the Christian faith and the Hindu faith.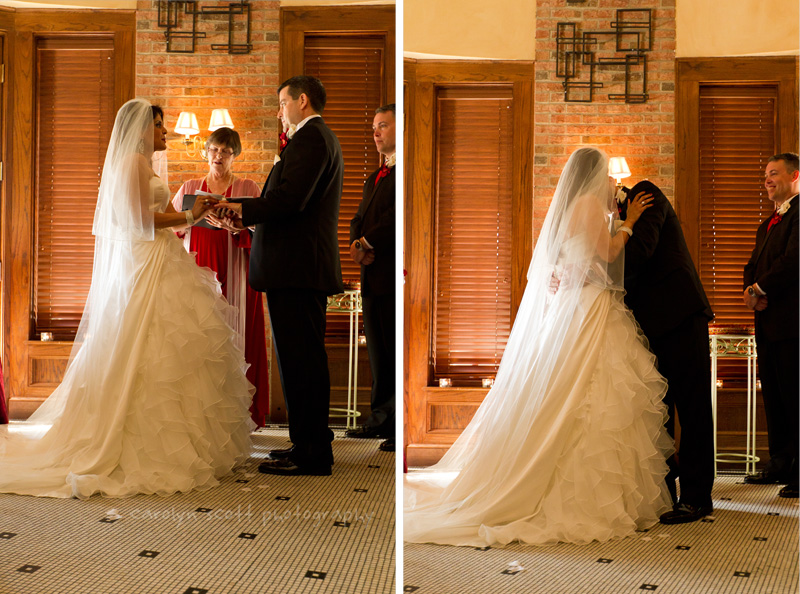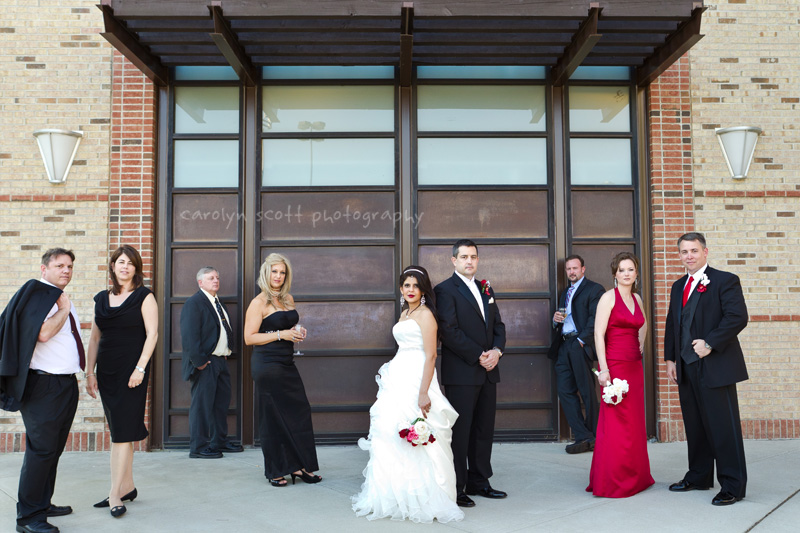 So for those of you who've been to the Streets of Southpoint, where Maggiano's is located in Durham, it's basically an upscale outdoor mall type of area. So what better background to shoot with than the Anthropologie wall?! :)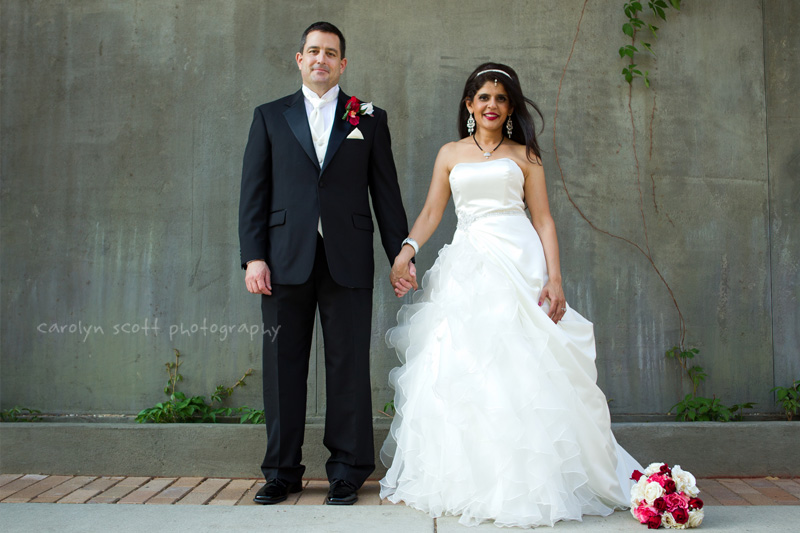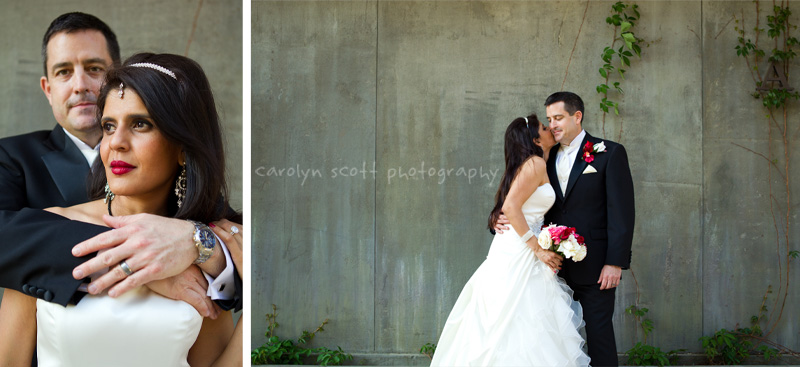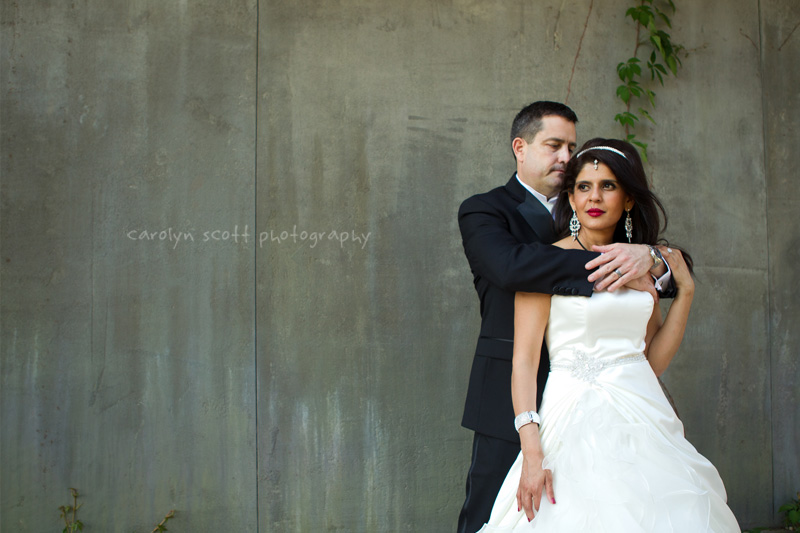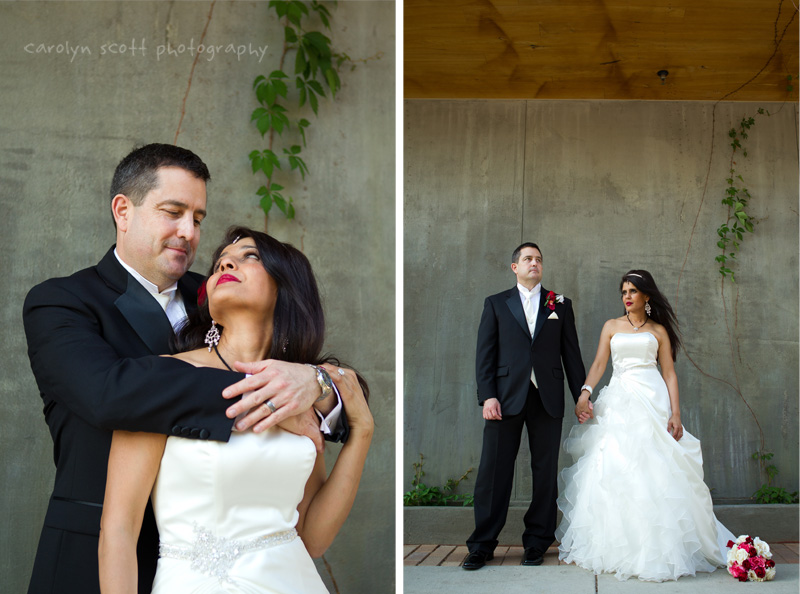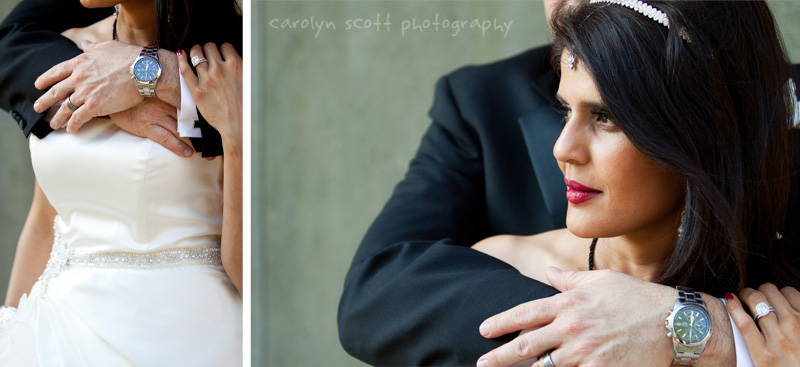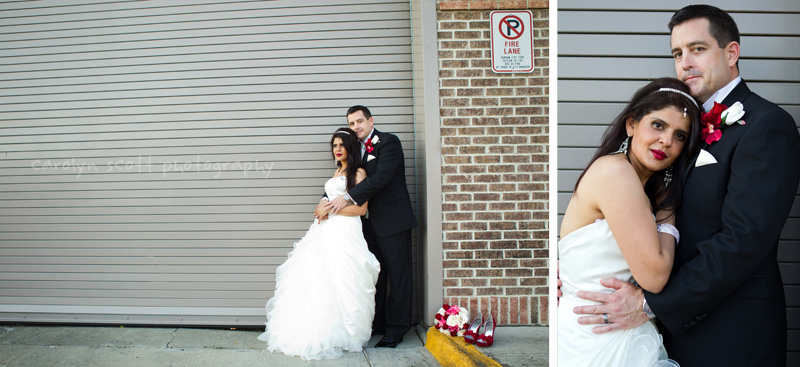 Me: Reshma, wait! I like this mural on the wall!
Reshma: Of course you do.
:)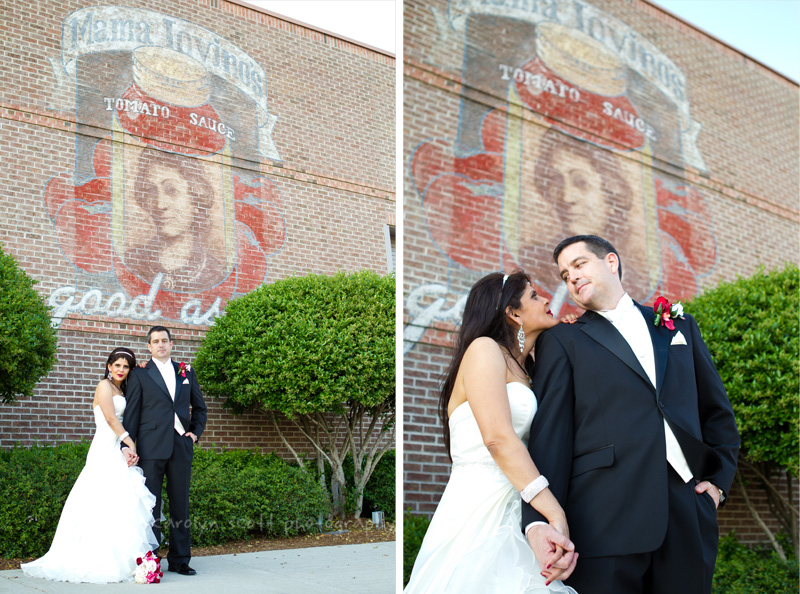 She is so so so so pretty. :)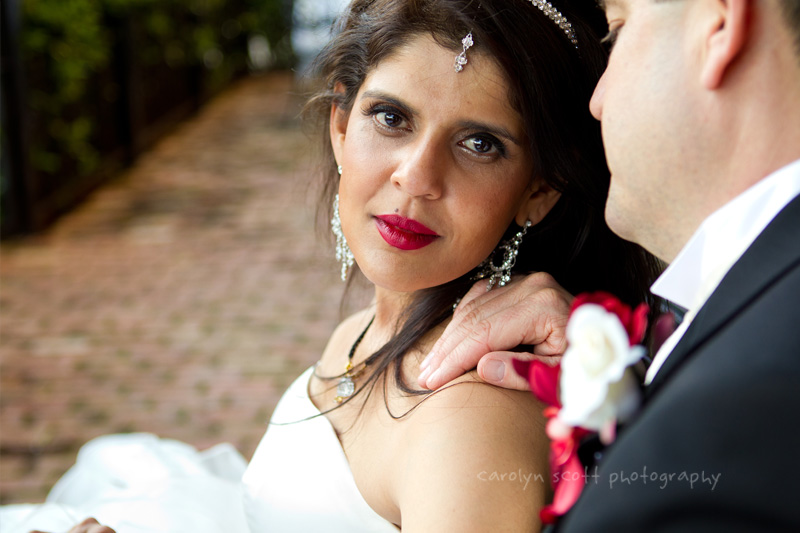 LADIES – DO NOT BE AFRAID OF THE FLUFFY DRESSES. THEY MAKE FOR BEAUTIFUL PICTURES. Her dress was gooorgeous. And this ring shot, although very simple, is probably my favorite one to date.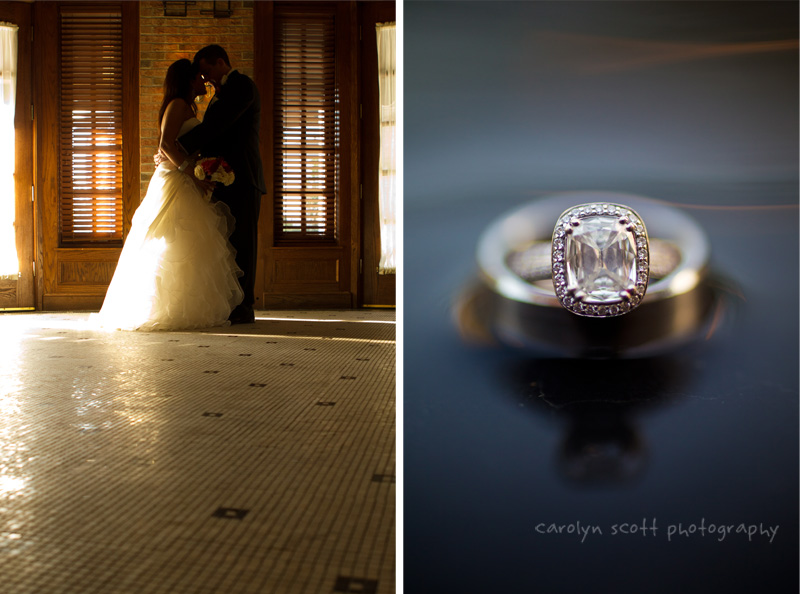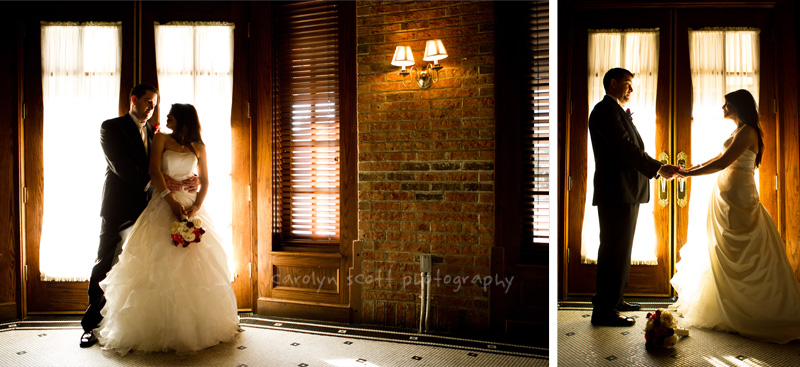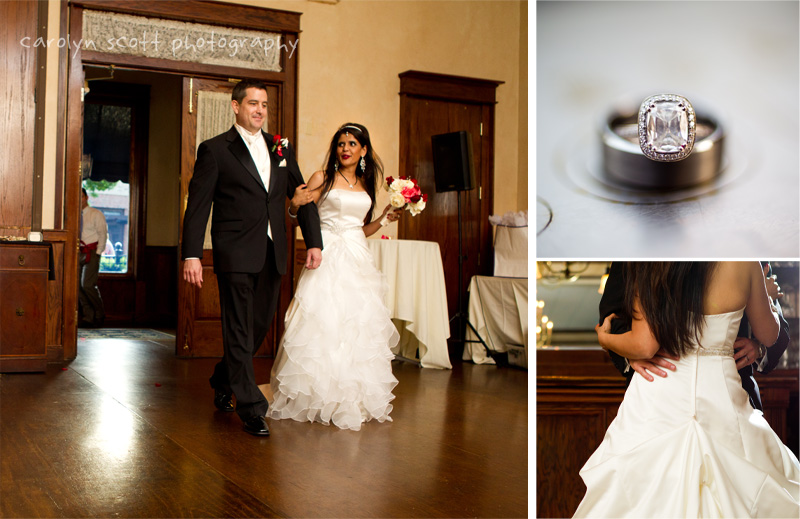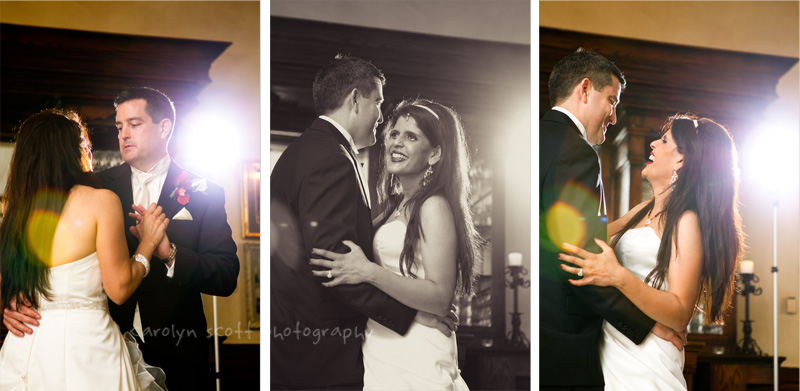 The father-daughter dance was very emotional. I typically do not cry at weddings. When I'm happy, I'm happy – not crying. But this got me a little choked up and I think made all girls in the room miss their dads.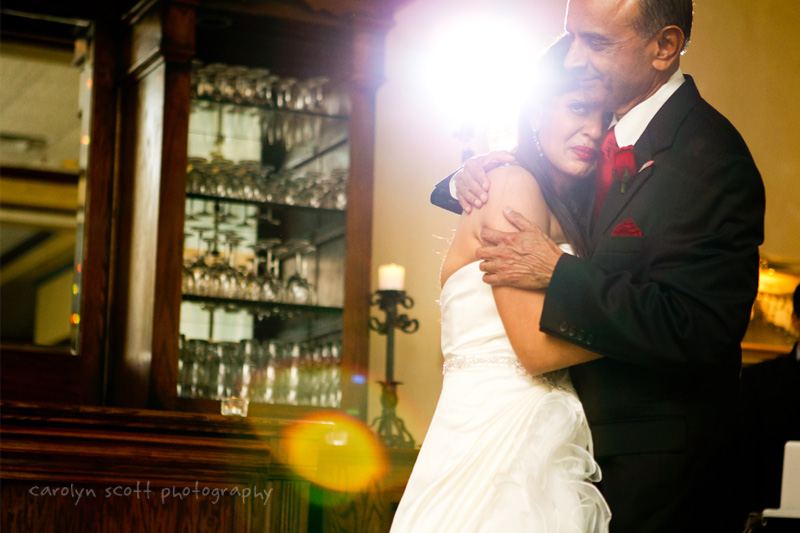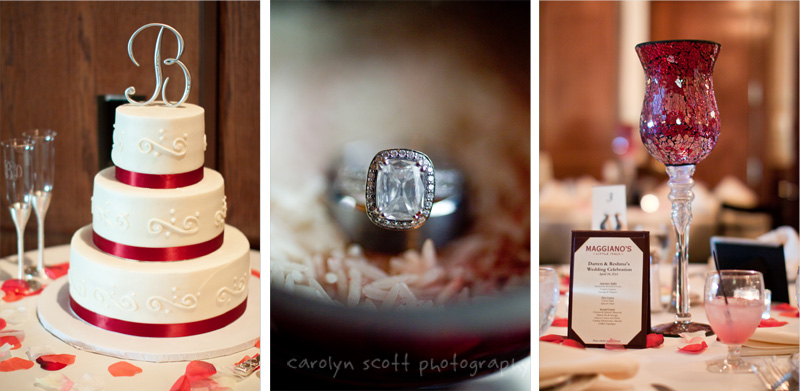 Tim, the DJ, did a great job during the ceremony and the reception. DJs are surprisingly one of the people the photographer interacts with the most at the wedding, and it's always fun when you get along and can work in sync!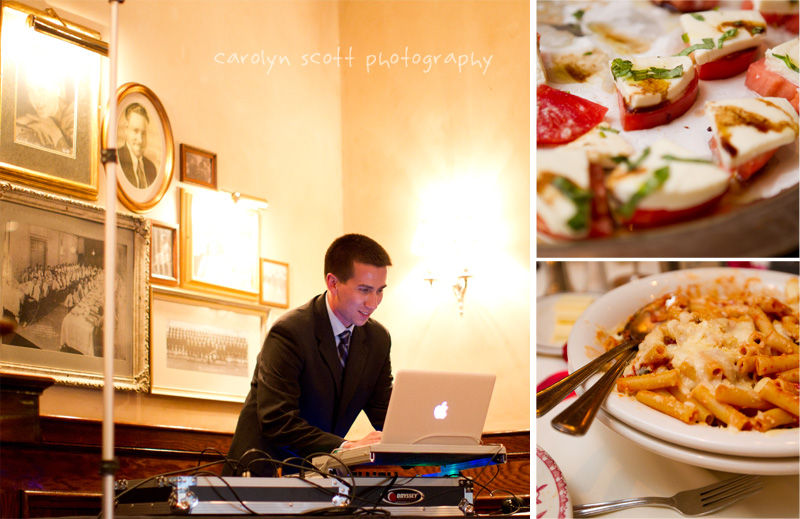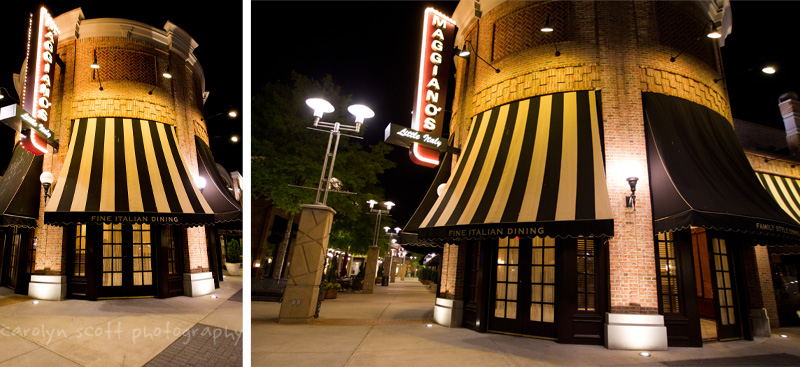 Thank you, Reshma, Darren, Selena, and families and friends of the couple, for a beautiful wedding day and for your patience, help, and support along the way. :) We look forward to seeing you again soon! Darren – we owe you a session with your Dallas Cowboys gear… we guess. :P :D